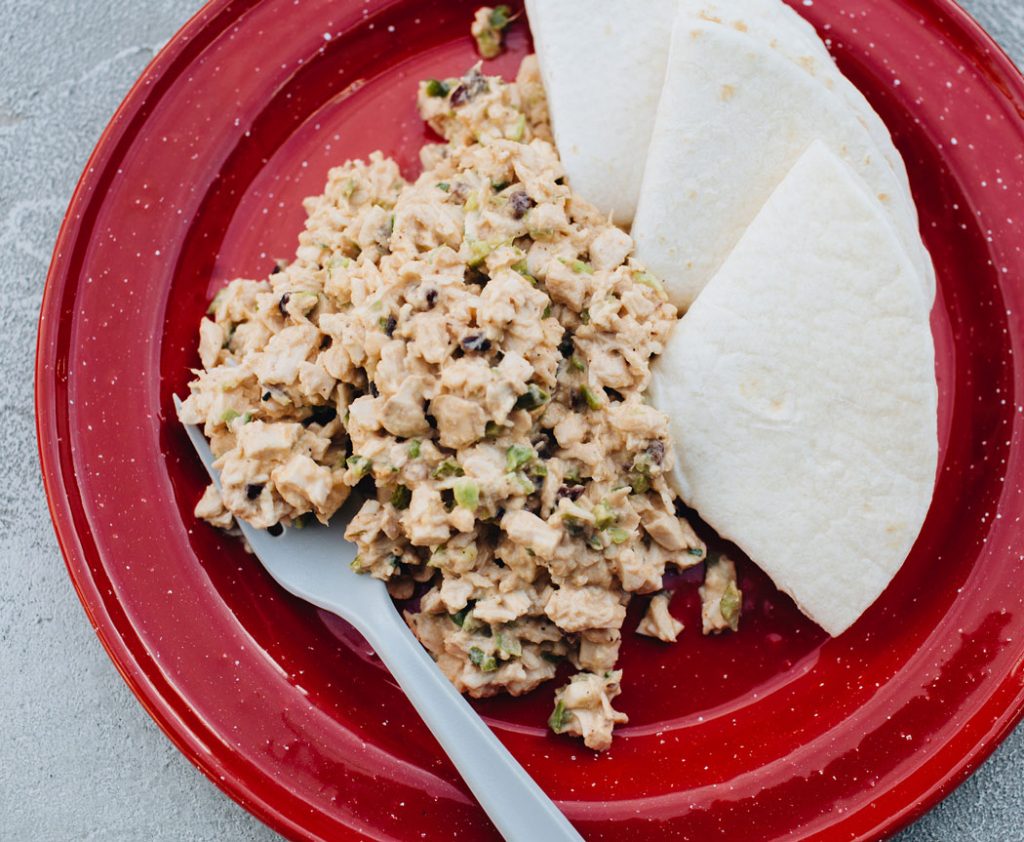 The last few posts have been car camping food ideas, but it's time to talk about backpacking food! Specifically, a post for those of you who don't want to cook while backpacking.
When you're thru-hiking or doing long trips, sometimes you just don't have the energy to cook. But that doesn't mean you have to live off of trail mix alone! I hope these 20 no-cook backpacking meal ideas inspire you to mix it up and eat well while backpacking!
Related Reading: 15 Easy Backpacking Meal Ideas with 5 Ingredients or Less
No-Cook Backpacking Breakfast Ideas
While I love starting my day off with something hot, sometimes there isn't the time and you need to get moving. Here are a few ideas to start your hike without turning on the camp stove.
1. Overnight Oats
This popular fad is becoming popular at home, but I say take overnight oats to the trail! Simply soak your oatmeal oats in water overnight. (Or even better if you have milk or dehydrated milk.) You can soak with cinnamon and dried fruit too for extra flavor, but be sure to add nuts in the morning.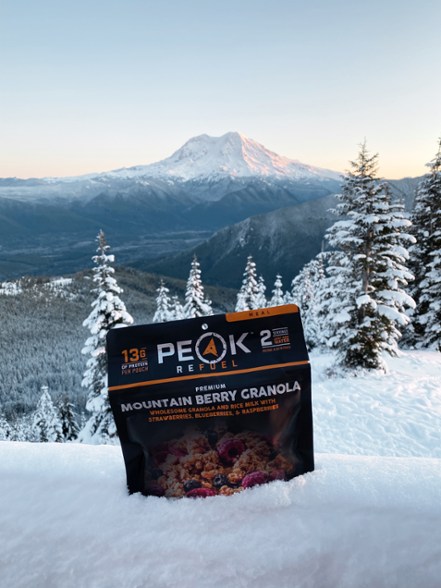 Eat it for breakfast, eat it for lunch – I eat this cold-soaked granola cereal by Peak Refuel anytime! Just add one cup of cold water to the bag and let the dehydrated milk rehydrate. You can eat it straight out of the bag, so you have no clean up!
3. Bagels
You can even get cream cheese in individual, single-use containers so you don't have to eat it plain. I personally love peanut butter on a bagel in the morning. Or, buy smoked salmon as well for a protien boost in the morning.
This one is another make-ahead meal that would be great for shorter trips. Wrap eggs, cheese, and chorizo into a tortilla, then wrap up and have first thing in the morning!
Check out my recipe for my camping breakfast burritos here.
5. Breakfast Shakes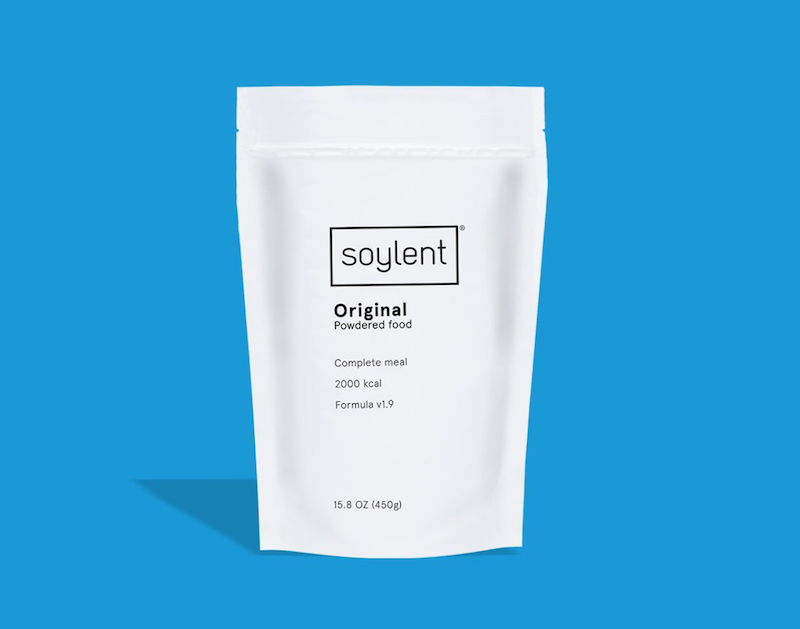 We recently tried Soylent. I'm not going to say I'd drink it every day, but it's packed with nutrition and would be a great backpacking meal on the go. Plus, the powdered version is great for those on long trips and watching the weight of their bag.
6. Smoked Salmon & Cream Cheese
I love smoked salmon for backpacking! Since they're sold in vacuum-sealed packs, you don't need to worry too much about a mess or smell while you're hiking. It's perfect for a weekend hike. I wouldn't recommend keeping it unrefrigerated for too long, so you want to eat it in the first couple of days of your hike.
I like these single-serving cream cheese packs for backpacking too!
7. Chia Pudding
Chia seeds are packed with protein, fiber, and omega-3. I love adding them to oatmeal! But I tried brainstorming how else I can eat more while on the trial. The answer? Chai pudding! Mix dehydrated milk, water, and chia seeds. You can add in some cinnamon, vanilla or sugar for some extra flavor. Or top it off in the morning with dried fruit and notes.
When I make them at home, I use mason jars, but on the trail, it works great if you have a thermos that you can let the chia seeds soak overnight. You can eat the pudding after just a couple hours, but the longer you soak them, the thicker and creamier it will get!
I recommend this dehydrated coconut milk for your chia pudding while backpacking!
Coffee isn't a meal, but it is for breakfast and doesn't require any cooking. With enough stirring, you can dissolve any instant coffee into cold water. Starbucks even makes instant coffee packs designed as a "cold brew." But it's really just instant coffee with added sugar. Check out this cold-brew instant coffee – it's my favorite!
No-Cook Backpacking Meals for Lunch and Dinner
9. Pita Bread & Tuna Wrap
This is one of my favorite creations. Why? Pita bread doesn't get squished down in your backpack. I buy the tuna in the foil packs, not a can, so its a quick lightweight backpacking meal.
This variety of different foil packs of tuna is great! There's multiple flavors so you have some variety on a long backpacking trip. I've had trouble finding many of these varieties in-stores, so I typically buy them online.
It's already cooked, so you can eat it right out of the bag – no cooking required! It's great if you throw it in with some veggies or smoked sausage.
11. Smoked Sausage & Cheese
Smoked sausage is another great one for getting a lot of protein while hiking! It's fully cooked when you purchase it and is great sliced up with some cheese. Hard cheeses like cheddar are great for hiking!
12. Quinoa Salad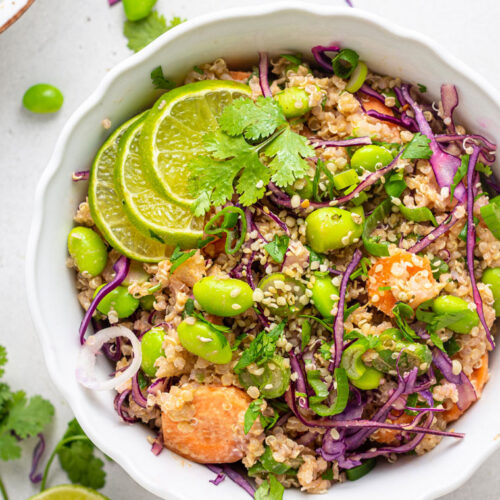 Another one of my favorite make-ahead meals that don't require any cooking once you're on the trail. Its protein-packed, so I stay full enough even when going on a long hike.
There are plenty of ways you can prepare a great quinoa salad! I particularly like this Asian Quinoa Power Salad recipe.
13. Beef Jerky
Beef jerking is a backpacking staple! I bring it on nearly every hike and love it as a snack or small lunch when there isn't time to stop and cook.
14. Backpacking "Charcuterie Board"
If you want to go beyond simply snacking on beef jerky, I love having cheese and meat when backpacking.
A meal of nuts, hard cheese, and dried meats make for a great meal on the trail.
15. Hummus Wrap
Did you know you can buy dehydrated hummus? Our local grocery store even has it available in the bulk section and I love it!
Bring pita bread and the dehydrated hummus along for a quick meal you can prepare on the trail. Sun-dried tomatoes make a great addition to it too!
16. Bean Salad
Another one that is protein and fiber-packed, so it can keep me full on a long hike! You can either prepare the bean salad at-home, or buy dehydrated beans that you rehydrate on the trail with cold water.
Here is an idea for a delicious three bean salad recipe.
Or, simply get white beans and add a bit of oil and seasoning for the most simplified version of a great no-cook backpacking meal that will keep you full!
17. Sandwiches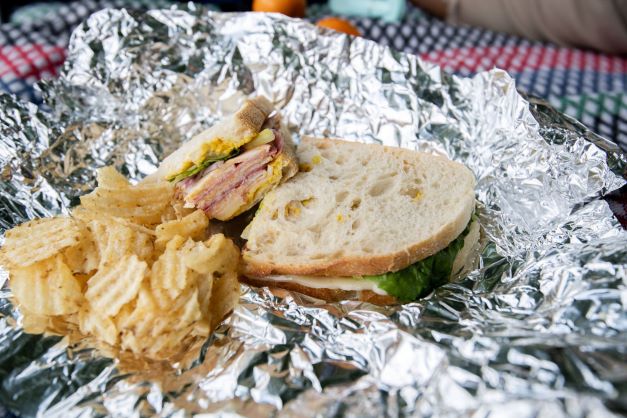 This is one of the ideas that goes without saying. I could eat a sandwich every day without ever getting bored.
A simple sandwich on the trial that is great (and you don't have to worry about anything going bad!) is peanut butter and jelly. But I also love to bring dried meats and a few veggies for a quick sandwich on the trial. For weekend trips, I make them ahead of time and pack them for a grab-and-go meal on the trail.
18. Meal Replacement Bars
There are so many different brands for meal replacement bars, that I recommend trying a handful and picking your favorites!
19. Chicken Salad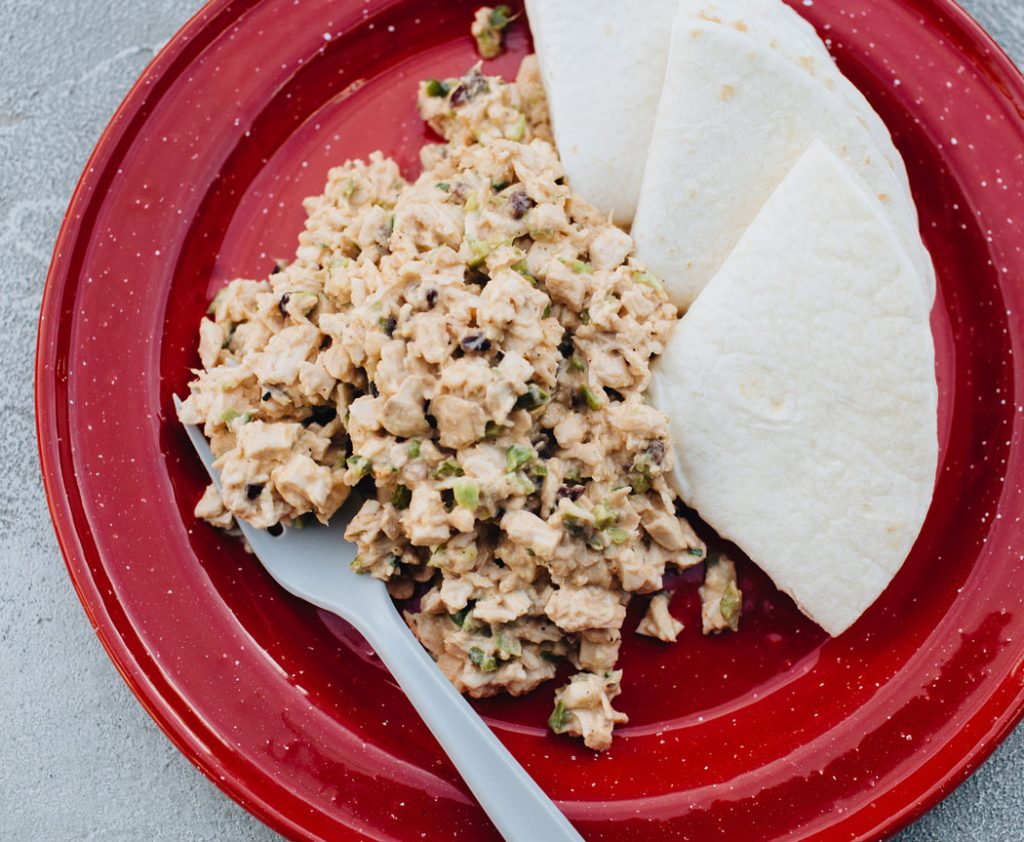 There are a number of dehydrated meals readily available that you can make by simply adding cold water – no camp stove required! You can check out this Chicken Salad pack from PackitGourmet.
Chicken salad is one of my favorite picnic or day hike meals too. You can find my recipe of veggie-loaded chicken salad here.
20. Pasta Salad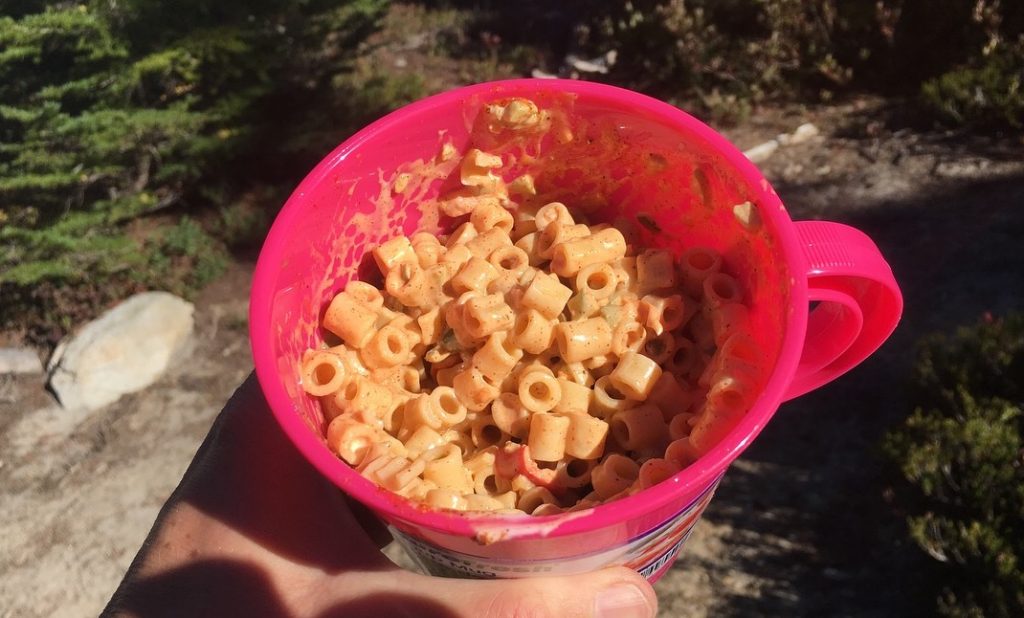 Here is a great recipe for buffalo pasta salad made on the trail. Use dehydrated noodles and simply add cold water to rehydrate.
Once you have dehydrated noodles, you can mix it up with different pasta salad variations every day. I'll also add dehydrated veggies, sun-dried tomatoes, and toss with olive oil for a simple pasta salad meal on the trail.
What are your favorite no-cook backpacking meals? I'd love to hear them below in the comments!