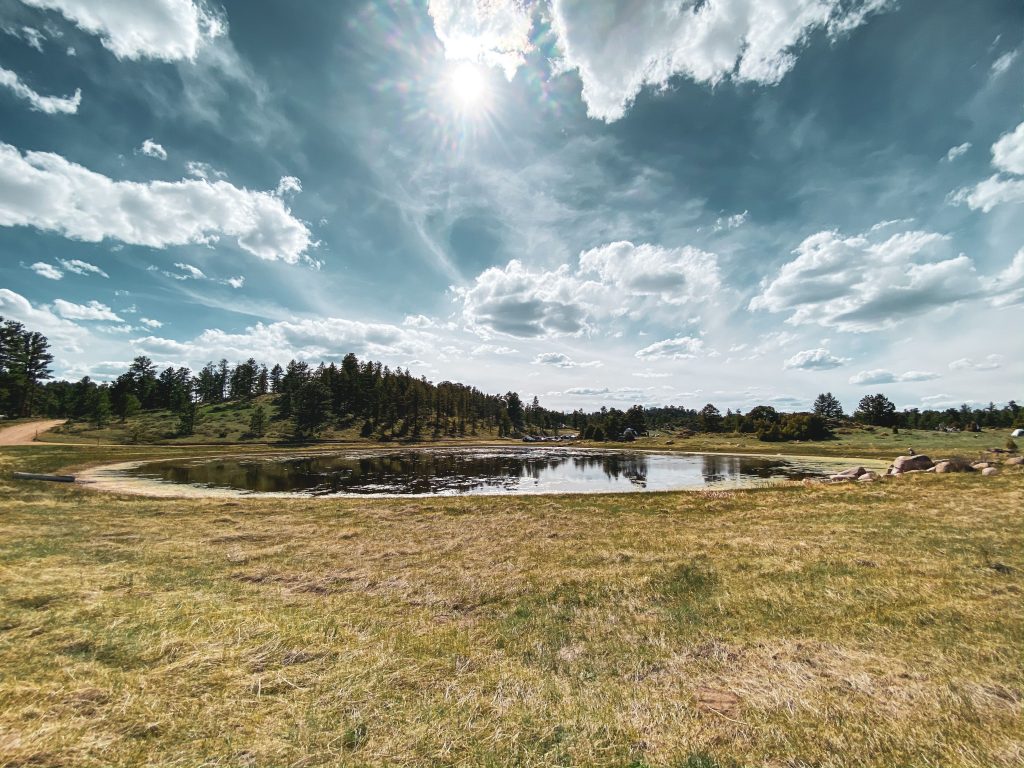 Looking for a nearby camping getaway from Fort Collins or Denver?
Well, I've got you covered!
This past weekend we went camping in Red Feather Lakes. It was beautiful! (Despite early morning snow during Memorial Day Weekend…)
You'll find lakes scattered, beautiful tree coverage, and convenient hikes. There's plenty of campsites throughout the area. It makes sense that this is a popular destination for the front range.
With that said, it is a popular destination.
There's plenty of space in the area, so I'm sure if you're willing to drive around you'll find something away from other campers (especially on a non-holiday weekend.)
But, keep in mind it may take some scouting to find something far removed in the area. If you don't mind having other campers around you though, you'll certainly find your perfect spot!
Red Feather Lakes also has a a lot of private property. The private property is typically well-marked. However, if you're exploring and see a spot and think, "This is perfect!" just check that it is public land. (The attached map in this article clearly marks what is private property and what is National Forrest.)
Red Feather Lakes Guide: Table of Content
How to Find Free Dispersed Camping at Red Feather Lakes
Red Feather lakes is a quick 2 hours north of Denver. The lakes are surrounded by Roosevelt National Forrest in Larimer County, Colorado.
Dispersed camping (ie. "free" campsites) are allowed 300 feet from most Forest Service roads and some Larimer County Roads as long as you are on National Forest land.
As I mentioned above, there is a lot of private property in the area too, so look out for signs or fences that indicate its private property, and be sure to check this Forest Service map to see where camping is restricted.
A few things to keep in mind, according to the Forest Service:
Your vehicle must be within 300 feet of the road. (You can walk further from the road to setup camp, but you can't drive.)
No campsites, campfires, or camp stoves within 100 feet of water.
No campsites at trailheads or day-use areas (like picnic grounds).
You can reference this map to see where Dispersed Camping is permitted.
Look for the dotted areas to understand where dispersed camping is permitted. (Reference the map key.)
You'll find all Motor Vehicle Use Maps (MVUM) for the Arapaho & Roosevelt National Forest here.
Here are some ideas of where you can find dispersed camping in Red Feather Lakes area.
Lost Lake is where we spent our most recent camping trip. The roads leading to Lost Lake have dispersed camping. You'll find plenty of sites in this area as well as other smaller lakes.
It was a difficult road to get to this area! While we had friends that managed it in a sedan, they did bottom out multiple times. I recommend an SUV or truck for this area.
You can go a bit further to get toward Creedmore Lakes where you'll find more dispersed campsites.
Others have recommended Many Thunders Road or Deadman Road as other areas to find dispersed camping.
Be sure to do your research and check the Forest Service map & resources as well. There's more areas than just the four that I've mentioned. Maybe you'll find your own hidden gem!
I also highly recommend you map out how you'll be getting there. Cell phone reception in the area is very spotty. Google Maps also isn't reliable in the area – we had it taking us down nonexistent or closed roads multiple times!
Guide to Reserved Camping Around Red Feather Lakes
If knowing exactly where you're camping is more your style, consider reserved camping.
You can book campsites through Recreation.gov. Fees range from $24 & up, depending on the campsite you book. During the peak season and holiday weekends, many of these sites do fill up.
The campsites will include a picnic table and fire pit. Many also have electric hookups, drinking water, and trash collection. Most campsites also have firewood available for purchase from the campground host.
Here are a few campsites in Red Feather Lakes:
1. Dowdy Lake
Dowdy Lake is the biggest lake in the area. The campsite has 60 sites and is one of the most popular.
2. West Lake
West Lake is slightly smaller, with 30 campsites. It's next to a beautiful lake and pine forest, and one of the most accessible & convenient campgrounds in the area.
Bellaire Lake campground is also near the above too. You'll find the same amenities and a beautiful setting for camping.
Bonus: Other Camp Options
There's also privately owned options for camping in Red Feather Lakes. You can check out HipCamp here to find unique "glamping" experiences or campsites on private property. This is an especially great option for large groups that are too large for a single campsite booked through Recreation.gov.
Or, check out Beaver Meadows Resort Ranch. They are in the area and offer both lodging or reserved campsites.
Related Post: Not sure what to pack on your next camping trip? Download my free camping checklist!
Hikes Near Red Feather Lakes
While you're enjoying your weekend camping trip, consider some of these hikes in the area! You'll find plenty of areas to explore around Red Feather Lakes. Here's just a few of the top hikes in Red Feather Lakes!
A moderate trail that is 5.4 miles, out and back. It features a waterfall.
7.2 mile trail, out and back. It features a lake and is good trail for most skill-levels. Your elevation gain is only a little over 500 feed.
This trail is next to Dowdy lake is a great trail for a family. It is an easy 2.3 mile loop.
This is a good option if you're already camping near Deadman Road, or if you're looking for something that's less busy. Its a 8.9 miles, out and back. It's rated as moderate.
Another great trail for a family that's camping near Creedmore Lakes. This easy trail is just under a mile.
You can find more trails around Red Feather Lakes – it just depends on how far you want to drive from your campsite! Check out either the Hiking Project or AllTrails for more hikes in the area.
I hope this guide to camping in Red Feather Lakes helps you plan your next adventure! Let me know where you camp or hike in Red Feather Lakes in the comments.