These tasty dutch oven enchiladas are the perfect campfire recipe to warm you up on a chilly camping trip.
We made this enchilada recipe on a camping trip near Frisco, CO while friends we're visiting. Even though it was June, there was still a lot of snow on the ground! We were on a forest service road right outside of town. After about 3 miles up the road, we had to stop and set up camp. There was a snowbank that our car just couldn't make it over.
Luckily among all the snowmelt, we still found a dry spot to set-up camp.
Once it got chilly, the campfire enchiladas were perfect. I add green chiles to give it the perfect amount of spice to warm you right up!
This the perfect camping recipe for fall or if you are camping at 9,500 foot elevation like us.
I love enchiladas. I love this recipe camping, but this is one of the recipes I make all the time at home! When at home, I'll make my own sauce, but out in the wild, a store-bought enchilada sauce does the trick.
Once at the campground, it only takes about 15 minutes to assemble these. I meal prep this recipe at home, so all I have to do is wrap up the enchiladas and put them in the dutch oven once we're camping. It saves so much clean-up to have the fillings ready to go at the campground!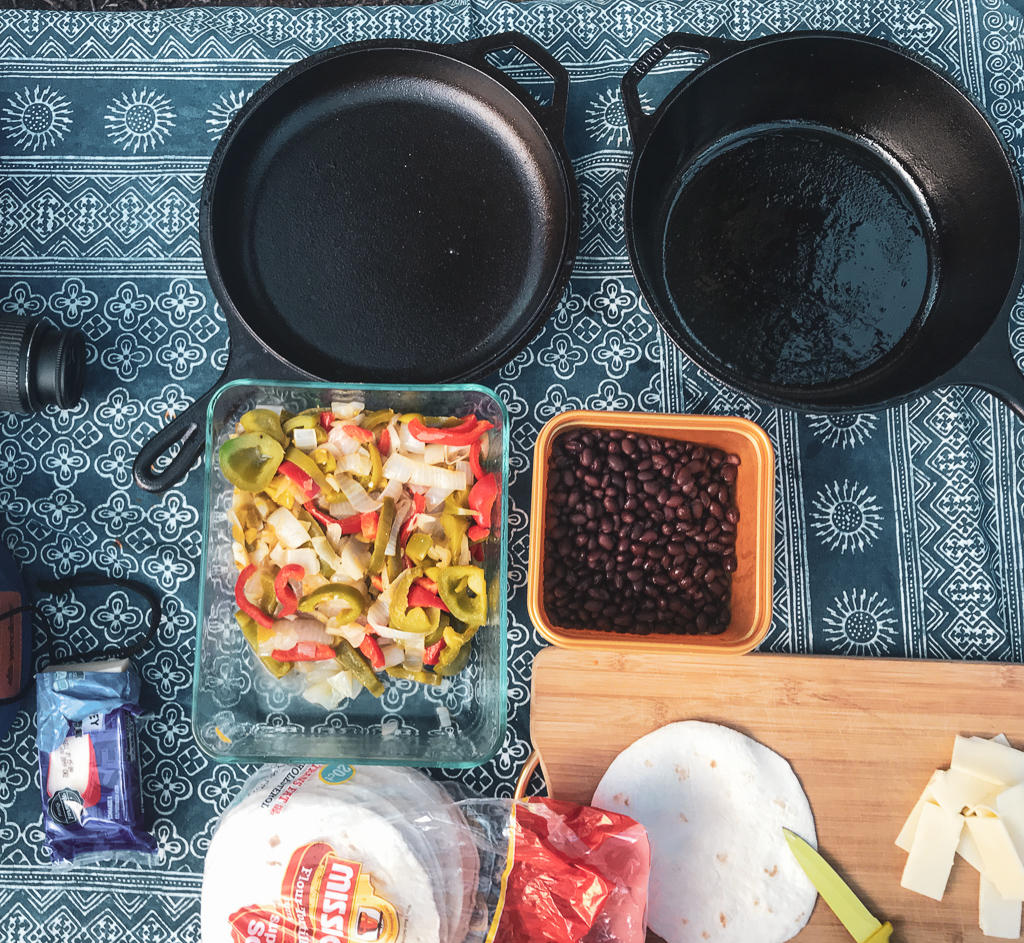 What to Meal Prep At Home
I choose to cook the onions and peppers at home. However, you can cook them in directly in your skillet over the campfire or a camp stove too, but I found it easier to do meal prep at home whenever I can. At the very least, I recommend slicing all of the veggies at home and storing them in a container.
As much as I love cooking over a campfire, clean-up on a campground isn't easy! I try to avoid as much mess as I can by prepping at home.
I also premix all of the seasonings and put it into a small container, so I don't have to bring half of my spice cabinet with me.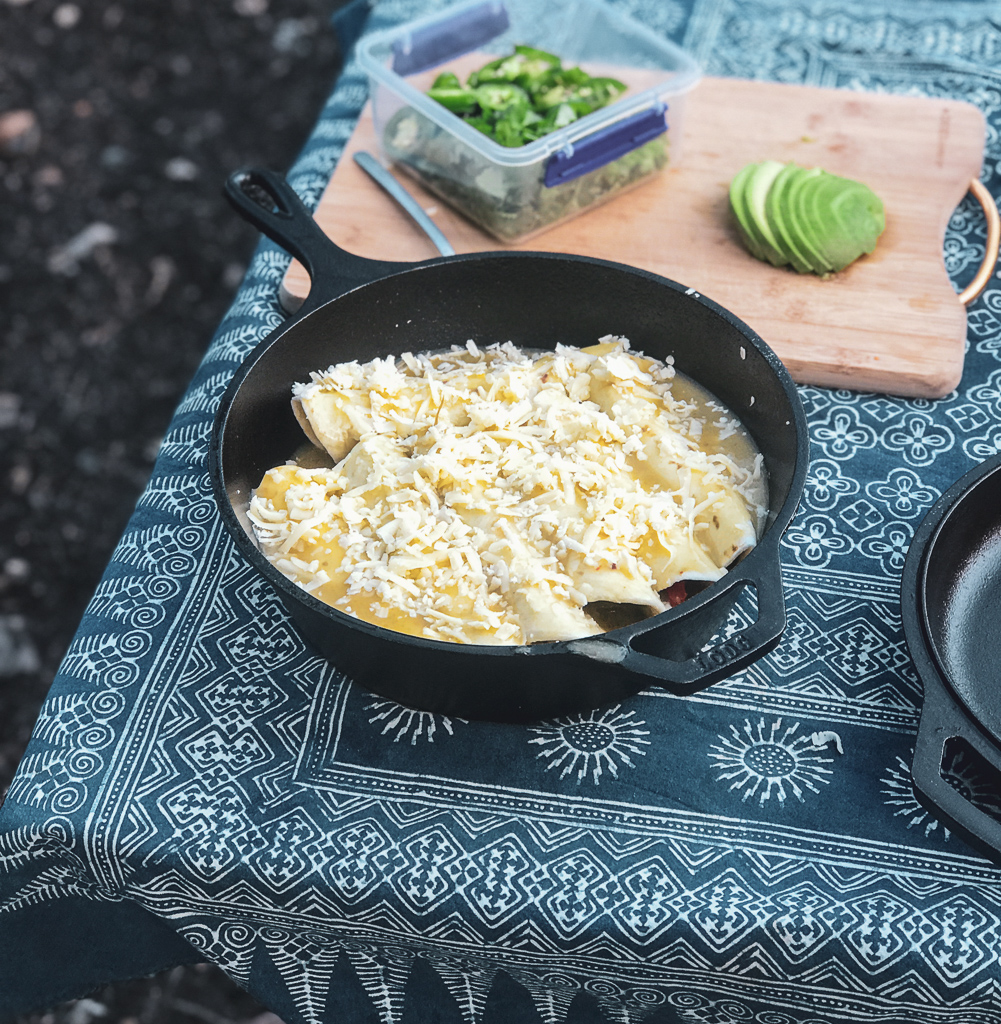 How to Cook the Enchiladas Over a Campfire
To cook these over the campfire, you only need a cast iron dutch oven. We use this one on all of our camping trips! I love that it's multi-purpose, so its less cookware to bring camping. We use the lid in the morning for making eggs and bacon.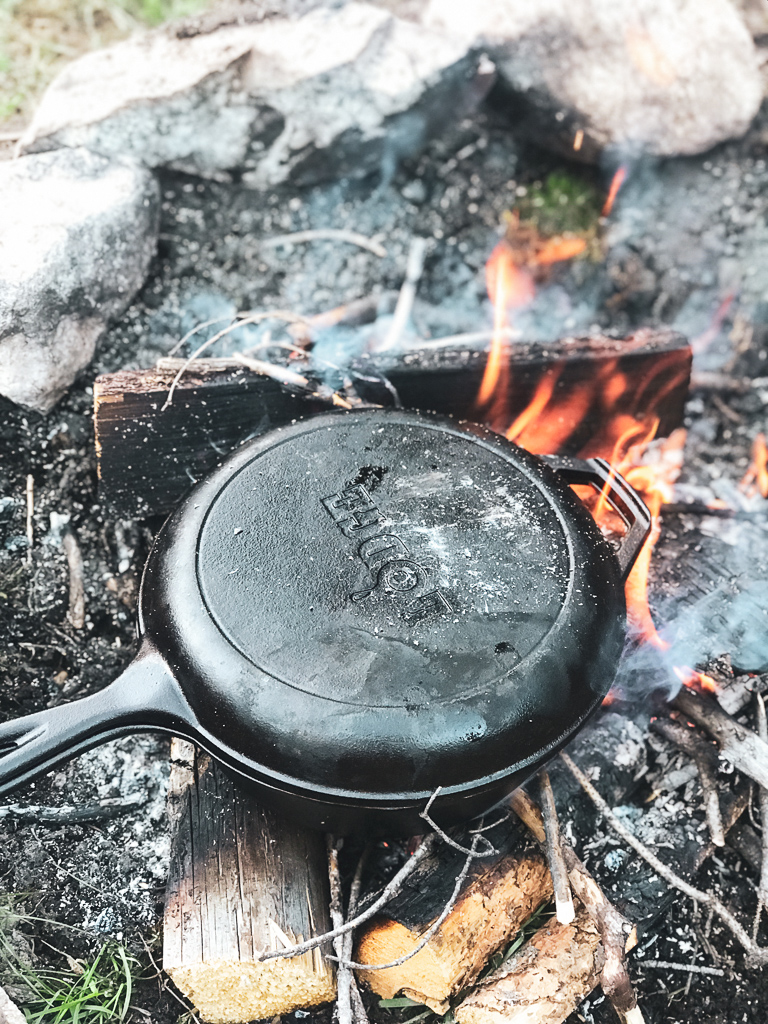 We were a little impatient this trip and cooked the enchiladas with a bit of a flame still going. Typically I build a fire and wait for it to burn down to embers.
You then place the dutch oven directly over the embers. Using tongs, I place a few of the hot coals on the lid for more even cooking.
The trick to these enchiladas is to make sure you also spread some enchilada sauce at the bottom of the dutch oven. This helps prevent scorching the bottom of the tortillas. Cooking over a campfire can be unpredictable though since you can't control the heat!
Since all the ingredients in here are already cooked, you just need to cook it long enough to get the cheese to melt and the enchilada sauce to bubble. I open the lid to check the enchiladas after about 12 minutes.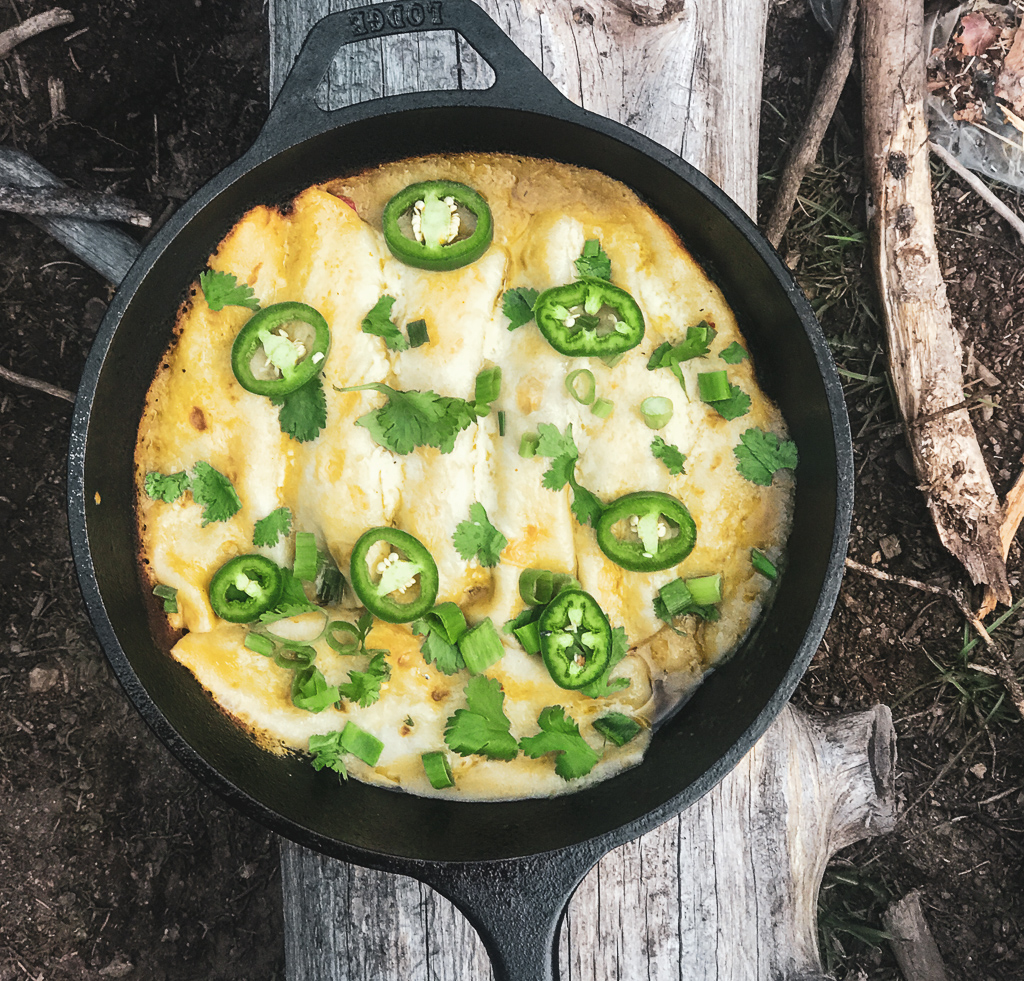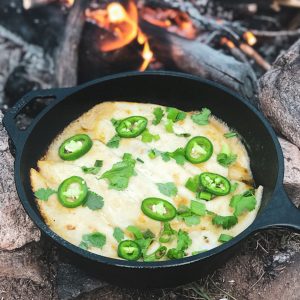 Dutch Oven Enchiladas
Ingredients
1

white onion

1

green pepper

1

red pepper

1/2

can

green chiles

1

tbsp

cumin

1

tsp

garlic powder

2

tsp

chili powder

1

can

green enchilada sauce

8

flour tortillas

1

can

black beans

2

cups

shredded Monterey Jack cheese

jalapenos

optional, for topping

sour cream

optional, for topping

fresh cilantro

optional, for topping
Instructions
At Home
Slice green pepper, red pepper and onion.

Sauté green pepper, red pepper and onion until the peppers are soft and onion is translucent. Add green chiles, cumin, garlic powder, and chili powder. Store in an airtight container.
At the Campsite
Spread a small portion of the enchilada sauce at the bottom of the dutch oven. 

Spread a spoonful of the sautéed peppers and onions and black beans in each tortilla. Sprinkle each with cheese, then tightly wrap the tortilla. Place the tortilla in your dutch oven.

Cover the tortillas with the remaining enchilada sauce. Sprinkle with the remaining cheese. 

Set the cast iron dutch oven over campfire coals. Using tongs, also place 5-8 coals on the dutch oven lid in a checker formation. Check the enchiladas after 10 minutes. They are done once the sauce is bubbling and cheese is melted. 
These enchiladas just might be my favorite dutch oven recipes for camping! We have a lot of friends who are vegetarians, so having an easy go-to vegetarian meal when camping is great for feeding a crowd. For those of you who love chicken enchiladas, the recipe can easily be adapted, but I promise you won't miss the meat.
I hope you enjoy. And happy camping!