Breakfast burritos may be my favorite camping breakfast… ever!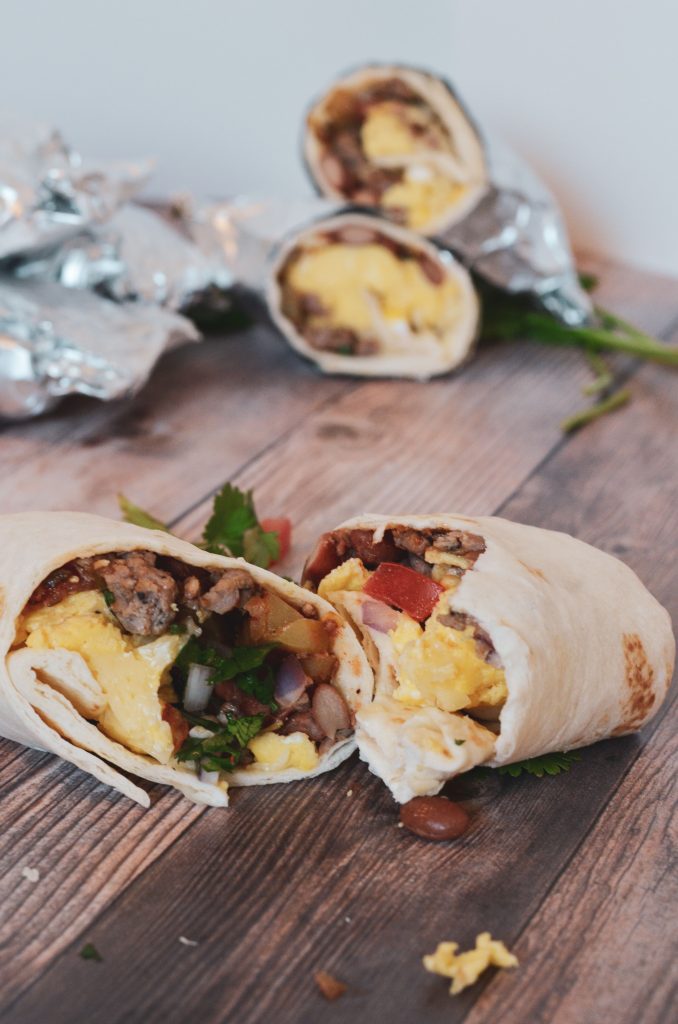 When you wake up on a cold morning out in the wilderness, there's nothing better than being able to make a cup of coffee & quickly heat up a hearty breakfast.
And this breakfast, it's hearty!
It's loaded with beans, potatoes, sausage, egg, and cheese. The potatoes are perfectly seasoned & the homemade pico de gallo gives it that perfect amount of freshness.
The pico de gallo has another huge benefit too — it keeps it from getting soggy. No one wants to eat a soggy burrito, which is why I avoid adding salsa to any breakfast burritos that I'm not eating immediately.
If you're making these breakfast burritos to eat immediately, you can easily replace the pico de gallo with your favorite salsa.
Another pro tip — let your ingredients cool first before assembling the burrito. Adding hot eggs, sausages, and potatoes in the burrito means the tortilla will capture all of their steam as the ingredients cool, leaving you with a soggy tortilla.
However, the prep for this meal takes quite a while, so whenever I make them, I'm sure to make a lot! I love make-ahead breakfast burritos for more than just a camping trip. I will freeze these for easy grab & go meals during the week.
They are also a great breakfast food for a music festival! While I certainly prefer eating them hot, they're still really tasty served cook straight out of your cooler.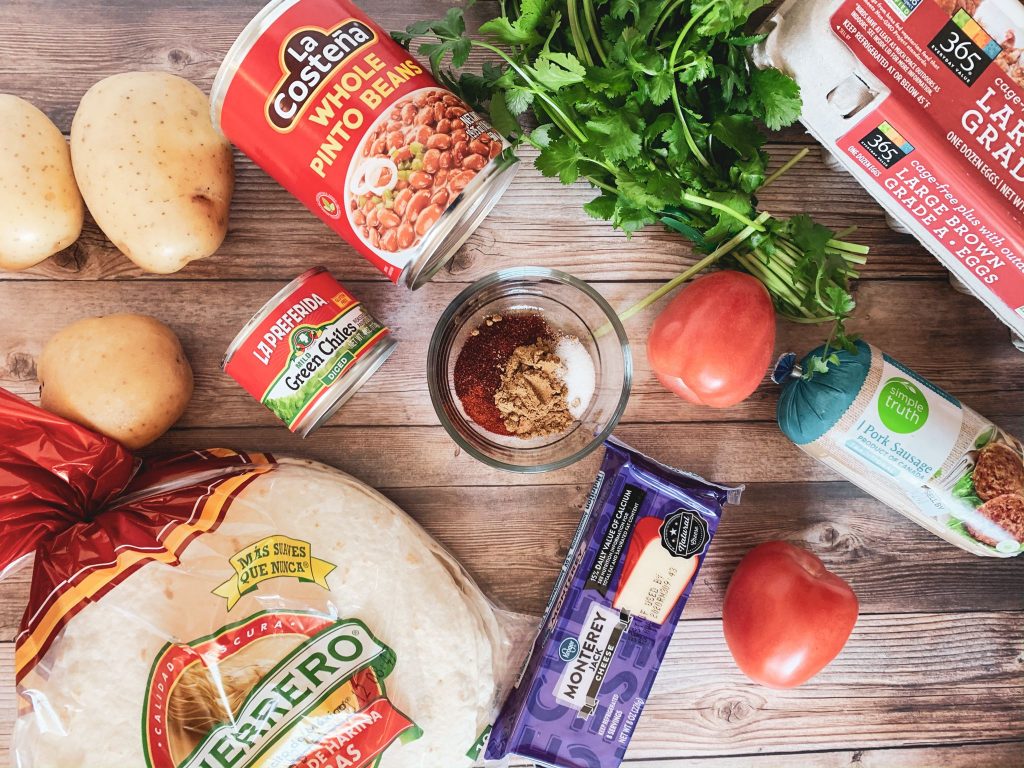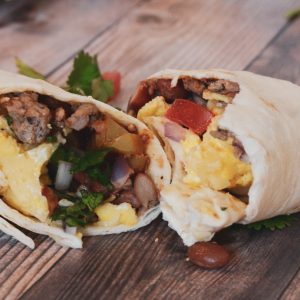 Make-Ahead Breakfast Burritos for Camping
These loaded breakfast burritos are the BEST ever make-ahead breakfast for your next camping trip. Or freeze these for an on-the-go breakfast at home. They're SO good.
Ingredients
14

ounces

breakfast sausage

4

golden potatoes

3

tbsp

green chiles

2

tsp

cumin

1

tsp

chili powder

salt & pepper

to taste

1

can

pinto beans

20 ounce can

12

eggs

10

flour tortillas

2

Roma tomatoes

1/2

cup

fresh cilantro

chopped and loosely packed

1/2

cup

red onion

diced

2

cups

shredded Monterrey Jack Cheese
Instructions
Brown the sausage in a pan over medium heat. Once done, remove from the pan with a slotted spoon, leaving behind the excess fat. Put the browned sausage to the side in a bowl.

Dice the potatoes into small cubes. Fry potatoes over medium heat in the skillet using the excess sausage fat until the potatoes are tender on the inside. While cooking, season the potatoes with cumin, chili powder, salt, and pepper.

Once potatoes are soft on the center and crispy on the outside, add the sausage back to the pan. Add the green chilis.

Drain the pinto beans (do not rinse), and pour the beans in the skillet with the potatoes and sausage. If you're serving the burritos immediately, heat the mixture thoroughly for about 5 minutes. Set mixture aside in a bowl, and cover with foil. Wipe skillet with a cloth.

In a large bowl, beat eggs. Add salt and pepper. Cook the egg mixture in the skillet until scrambled.

Chop the red onion, tomato, and cilantro and combine to prepare the pico de gallo.

Assemble the burritos by placing a spoonful of the bean, potato, sausage mixture in the center of the tortilla. Add the scrambled eggs and pico de gallo, and sprinkle with the shredded cheese. Wrap the tortilla into a burrito.

You can either serve immediately or wrap with foil to save.
Notes
To save time, you can also roast the potatos in an oven at 400 degrees for 20 minutes instead of frying, or you can use frozen hashbrowns. 
If you'd like to add some spice to your burritos, add fresh jalapeno to your pico de gallo. 
Let me know what you think of these make-ahead breakfast burritos!
And if you have any burrito rolling tips, I'd love to hear them in the comments. Though I have to admit, after trying countless times to roll that perfect burrito for these photos, I think I've gotten pretty good. 🙂