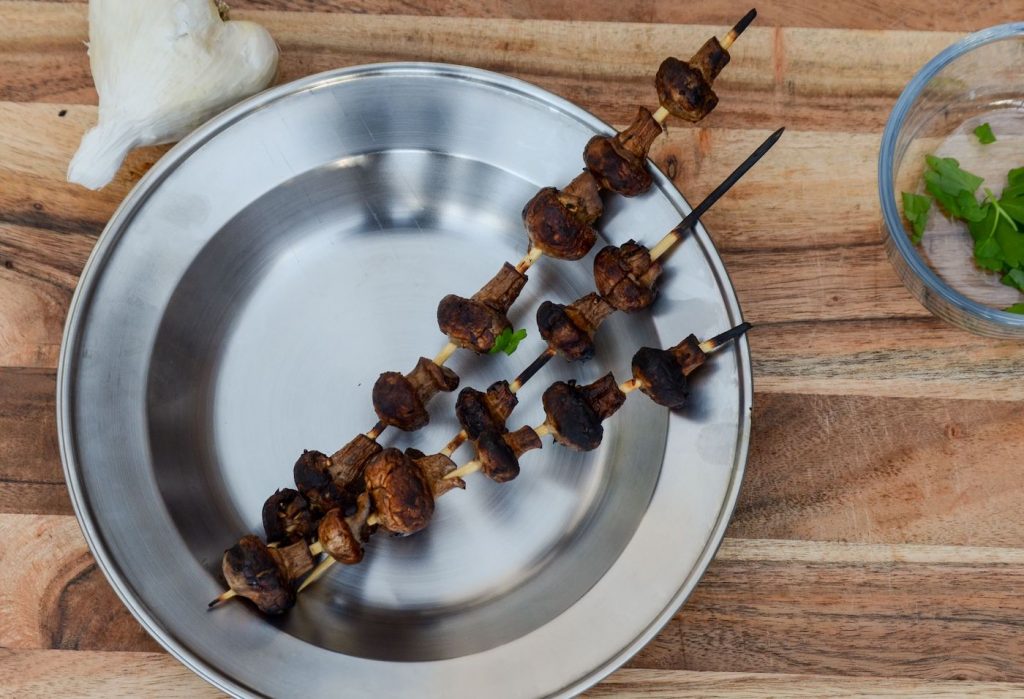 I was a vegetarian for years. (Bacon broke me!) But I still try to be conscious of how much meat I'm eating.
Finding vegetarian recipes for the grill or camping isn't always easy. But these marinated mushrooms on skewers are certain to please everyone – both the vegetarians and omnivores out there!
I recommend serving them up with other veggie skewers. They make a great side dish to our Steak & Potato foil packs too.
Recipe for Grilled Marinated Mushrooms
Marinated Mushrooms on the Grill
Smoky mushrooms with the flavor of garlic and pepper! A great addition to a night of skewers on the grill or a side dish.
Ingredients
2

cups

white mushrooms

2

tablespoons

olive oil

1

tablespoon

soy sauce

3

tablespoons

worcestershire sauce

3

cloves

garlic

minced
Instructions
Throughly wash mushrooms. Mince 3 cloves of garlic.

Prepare the marinade by combining garlic, oil, soy sauce, and worcestershire. Add the mushrooms and toss to fully coat the mushrooms in the marinade.

Marinade for 1 hour. If prepared ahead of time, be sure not to marinade over 4 hours.

Slide mushrooms on skewers and grill for 15 minutes on medium, turning the skewers regularly.
You only need a few ingredients for these delicious mushrooms, making them perfect for your next car camping and campfire meal. You don't want to marinade them ahead of time though. You need to make them at the campsite, as you only want them to marinade for an hour.
If you prepare them ahead of time, they'll get very squishy and the texture is ruined once grilled. Marinade them for an hour and cook on the grill for about 10 minutes to prepare perfectly.
Since you might be preparing these out in the wilderness, marinading at room temperature is absolutely fine! If you're out on a sweltering, summer day, I do recommend putting them in the cooler to marinade.
How to make Garlic Marinated Grilled Mushrooms
First, wash your mushrooms throughly to get rid of any dirt. I use white mushrooms for this recipe, which you can find at any grocery store. I keep them whole (no chopping!) so that I can easily slide them on a skewer.
They will shrink on the grill, so you really don't want to chop them and risk them falling into your fire.
After washing the mushrooms, mix up the marinade with 3 cloves of chopped garlic, 3 tablespoons worcestershire, 2 tablespoons olive oil, 1 tablespoon of soy sauce, and pepper to taste. (I love my very peppery!) You don't need to add any extra salt – the soy sauce has more than enough.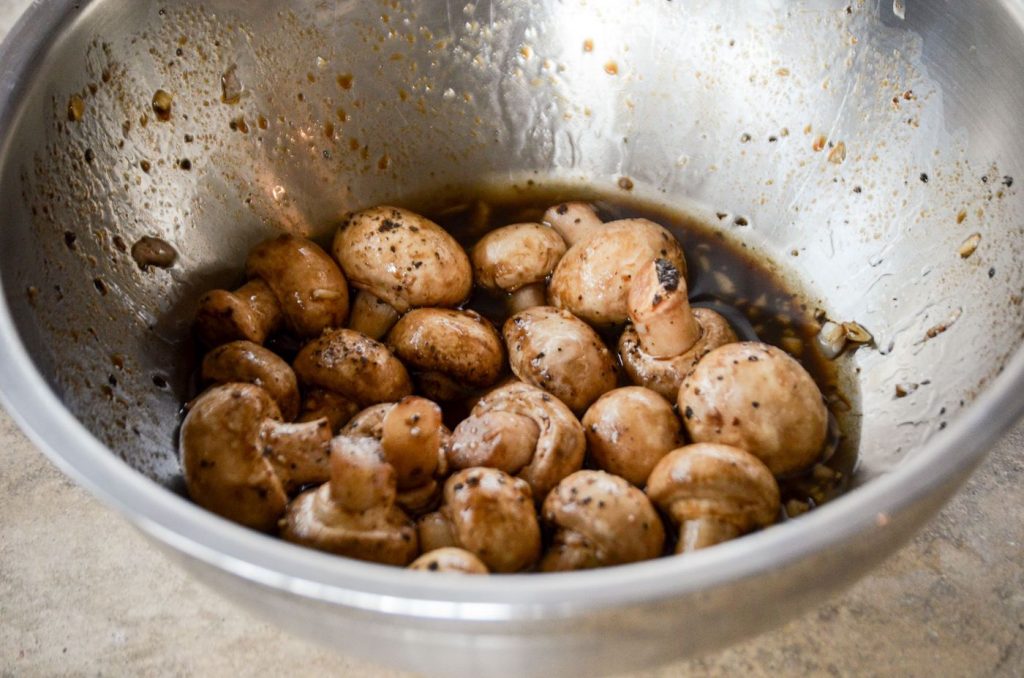 Let the mushrooms sit in marinade for 40 minutes to 1 hour. Slide them onto bamboo or metal skewers. Grill for 10 minutes, and voila!
You could also convert this into a foil pack recipe to cook it directly in the fire.
I hope you enjoy!