Wow. This camping recipe is so GOOD.
I'm ready to make it again, even though we just had it for dinner two nights ago.
It's so easy to prepare. While I love foil pack recipes for camping, they are also great when you have company. Just prepare them ahead of time, and then when you're almost ready to eat toss them on the grill!
No one wants to stand watch over the grill as they cook, so you can enjoy your company and relax.
Then when it's done, no cleanup! It's great. This steak & potato foil packet is perfect the next time you entertain.
Okay, now let's get to what you're here for.
Garlic Steak & Potato Foil Pack Recipe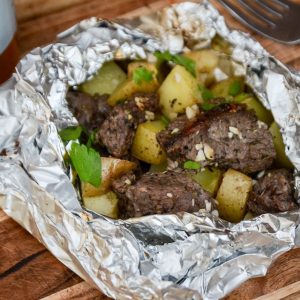 Garlic Steak & Potato Foil Pack
Ingredients
1

pound

ribeye or top sirloin steak

cut into 2 inch cubes

4

cloves

garlic

1

tsp

oregeno

1

tsp

thyme

2

tsp

Worcestershire sauce

1

tbs

olive oil

1/2

pound

golden yukon potatos

cut into small cubes

salt

to taste

freshly ground black pepper

to taste
Instructions
Trim fat off of steak. Cut into 2 inch square cubes. Mince garlic.

Mix minced garlic, oregano, thyme, 1 tbs oil, Worcestershire sauce, salt & pepper. Toss the steak to fully coat. Let marinade in a covered container for 30 mins to 1 hour. (Do not marinade for over 2 hours.)

Dice potatoes into 1 inch cubes. Toss with a drizzle of olive oil and salt and pepper to taste.

Wrap potatoes and steak in large sheet of tin foil. Place on grill on medium-high heat. Cook for 18 minutes, flipping the packet halfway through. Let sit for at at least 3 minutes before serving.
Notes
This recipe is portioned for 2. For a family of 4, double the recipe. 
The trickiest part of this recipe is balancing the cooking time of both the potatoes and steak.
You obviously want your potatoes to be done, but you don't want to overcook your steak.
For this reason, I recommend using Gold Yukon potatoes, which will cook faster. Make sure to cut the potatoes into 1 inch or smaller cubes. Any bigger than that, and they'll take too long to cook and your steak will have to be well-done.
The steak should be cut into 1.5 to 2 inch cubes. If you want your steak to be medium, then make sure the cubes are 2 inches.
If you're a rare steak lover, the only way to really achieve that in the foil pack would be to boil the potatoes before adding to the foil pack, but that ruins the simplicity of the recipe in my opinion!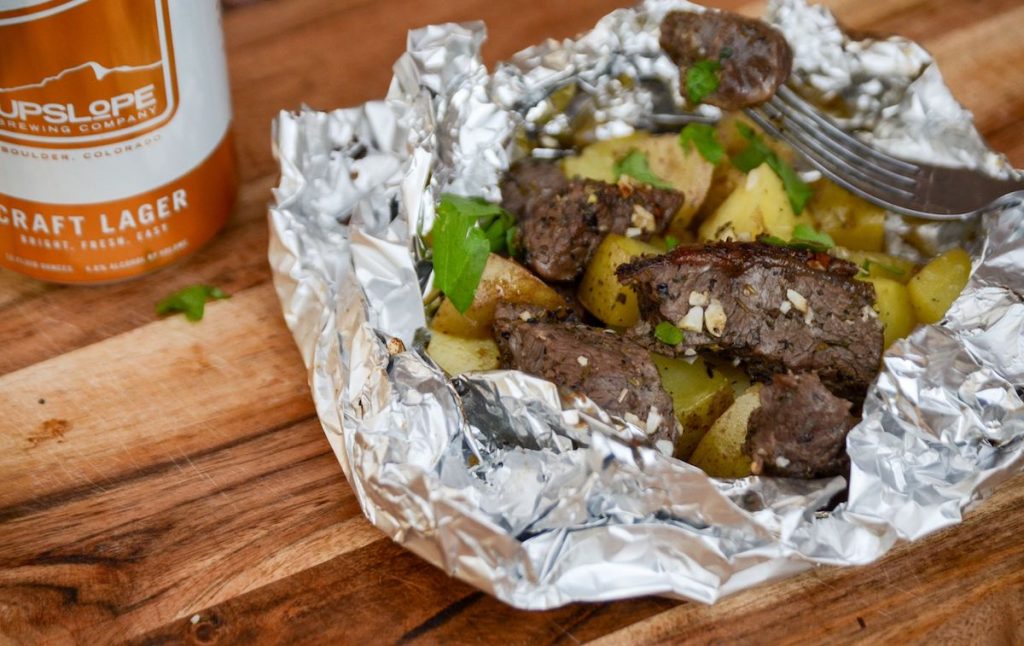 What type of steak to use?
I used a 1 pound ribeye steak to serve two people.
Top Sirloin would be another great option for this recipe!
How to Cook Steak & Potatoes over the Campfire
If you're looking to adapt this recipe to cook over the campfire instead of a grill, you sure can!

Season with minced garlic, fresh parsley, salt, and pepper. If you are out camping you can use garlic powder/salt and dried parsley or prepare your ingredients prior to leaving.

Tightly wrap the aluminum foil. Make sure you're using heavy-duty foil or double up the foil.

When your fire has burnt down to hot embers, spread out a small patch of embers and place your foil pack directly on top of the embers.

When cooking over the fire, I do not flip the foil pack. There's no need to risk dumping everything out into the fire!

Cook for about 15 minutes. After the 15 minutes, unwrap the foil slightly to poke a potato with a fork. Cooking time can vary a lot on a campfire, so you want to be sure it's done!

I hope you enjoy! Let me know what you think in the comments below!

You can find all over my favorite silver turtles (ie. foil pack) recipes here!

This might be my favorite foil pack recipe. EVER. It is so delicous