Camping and great weather don't always coincide, but you shouldn't let a rainy camping trip stop you from having a great time on a hiking trip.
Don't worry rain will ruin your camping plans. Instead, be ready with the right equipment and ideas for rainy day camping activities to make the most of nature's surprises!
The below camping gear for rain and tips for all-weather camping can have a comfortable and memorable time at your campsite, even during inclement weather. I've had my share of rainy camping trips, and the following tips and rain gear for camping helps make every trip in the outdoors great!
23 Tips & Gear for a Great Rainy Camping Trip
1. Buy a Tent Made for Harsh Weather
Invest in a waterproof, durable, high-quality tent by REI that features a full rainfly that also extends to create an awning over the door. The fabric resists tears and vertical walls increase head space.
2. Set Up on Dry Campsite Ground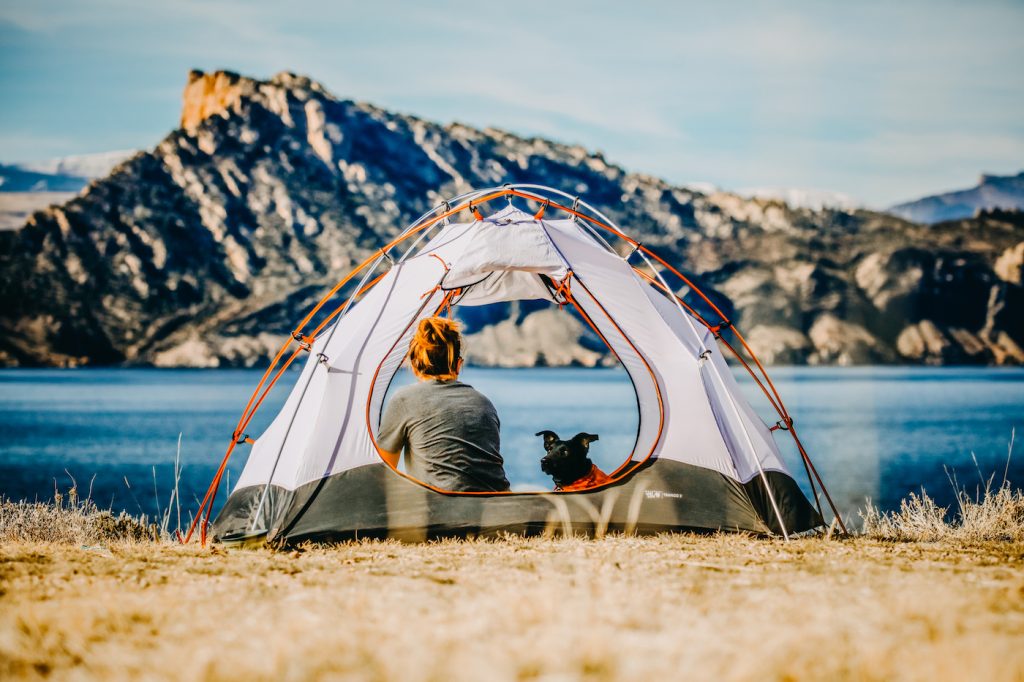 Before pitching your tent, squat down, look about in every direction, find the highest elevation, and place your tent on top.
Rain and water quickly find low ground, and the last thing you want is to wake up laying in a pool of water or rushing to move your camp when a river starts to overrun its banks.
3. Always Pack a Bivy Sack
When the ground at your campsite is wet and cold, use a bivy sack around your sleeping bag.
A good bivy bag is breathable, insulates against wind, and retains heat, so you stay warmer without waking in damp, sweaty clothes.
4. Create a Cover for Outdoor Living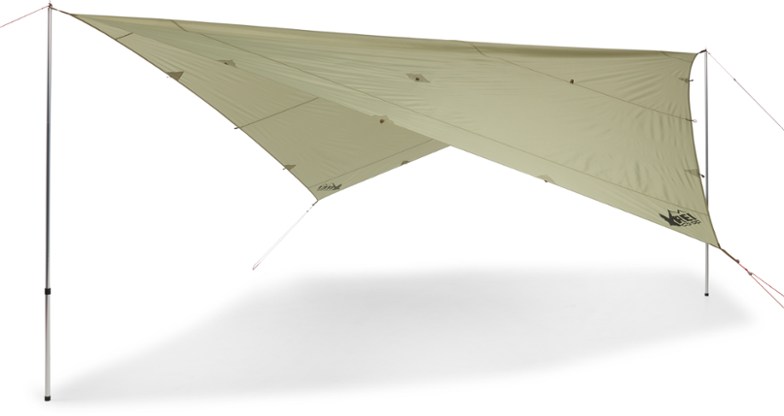 With a large tarp and some rope, you can build a quick shelter using trees or tarp poles from Green Elephant that keeps people outside mingling during rain, instead of crammed inside the tent.
5. Pack Foods You Don't Have to Cook
Trying to maintain a fire during bad weather can be challenging.
Fill your belly by packing ready-to-eat camping snacks and food, such as MRE Meals that include a heater pack. The meals are surprisingly tasty and easy to prepare.
6. Place a Floor Saver Inside Your Tent
A floor saver is a waterproof and tear-proof barrier fabric that fits inside your tent to add more protection to keep you and your gear dry.
7. Hike Safely on Muddy Trails
Use trekking poles to aid in your stability over slippery trails or when fording streams or slip on a set of crampons to keep you from slipping if trail conditions are in bad shape.
8. Add Some Lighting Magic to Your Camp
Pack some affordable, waterproof, battery-operated LED string lights to add a festive atmosphere to a campsite gloomy from rain.
Lights sparkling off the raindrops create a fairyland feel. The remote control lets you to change the brightness and mode without going out into the rain.
I bring these battery-operated string lights for most camping trips and hang them regardless of the rain – I love the atmosphere they create!
9. Fire Starter Hack
Break open logs to find dry kindling when the rain dampens all the usual fire-starting materials found in nature.
To access the innards of a decaying log, use a Gerber camping knife to easily break into the wood until you reach dry layers to pry out for kindling.
10. Have Rainy Day Camping Games Ready
Keep playing cards in your camp gear to pull out when rain strikes. Engaging in games keeps everyone entertained.
For a more thought-provoking game, try out these trivia cards from Wild + Wolf that are waterproof and keep the conversation going as you learn new things.
11. Stake Down a Mat Outside your Tent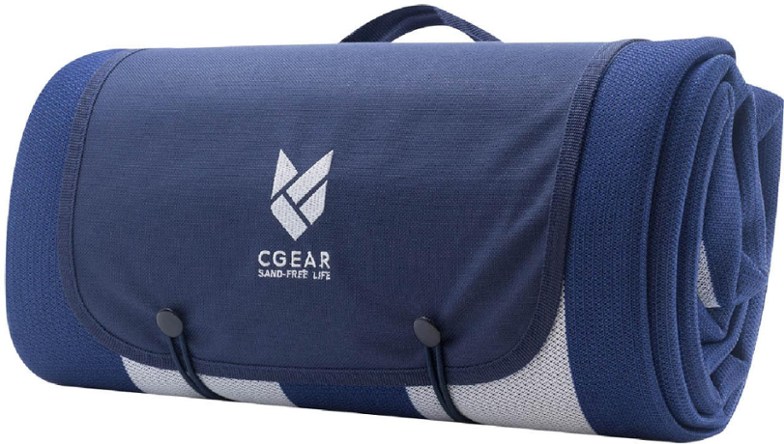 A CGear mat outside the tent door lets you wipe feet and gives you a mud-free spot to set gear.
12. Whip Out the Hand Warmers
Rain can quickly chill hands and feet. The solution is to use hand and toe warmer packs to keep you toasty.
13. Keep Waterproof Bags on Hand
Camping in the rain means you'll have plenty of items you want to keep dry, like your cellphone, snacks, or fire starter.
Plastic bags can work in a pinch to keep supplies dry but consider investing in Owl Outfitters waterproof pouches which are some of the best camping gear for rain products you can own.
14. Rely on a Camp Stove to Cook
Camp stoves are compact and portable, making them an ideal rainy-day cooking option when you want a hot cup of coffee or meal.
I love my Jetboil stove. It is super convenient and boils water quickly! The fuel lasts a long time with a built-in cooking vessel doubling as an insulated cup.
One of my backpacking recipes includes this backpacker jambalaya to warm you up on a rainy day.
15. Defy the Rain with the Right Jacket
Many waterproof rain jackets trap air next to your body and leave you sweaty. The best rain jacket from REI blocks rain and wind and has a breathable fabric to wick away moisture during physical exertion, so you stay more comfortable.
16. Use Your Sleeping Bag to Warm Clothes
Warm-up your next day's clothes using only your body heat. Place clothes into a pillowcase and slip it into your sleeping bag overnight.
17. Protect Pants from Snags and Wetness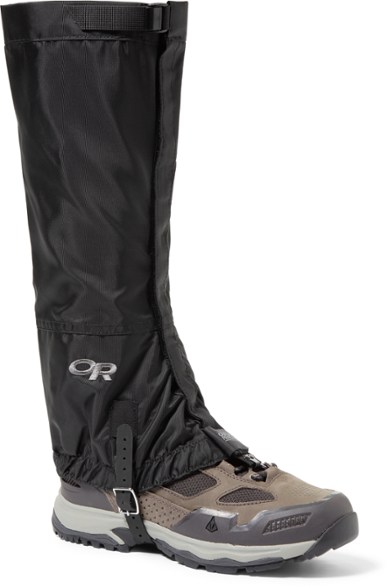 Outdoor Research Rocky Mountain leg gaiters are easy to pack but provide a layer of protection against wet grasses or scratchy foliage as you go about daily camping activities.
18. Know the Local Wildlife
When it rains, creatures hide, and some of them could be dangerous. You could unexpectedly come upon them when foraging for firewood or dipping into a cave to avoid getting drenched.
Research what wildlife lives in your camping location. You can't protect yourself against nature's flora and fauna if you don't know what's lurking.
19. Get Out of Those Wet Clothes
Staying in wet clothes cools your body, which can be dangerous if the temperature falls too low.
Make a clothesline inside or outside the tent using paracord and immediately hang up any wet clothing to help dry the items and reduce mold and smells.
20. Pick Up a Free Newspaper
Keep several newspapers in your camping tote that you can wad up and insert into wet shoes to help dry out the inner lining or start a fire.
21. Invest in a Waterproof and Windproof Lighter
A waterproof lighter isn't expensive but can be a real lifesaver when camping on rainy days, especially when the wind is brisk.
22. Bring Extra Lights
Having adequate lighting, like the Ultimate Survival Technologies rechargeable lantern, not only makes it easier to locate supplies but brightens people's mental attitude.
23. Relax With Music While Camping
Sing along with the raindrops by using an iLive waterproof Bluetooth speaker made for camping and hiking. Hang it anywhere while you wirelessly transmit your playlist from your phone.
Rainy Day Camping Fun
Don't let anything stop you from enjoying camping in the rain. Get out there and make mud pies, race leaf boats down a creek, or sit and quietly enjoy the sounds of the falling rain.
Always remember that embracing nature is what camping is all about!