This Jambalaya recipe is a filling backpacking meal that is so easy to prep at home. There's only a handful of ingredients that you need, and many are staples in every backpacker's meal prep box.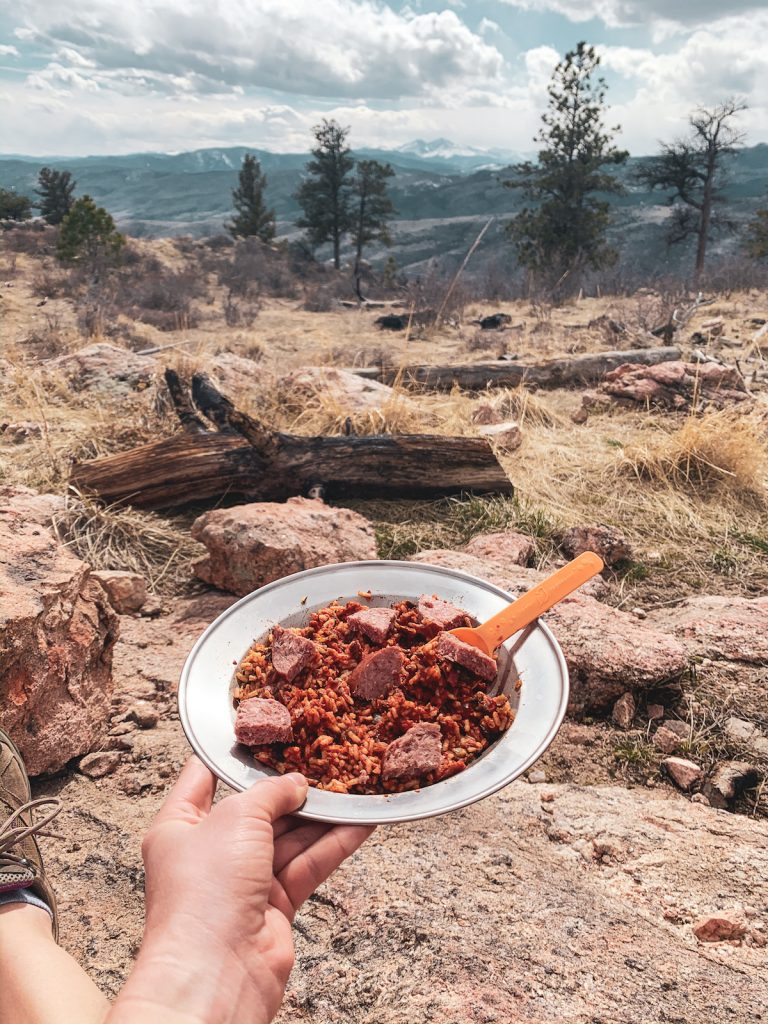 This is a just-add-water recipe that I prepare in a Ziploc bag (more on Ziplock bag cooking below.) It's lightweight, and can easily be customized according to your caloric needs.
Need more calories? Add additional rice. You can also beef up the flavor and calories in this recipe by adding vegetable or olive oil. It will also help make the tomato sauce extra creamy.
Ingredients for Backpacker Jambalaya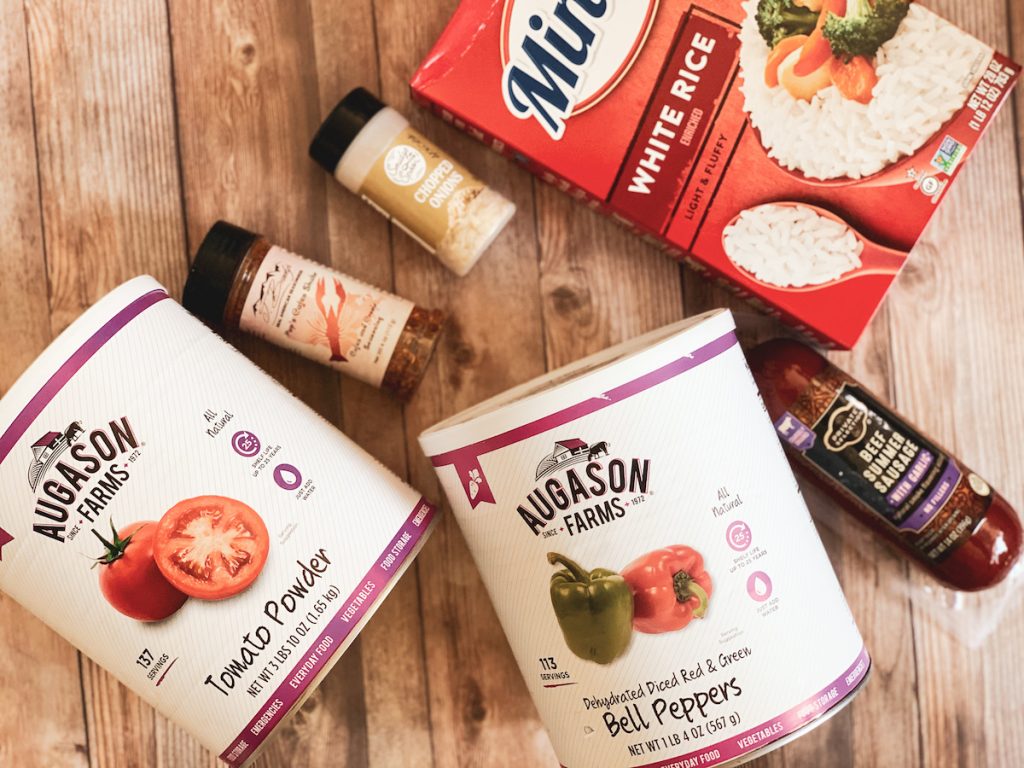 I love how easy this recipe is to prepare at home before hitting the trail.
You only need the following ingredients:
Instant Rice
Tomato Powder (I use this version and love it! It's also one of the best per ounce prices I've found.)
Dried Bell Peppers (I bought this one by Augason Farms.)
Cajun Seasoning
Dried Chopped Onion
Summer Sausage
Dried Okra (optional – to create a different variation or if you don't like peppers)
Cayenne (optional – if you want it spicy!)
Tomato powder and dried peppers are staples for me, so if you're hesitant to purchase these in bulk for just this recipe, I highly recommend you reconsider.
The tomato powder can be used to make tomato paste that you can use in many other backpacking classics, including chili, pasta sauce, rice & beans, and more.
The dehydrated peppers are used in my backpacking "fried rice" and different Asian noodle recipes. Really, dehydrated peppers make a great addition to so many recipes when you want
Cooking in a Plastic Bag
When I first heard of adding boiling water to plastic bags, I was really hesitant. Of course, I was thinking wouldn't it melt? Or does it leach chemicals into my food? Well, I did my research first and am sharing my tips with you below on Ziploc bag meals.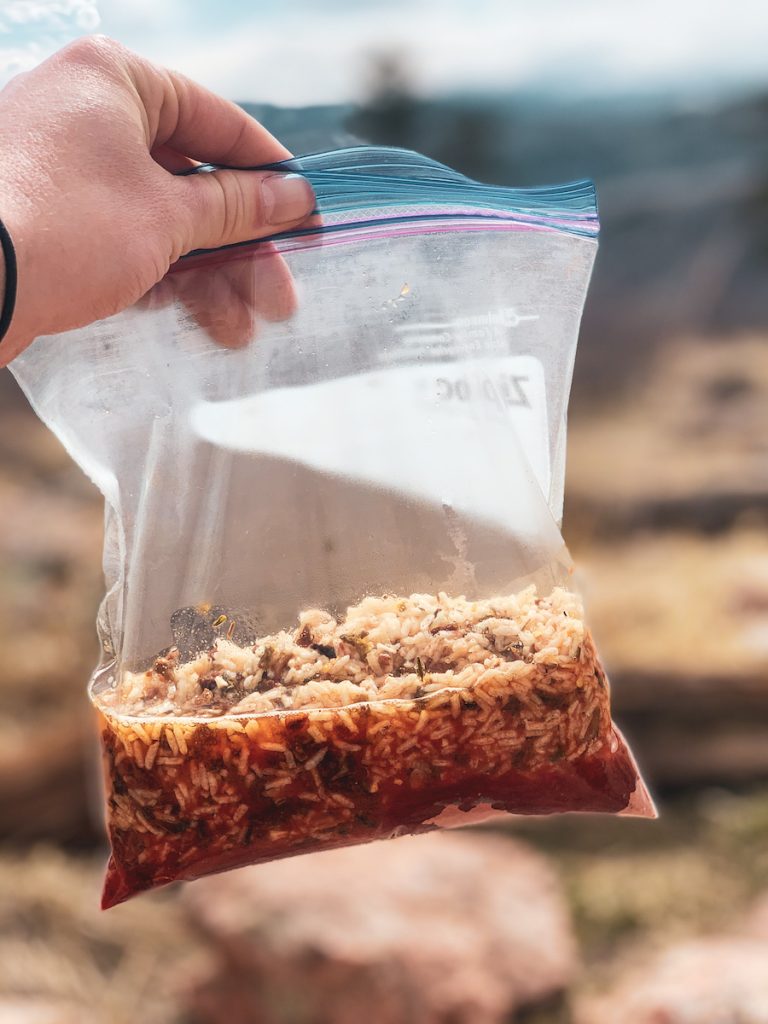 First, I only use freezer-bags. These are more durable and better quality than your typical sandwich bag and heat safe. I tend to stick to name brands only, specifically Ziploc. Their freezer bags contain no BPA.
I also do not add water that is still boiling, though I know other backpackers who do. The water doesn't need to be boiling for the food to rehydrate and cook, it simply needs to be hot. Bring the water to a boil
And for those still on the fence about cooking in plastic bags, check out Sous-vide! It's a French style of cooking that involves cooking in plastic bags. Sous-vide companies sell bags that are food safe and a possible alternative to Ziploc bags.
Lastly, instead of using a food cozy to keep the water hot while it rehydrates, I simply place the bag back in my Jetboil and cover it with the lid. The Jetboil is well insulated (which helps it boil water in just a few minutes). The food stays hot while it rehydrates and cooks for 5-10 minutes. However, you can also use a food cozy or make your own food cozy.
I hate biting into a just-add water meal to find that it's either still crunch or cold! The food cozies really help.
Now at last, here's my recipe for a homemade backpacker jambalaya! The total cost for all of the net ingredients was under $3 per serving of this jambalaya, making it an affordable just-add-water meal.
Recipe for Homemade Backpacker Jambalaya
Backpacker Jambalaya
Ingredients
3/4

cup

instant rice

1/4

cup

powdered tomoato

1/2

cup

dried peppers

2

tsp

dried onion

2

tsp

cajun seasoning

1

cup

water

6

slices

summer sausage

or cajun sausage
Instructions
At Home
Combine the instant rice, dried pepper, cajun seasoning, dried onion, and powdered tomato in a quart-size freezer Ziploc bag.
At the Campsite
Bring 1 cup of water to a boil. Let it cool slighty for about 1 minute before pouring the water into the plastic bag. Add the sliced summer sausage. Mix the contents of the bag, and then let the bag sit for 5-10 minutes until the rice and vegetables are soft.
What are your favorite homemade just-add-water backpacking meals? I'd love to hear about them! If you make this yourself, please leave a comment. I'd love to hear what adventure this jambalaya fueled!