Colorado is home to dozens of mountain towns, and each one offers unique experiences. Looking for a weekend (or week-long!) getaway to an iconic Colorado mountain town? Here are a few of my favorite mountain towns around Colorado, plus a few suggestions for things to do in each place.
1. Durango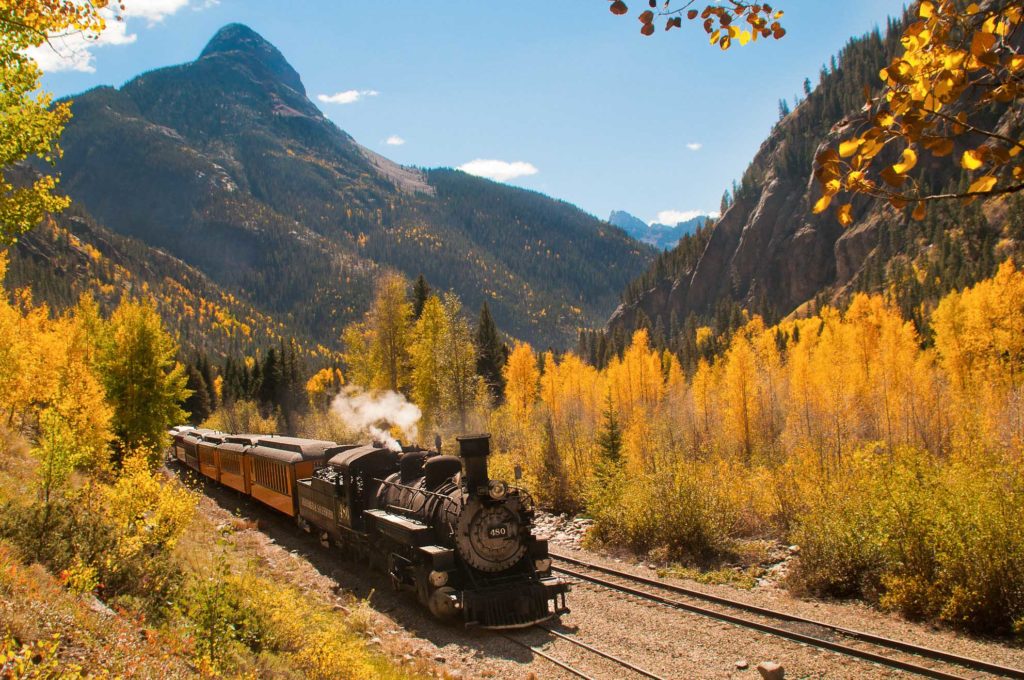 Step back in time when you visit one of the most famous Colorado mountain towns. Located along the San Juan Skyway Scenic Byway, Durango is home to a slew of historic sights and outdoor attractions that offer a glimpse into the Wild West.
Things to Do in Durango, Colorado
Strater Hotel
The historic Strater Hotel was once a winter retreat for miners, and it served as a speakeasy during prohibition. Guests can search for hidden compartments in the walls and under the stairs, but the secret nooks now hold candy instead of alcohol. The hotel's Diamond Belle Saloon is open for dinner, and a pianist plays tunes from the Old West during happy hour.
Durango and Silverton Narrow Gauge Railroad
A trip to Durango wouldn't be complete without a scenic train ride. Passengers will enjoy dramatic views of the San Juan National Forest and Animas Valley on the three and half-hour ride to Silverton.
Four Corners National Monument
Durango's close proximity to Four Corners National Monument gives travelers the perfect opportunity to visit the spot where Colorado, New Mexico, Utah and Arizona meet.
2. Estes Park
Estes Park enjoys a prime location near Rocky Mountain National Park and Roosevelt National Forest. Because it is next to the National Park entrance and convenient to the Front Range, it is one of the more crowded mountain towns, but for good reason! There's plenty to do from horseback riding, hiking, to strolling the main street.
Take in the views of the Rockies and keep an eye out for the elk that make regular appearances in Estes Park.
Things to Do in Estes Park, Colorado
Riverwalk
Stroll along the river and visit some of Estes Park's many restaurants, breweries and shops.
Peak to Peak Scenic Byway
The Peak to Peak Scenic Byway is the perfect way to see Colorado's stunning fall foliage.
3. Crested Butte
Crested Butte is another iconic Colorado mountain town that offers skiing, hiking trails and mountain biking paths.
Things to Do in Crested Butte
Mountain Biking
Rent a bike in-town or bring your own. There are numerous mountain bike trails that are gorgeous. One of my very first mountain bike trails was Lupine Trail, and I highly recommend it. It was difficult for me as a beginner, but if you want to just get started, the bottom half that goes through town is very beginner friendly and easy!
Elk Avenue
Crested Butte's historic district offers plenty of opportunities to shop, dine and enjoy the breathtaking mountain views. There are plenty of great restaurants, including the best pizza I've had in Colorado – check out The Secret Stash while you're there.
4. Frisco
Frisco has been called the "Main Street to the Rockies." This picturesque mountain town is close to several major ski resorts and a great central point for adventures along I-70.
The town especially comes alive in the summer! There are free concerts, festivals and more during the summer.
Things to Do in Frisco
Rainbow Lake
Take a short, scenic hike from Frisco to Rainbow Lake to enjoy a postcard-perfect view of the snowcapped Rockies. This is a great hike that's very family-friendly.
Paddle Boarding and Kayaks
Frisco is right next to Dillon Reservoir. Go to the marina in Frisco to rent paddle boards or kayaks and enjoy a day in the sun on this incredibly scenic lake.
5. Breckenridge
Breckenridge is a historic mining town that has been transformed into a world-class vacation destination. Breckenridge's main street is lined with specialty shops and gourmet eateries, and adventure seekers can learn to throw an ax, embark on a tour of the town's most haunted places or kayak the Colorado River.
Things to Do in Breckenridge, Colorado
Breckenridge Ski Resort
If you're visiting Breckenridge during the winter, the slopes are the place to be. Breckenridge offers skiing, snowboarding and snow tubing for all ages and abilities.
Peak 8 Fun Park
During the summer, you'll want to check out Peak 8 Fun Park. Families can ride a scenic gondola to the mountain's peak, test their skills on a rope course, play mini-golf or zipline down the ski slope.
6. Salida
Salida, Colorado is my favorite mountain town in Central Colorado. It's about a 3 hour drive from Denver and feels less crowded to me than other popular mountain towns around Colorado. Visit Salida during the summer for plenty of fun activities in the sun.
Things to Do in Salida, Colorado
River Tubing
The Arkansas River runs right through the center of Salida. You'll see plenty of people lounging by the riverside or floating down the river in tubes. You can find tube rentals right in town, or bring your own tubes. (These tubes have lasted me three summers and multiple river tubing trips so far!)
Mountain Biking
Salida has a lot of beginner-friendly mountain biking trails. Rent a bike in town for a fun weekend biking the trails.
Mount Princeton Hot Springs
These hot springs are among my favorite developed hot springs I've visited in Colorado. They are only 25 minutes outside of Salida. You can soak in the river where hot springs run off, and they've built small rock pools to relax.
7. Steamboat Springs
Steamboat Springs is located in Colorado's Yampa valley. It's a beautiful destination for both summer and winter months with plenty to do throughout the year.
Things to Do in Steamboat Springs, Colorado
River Tubing on the Yampa
Here is another fun location to go river tubing. The Yampa runs right through town. Companies offer shuttles, or you can drop one car off in town and tube to a bus stop to shuttle back to your car.
Strawberry Park Hot Springs
Strawberry Park Natural Hot Springs is just a short drive from Steamboat. They have open-air hot spring pools, as well as changing cabins and massage facilities.
Steamboat Ski Resort
In the winter, don't miss a chance to ski at Steamboat. It's a beautiful ski mountain that's also known as a chosen spot for Olympic trainings. Fun fact – more winter Olympians have come from Steamboat Springs than any other town in North America.
8. Silverton
Nestled in the San Juan Mountains, Silverton is one of the most remote Colorado mountain towns on our list. Skiing, snowmobiling, sledding and ice climbing are popular winter activities in Silverton. During the summer months, visitors can hike, bike or go whitewater rafting.
Things to Do in Silverton, Colorado
Eureka and Animas Forks
Eureka and Animas Forks are ghost towns near Silverton, Colorado. These former mining towns were once bustling burgs, but they've been abandoned since the 1930s. You may not see any actual ghosts, but you can still explore some of the original buildings in Animas Forks.
Ice Lakes Trail
Hikers will pass waterfalls, fields of wildflowers, and the occasional mountain goat on their trek to one of the most beautiful vistas in the West. The Ice Lakes Trail is just under four miles long, but the high elevation makes this a difficult hike, so be prepared to spend an entire day on the mountain.
9. Dolores
Dolores's scenic location earns it a top spot on this list of the best Colorado mountain towns. Situated on the banks of the Dolores River, the Town of Dolores is a paradise for outdoor enthusiasts. Spend your days hiking, fishing and boating before retiring to one of Dolores's highly rated vacation rentals.
Things to Do in Dolores
Canyons of the Ancients
Explore the ruins of an ancient Pueblo civilization at Canyons of the Ancients. Canyons of the Ancients is a national monument and outdoor museum that features 6,000 awe-inspiring archeological sites. Start your day at the Canyons of the Ancients Visitor Center and Museum before exploring the villages, shrines, reservoirs and homes of the ancient Puebloan people.
Geyser Springs
Lace up your favorite pair of hiking boots and hit the trails to see the only geyser in Colorado recognized by the United States Forest Service. Eruptions at Geyser Springs may not be as impressive as those at Old Faithful, but the trail is an easy 3-mile hike, and the turquoise waters of Geyser Springs make it an Instagram-worthy location.
Dolores River Brewery
The Dolores River Brewery is a brewpub that serves hand-tossed pizza, craft beer and vegetarian options. During the summer months, guests can dine on the outdoor patio while enjoying beautiful water views.
McPhee Reservoir
Fishing, boating, biking and hiking are popular activities at McPhee Reservoir, a large lake located 16 miles from Dolores.
10. Woodland Park
Woodland Park is a short drive from Colorado Springs and offers unrivaled views of Pikes Peak. Hikers from around the globe flock to the nearby Pike National Forest to hike the many scenic trails.
Things to Do in Woodland Park, Colorado
11 Mile Canyon Recreation Area
The 11 Mile Canyon Recreation Area is located on nearby Lake George. Lake George offers some of the best fishing, boating and hiking in all of Colorado. Camping and RV sites are available.
The Donut Mill
The Donut Mill is famous amongst Coloradans for its enormous bear claws and mouthwatering cinnamon buns.
11. Telluride
When people think of the best Colorado mountain towns, Telluride is always high on the list. Telluride's charming historic district boasts dozens of specialty shops and fine dining experiences, and the views of the San Juan Mountain range from Main Street are incredible.
Things to Do in Telluride, Colorado
Bridal Veil Falls
Bridal Veil Falls is 365 feet tall, making it Colorado's tallest free-falling waterfall. Hike or drive Forest Service Road 648 to reach the falls.
Telluride Gondola
The Telluride Gondola carries guests from Telluride to Mountain Village. The entire trip lasts 13 minutes, and the views are spectacular.
12. Creede
Creede is a tiny town in Mineral County, Colorado. Some of Creede's most popular attractions are underground, including a subterranean firehouse and a mining museum.
Things to Do in Creede, Colorado
Wheeler Geologic Area
The Wheeler Geologic Area was formed by a massive volcanic explosion over 25 million years ago. These otherworldly rock formations are amazing, but you'll need a proper 4-wheel-drive vehicle to see them up close. The 16-mile road leading to the parking lot is treacherous.

What are your favorite Colorado mountain towns? I'd love to hear your recommendations as well!

These 12 stunning Colorado mountain towns offer the perfect getaway for both summer and winter months. Enjoy skiing in the winter and hiking and biking during summer months.