Looking for some inspiration for tasty & easy backpacking meals?
I do enjoy the convenience of freeze-dried backpacking meals, but they also start to get expensive for a long-haul hike.
I'm hiking the JMT this summer (just got my permit this week!), so I've been thinking more about backpacking. A lot of my recipes were car camping recipes last summer. But this summer, be ready for more DIY backpacking meal ideas!
Here are some of my favorite go-to backpacking meal ideas that can be made with less than 4 items for a fraction of the price of a freeze-dried meal.
Easy Backpacking Meal Recipe Ideas
1. The Backpacker Burrito
To make a burrito backpacker-style, simply wrap instant Mexican rice and black beans in a flour tortilla. You can also add your favorite hot sauce if you've brought any with you. I love hiking with a few hot sauces or seasonings, as eating the same thing every day can get dull quickly.
2. Salmon & Rice

Instant rice is one of my backcountry staples. It's cheap, cooks quickly, and is light-weight. Combine it with canned salmon (or tuna), dried vegetables, and soy sauce for an easy Asian-inspired backpacking meal.
3. Tuna Wrap

Tortillas are great for backpacking. They don't get squished in your bag and more calorie-dense than bread. Wrap tuna and mayo in a wrap for a quick lunch. If you're on a short hike and carrying any fresh veggies, throw them into your wrap too.
4. Buffalo Chicken Mac & Cheese

Every hike needs packets of Frank's Buffalo Sauce. (Check out this assortment of individual hot sauce packs.) Combine your hot sauce with canned a chicken pack and mac and cheese. Most instant macaroni and cheese calls for milk or butter, but you can skip this ingredient and simply leave excess water in your pot.
5. Backpacker "Pho"

Mike's Mighty Good Craft Ramens are some of my favorite instant noodles, especially the beef pho. I get it either online or at Lucky's Market. Add some beef jerky to your pho for extra protein and a complete meal.
6. Hummus Wrap
Dried hummus is a great trail snack! You can find it in the bulk section of some stores or online. It's often plain, so I will sometimes pre-mix it with garlic powder or chili powder before I leave for extra flavor.
Pita bread travels well and is great once you've tired of tortillas. I always backpack with oil for both flavor and extra calories.
7. Tuna Mac & Cheese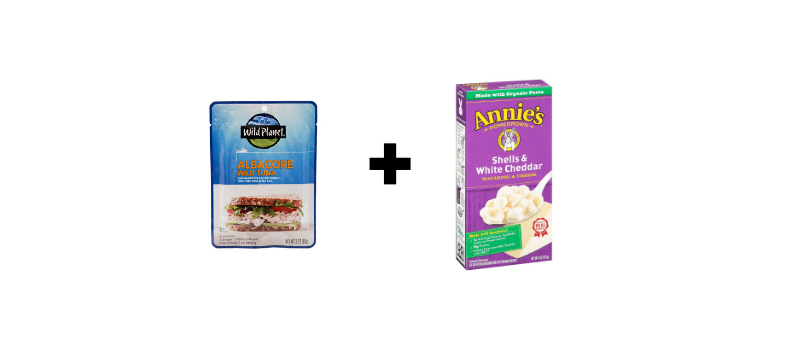 I love tuna in my mac & cheese. I realize this isn't one for everyone! But it's easy, cheap, and GOOD… what more could you ask for?
8. Spaghetti & Sausage
Summer sausage keeps well for multiple days, especially if you are in a cooler climate. However, I do recommend eating earlier it earlier on in your trip. Angel hair pasta cooks faster than traditional spaghetti, so it's my choice. If you want even faster cooking, instant noodles are also an option.
I combine water with dried tomato powder to make a DIY version of backpacking pasta sauce. I recommend combining the powder wtih dried basil, oregano, and garlic powder before you hit the trail. The sauce also soaks up some of the flavors from the summer sausage, so it doesn't feel like you're just eating tomato paste.
9. Miso Noodle Soup

Instant miso soup is SO good. Many of them also contain tofu for some added protein, but they certainly don't have enough calories to eat on its own while hiking. Add rice noodles or Udon to the broth for a really tasty noodle soup.
Optional: Add dried seaweed – it travels well and is a good addition to many of these rice meals listed here too.
10. Naan & Curry Vegetable

Another flatbread that's great for hiking – naan!
Make a quick backpacking curry by combining the coconut milk powder, curry powder, dried vegetables, and water. Add extra protein with tuna, chicken, or tofu.
Backpacking with curry powder or paste and coconut milk powder is great! It opens up so much potential for a variety of curry noodles, curry rice, or just dipping your naan into a potful of curry!
You can find coconut milk powder here.
11. Pesto Pasta
Sure, you could just eat pasta covered in oil. OR you can take your backpacking meal a level up by adding some pesto mix. A full pack of this pesto mix makes more than you need for a single meal, so make sure to repackage it in a resealable bag before your hike.
Add extra protien by adding tuna, salmon, or chicken.
12. Backpacker Carbonara Pasta
This pasta dish is packed with protein. While your pasta is hot, add egg powder and parmesan cheese, making sure you have some reserve water still in your pot.
You can use the pre-grated dried parmesan, but I love hiking with hard cheeses. Hard cheese lasts multiple days while backpacking when sealed.
Ova Easy is my favorite powdered egg.
13. Thai Curry Noodle

Here's another variation of everything you can do with just coconut powder and curry. I do prefer curry pastes, so if it's a shorter backpacking trip, I definitely will treat myself to packing some curry paste.
14. Backpacking Fried Rice

Combine instant rice and dried vegetables in a pot of boiling water. Once done, set aside in a bowl. Scamble your powdered eggs and add to the rice. Cover in soy sauce. Siracha also makes a great addition! Siracha is included in this hot sauce packet assortment that I love!
15. Backpacking Chicken "Casserole"

Combine stuffing, chicken, and dehydrated vegetables for a delicious backpacker casserole.
16. Salmon & Cream Cheese Bagels
Bagels and cream cheese make fora great breakfast. This is one to eat early on in your hike. Smoked salmon and individually packaged cream cheese are okay on the trail for a couple of days (depending on the type of climate you are hiking in), but you don't want to be carrying them around too long!
17. Grits & "Bacon"
When you get tired of nonstop oatmeal or granola for breakfast, mix it up with grits! I'll add bacon jerky to my grits for some extra flavor and protein in the morning. You can turn this into full breakfast casserole by adding powdered eggs and powdered cheese too!
Be sure to check out my ideas for no-cook backpacking meals too for additional backpacking meal inspiration.
What are your favorite easy meals for backpacking? I'd love to hear from you in the comments!