This is a classic camping breakfast for both Boy Scouts and Girl Scouts, and for good reason – this dutch oven camping recipe is great for big groups! It's a hearty breakfast made entirely in the dutch oven.
You don't have to dirty up a ton of dishes to feed a big group while camping. Combine hashbrowns, egg, sausage, and cheese all into the single dutch oven to have a breakfast casserole for a crowd.
My variation of the Mountain Man Breakfast includes peppers & onion for extra flavor. However, for a simpler variation, you can omit the vegetables. (Though I highly recommend keeping them – the jalapeno adds a tiny kick that is SO good!)
Ingredients Mountain Man Breakfast & Variations
You can find the ingredients for this recipe at any local grocery store.
Breakfast Sausage
Yellow Onion
Red Pepper
Green Pepper
Jalapeno
Eggs
Cheddar Cheese
Frozen Hashbrown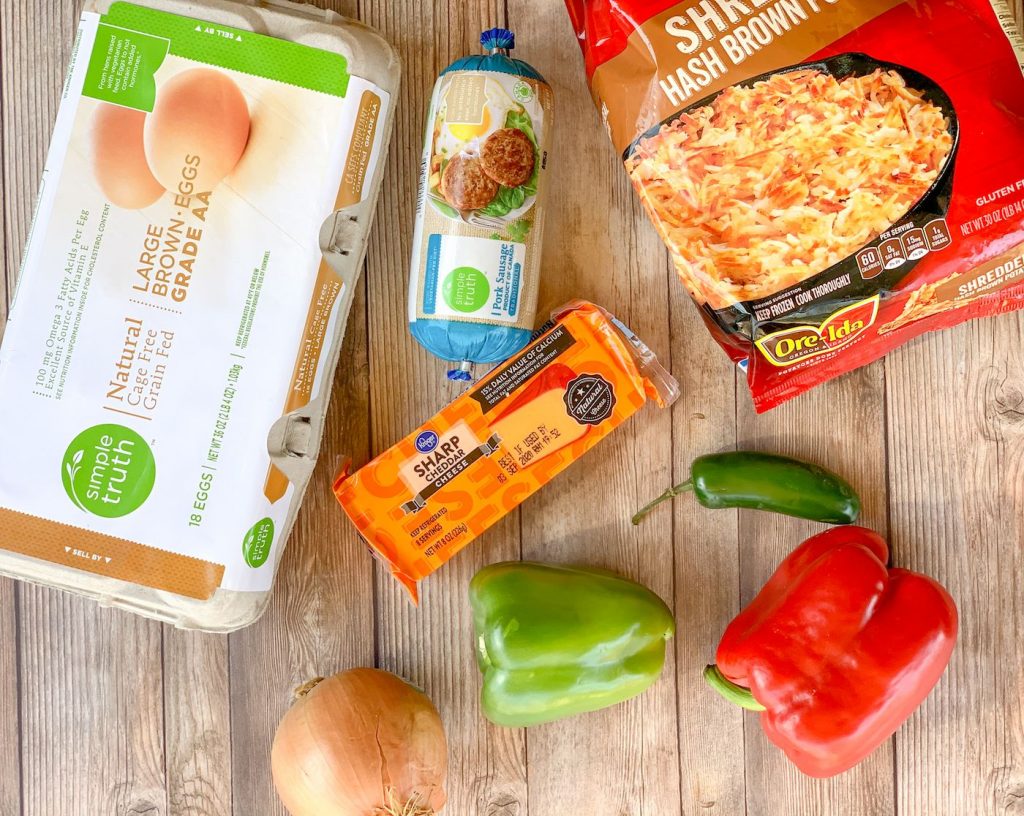 (The ingredient measurements are in the recipe below.)
You can alternatively use bacon or ham in this recipe instead of sausage. To make this recipe vegetarian, omit the sausage.
I often meal prep this at home to make it easier to prepare at camp by chopping the peppers and onions at home and storing the chopped peppers in a Tupperware container.
Equipment
I love this camping recipe because there is so little equipment needed! You don't need any fancy camping cooking gear for this one and can keep your packing list to a minimum. All you need to prepare this recipe is:
For easier cleanup, you can also cover the bottom of your dutch oven with foil. After you've sauteed the sausage, peppers, onions, and garlic set the mixture aside in a bowl. Wipe excess oil out of the dutch oven with a clean cloth, and then cover the bottom of your dutch oven with tin foil.
Mix the egg, cheese, hashbrowns, sausage and pepper and then pour over the foil. The egg does tend to stick to the cast iron, so this will make clean up easier.
Mountain Man Breakfast Recipe
Mountain Man Breakfast in a Dutch Oven
This is a great recipe to feed a large group while camping! Prepare this entire breakfast in your dutch oven. It's hearty, delicious and easy.
Ingredients
14

oz

breakfast pork sausage

1/2

onion

chopped

1

red pepper

chopped

1

green pepper

chopped

1/2

diced jalapeno

optional

2

cloves of garlic

minced

12

eggs

1

cup

shredded cheddar cheese

3

cups

frozen shredded hashbrown potatos

thawed
Instructions
Heat the dutch oven over your hot coals. Add the sausage and saute until browned, appoximately 10 minutes, reaking apart the sausage as it cooks.

While the sausage cooks, chop onions, pepper, jalapeno, and garlic.

Add the onions, pepper, and jalapeno to the dutch oven with the sausage. Cook until the peppers and onion are soft, about 10 minutes. Add in the minced garlic and sautee for an additional 2 minutes.

Beat 12 eggs until scrambled. Add the 3/4 cups of shredded cheddar cheese to the egg mixture, setting aside 1/4 cup to use as a topping.

Add the egg mixture and thawed hashbrowns to the dutch oven. Mix all of the ingredients in the dutch oven, and then cover with dutch oven lid.

Place the dutch oven on approzibalely 7 coals arranged ina checkered formation. Place about 14 coals on top of the dutch oven lid in a circle over the edge of the lid. You want the coals near the edge so the heat can transfer down the sides of the dutch oven.

Let the dutch oven sit covered with teh coals for about 40 minutes, until the eggs are firm. Top with the remaining cheese and cover again for 2 minutes, until the cheese is melted.
Notes
Half a jalapeno with seeds gives this dish a very mild spice level, and adds a lot of flavor. If you want it to be slightly spicier, use the entire jalapeno. 
I hope you love this camping breakfast as much as I do! It's one of my go-to recipes, especially if we're camping in a big group. This recipe can easily serve 6 with some leftovers. If you're cooking for a larger crowd, estimate 2 eggs and 1/2 cup of hashbrowns per person to customize the number of servings for this recipe.
I'd love to hear what adventure you cook this Mountain Man breakfast in the comments!