I love potato salad. But my feeling around mayonnaise? Well, my love for it isn't so strong.
If you're thinking, but potato salad always has mayo?! Let me tell you – you can still have flavor-packed and creamy potato salad without the mayo.
You might be more familiar with no-mayo potato salad being referred to as French Potato Salad.
It typically includes lemon or dijon mustard in an oil & vinegar-based dressing. Oh, and herbs…. lots & lots of herbs, including my personal favorite – dill.
Now what really makes this great is the radish and celery to give it an extra crunch.
Another great benefit to this potato salad? It's vegan. Making it a great picnic recipe for an outdoor potluck.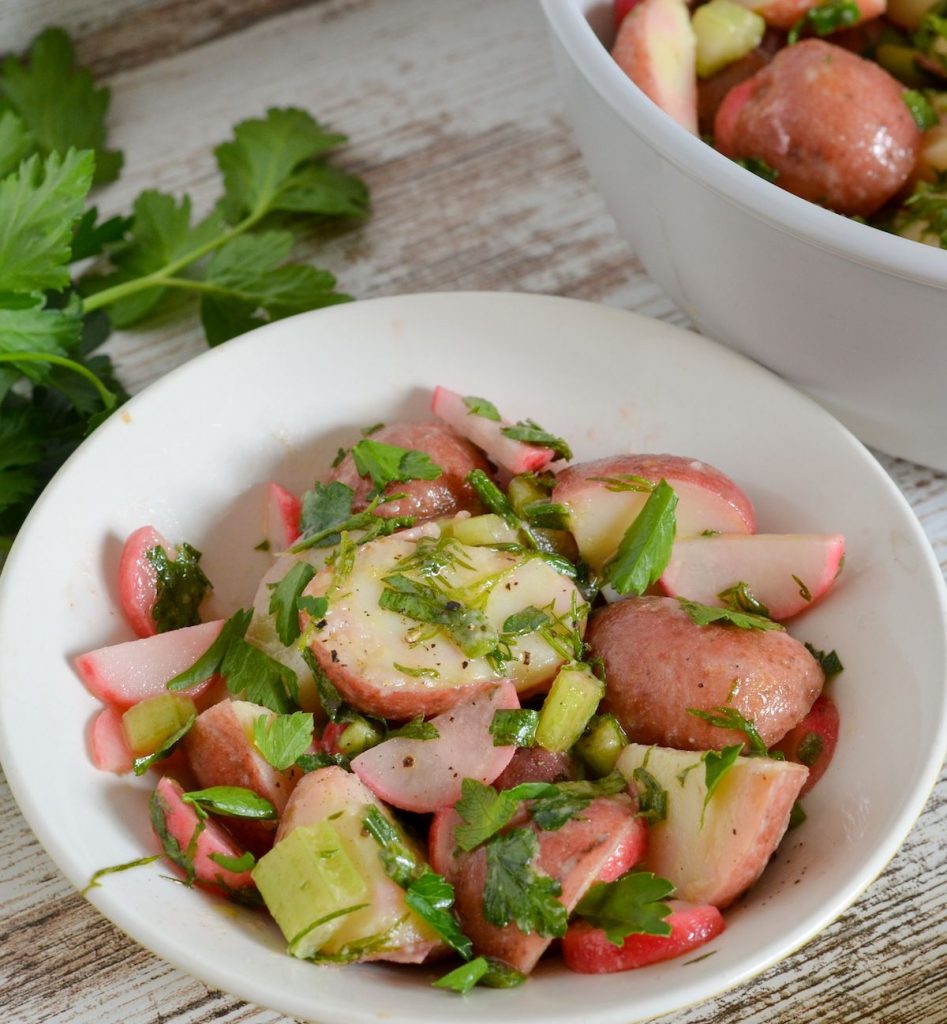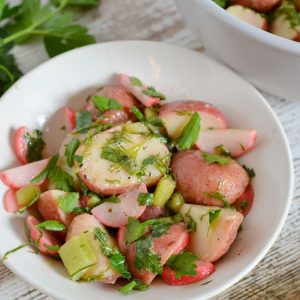 No-Mayo Potato Salad
This herb-packed and creamy potato salad is made without mayo, making it vegan-friendly
Ingredients
2

lbs

red potatoes

1

cup

sliced radish

3

ribs of celery

1/4

cup

white wine vinegar

divided

1/2

cup

olive oil

1/2

cup

fresh parsley

loosely packed

1/2

cup

green onion

1/2

cup

fresh dill

loosely packed

1

tbsp

dijon mustard

salt
Instructions
Cut 2 lbs of red potatoes and place them in a salted pot of boiling water. Cook for 20-30 minutes, until the potatoes are soft. Once done, drain potatoes in a colander. Set to the side in a mixing bowl.

While the potatoes cook, slice radishes until you have approximately one cup sliced. Cut 3 ribs of celery. Slice your green onion, fresh dill, and parsley and set aside.

Pour half of the white wine vinegar over the potatoes while they are still hot. They will soak up the vinegar flavor best while hot.

Combine the vinegar-soaked potatoes, radishes, and celery in your mixing bowl.

Prepare the dressing by combining the remaining vinegar, olive oil, dijon mustard, parsley, dill, and green onion. Toss the potatoes, radishes, and celery in the dressing. Chill in the refrigerator for at least 1 hour before serving.
No-Mayo Potato Salad Recipe Variations
Don't have all of the ingredients on hand? Or is there an ingredient that you don't like? Here are some of my favorite variations.
The green onion can easily be replaced wtih red or yellow onions. Or if you really love onion, use both red and green onion!
The herbs can be modified according to your taste preferences. Use only dill or parsley if you're not a fan of both herbs.
Vinegar can be substituted with lemon juice for a different flavor variation.
Let me know what you think in the comments about this no-mayo potato salad. I hope you love eating either at home or at your next picnic!