Dutch oven recipes have become my new favorite for camping. I recently made these campfire dutch oven enchiladas and wanted a new Mexican inspired dutch oven dish.
This is the perfect recipe for a summer camping trip. Why? Bell peppers are in season and on sale!
Plus, who doesn't love flavor packed peppers? It can be adapted to be either vegan or vegetarian, so you can accommodate every dietary restriction in a group.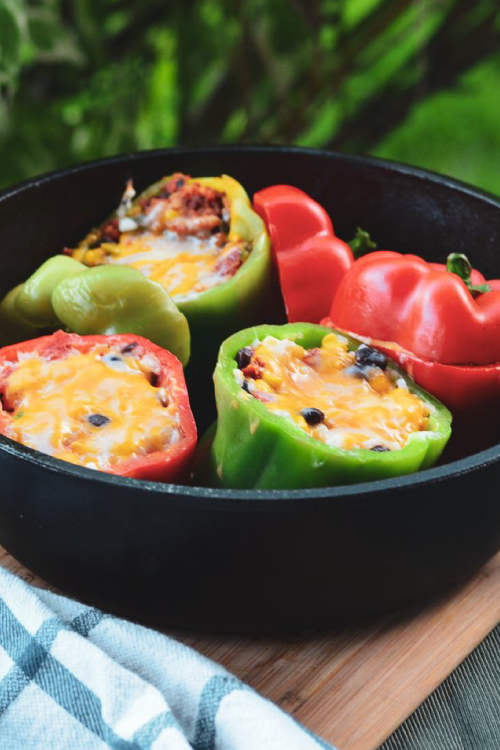 How to Make the Mexican Rice Stuffing
The peppers are stuffed with Mexican rice loaded with black beans, corn, diced tomatoes, and chorizo. With this recipe, you can fill up to 8 peppers or keep some rice as leftovers.
Of course, you can make this recipe at home, but if you do decide to use it on a camping trip, I recommend making the rice mixture beforehand.
You'll cook the rice and add in the black beans, corn, and chorizo at home. Store it in an airtight container, so once you're at your campsite, all you need to do is stuff your peppers and top with shredded cheese, and voila!
Choosing a Chorizo
The diced tomatoes and chiles add a lot of the flavor to this stuffed dish (making it delicious as a vegetarian option too!) But the chorizo adds a new layer of flavor to this recipe.
Be sure to choose a Mexican Chorizo. This is different from a Spanish Chorizo, which is more of a dried meat like salami.
I recommend checking out Whole Foods meat counter for their Chorizo. If you can't find chorizo, a pork breakfast sausage also tastes great in this recipe.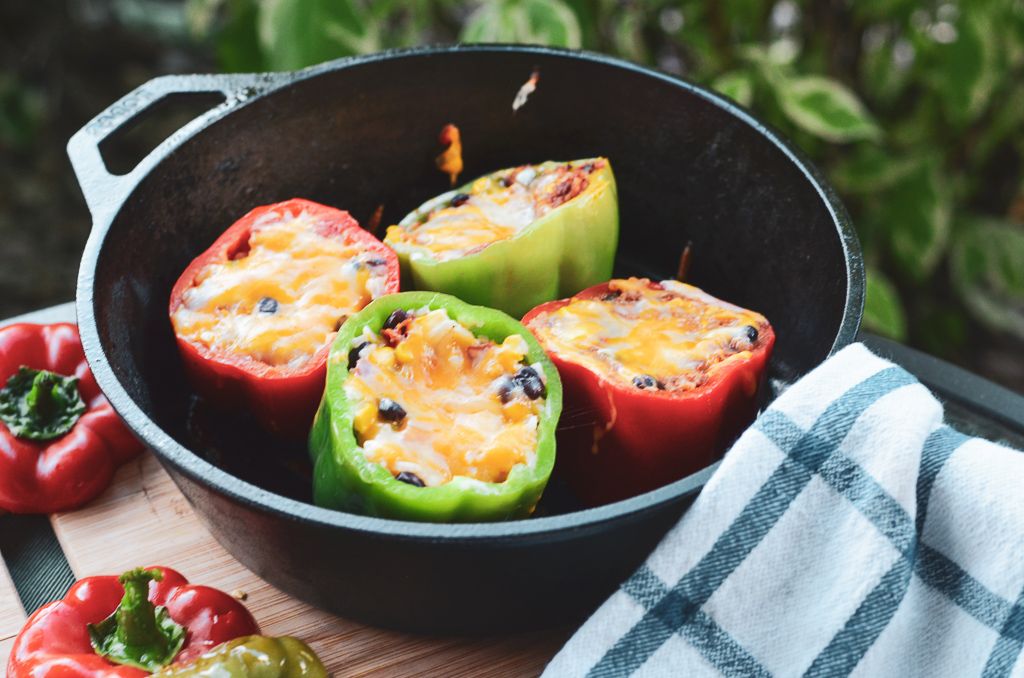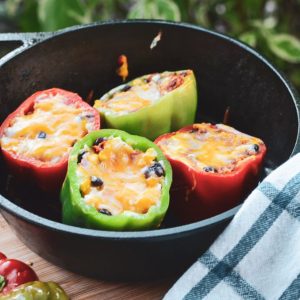 Dutch Oven Chorizo Stuffed Bell Peppers
Delicious dutch oven stuffed peppers with chorizo and topped with cheese. The perfect meal for a camping trip (or an easy weeknight meal at home!)
Ingredients
4

bell peppers

1

cup

rice

1

can

diced tomatoes w/ chiles

10 oz. can

1/3

pound

Mexican chorizo

1/2

cup

frozen corn

1

can

black beans

1/2

tbsp

chili powder

1

tsp

cumin

2

green onions, sliced

1/2

cup

shredded monterey jack or cheddar cheese
Instructions
At Home
Cook the 1 cup of rice with 2 cups of water with the diced tomatoes, cumin, and chili powder. Do not stir while cooking.

Sauté chorizo until browned.

Add the rice, beans, corn and sliced green onions to the sautéed chorizo in your pan. Store in an airtight container.
At Camp
Stuff the rice mixture into bell peppers. Top with shredded cheese.

Place peppers into a seasoned cast iron dutch oven. Carefully put over fire coals and place a few coals on top of the lid in a checkered formation. Cook for about 15 minutes until cheese is melted and rice is warmed.
How to Modify this Recipe at Home
If you want to modify this recipe at home and eat it anytime (not just camping), then simply follow the instructions to prepare the rice and peppers.
Cook the peppers for 30 minutes at 350 degrees in your oven.
If you don't have a dutch oven and want to make it at home, you can prepare these in a pan or baking sheet too. Simply cover the peppers with foil for the first 20 minutes. After 20 minutes, remove the foil and add cheese. Bake for another 10 minutes until the cheese is bubbling.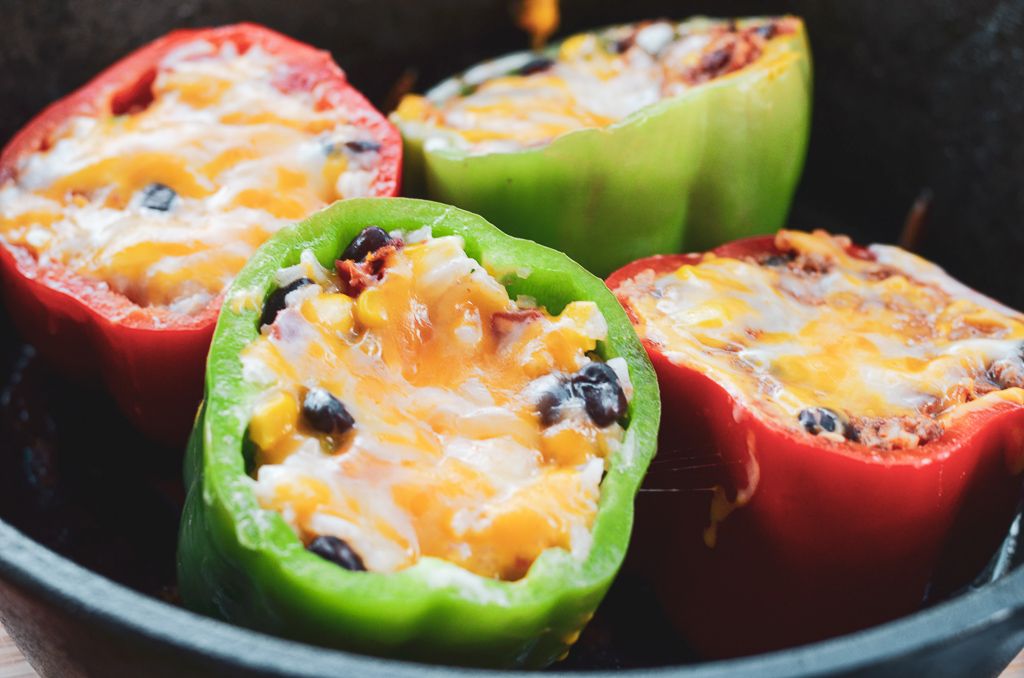 This is one of my new favorite camping recipes! There's very little work to be done at camp when you prepare the rice ahead of time.

If you have extra rice, take it with you for an easy lunch while camping too!

Let me know what you think of your stuffed peppers in the comments!

I love dutch oven recipes for camping. And these stuffed peppers are absolutely perfect for the summer time!