Dutch oven recipes for camping are my favorite way to cook over a campfire.
Why? There are so many incredibly tasty & easy dutch oven meals for camping! You can pour all of your ingredients into your dutch oven and then sit back and relax around the campfire.
Here I've rounded up some of my favorite dutch oven recipes for breakfast, lunch, dinner, and even dessert! But first, a few pointers on how to cook in a dutch oven over a campfire.
How to Cook Over a Campfire with a Dutch Oven
The key to cooking with your dutch oven is coal placement. The more coals you place on top and below your dutch oven the hotter it will be.
You should change your placement as well, according to your desired result. If you want to bake your recipe (casseroles, cobbler, meats, etc.), you should place coals above and below.
If you want to broil your recipe (steak, for example) then you should only place coals on top. For simmering, coals should be placed on the bottom.
Arrange the coals so that they are evenly spread across the top and bottom of your dutch oven. Try to place coals on the bottom in a circle around the edge. Putting coals directly in the center can cause your food to burn at the bottom when cooking for an extended period of time.
For a standard dutch oven, you want to have about 16 coal briquettes on top and 7 on the bottom to get an approximate temperature of 375 degrees Fahrenheit.
Choosing a Dutch Oven
Need to purchase a cast iron dutch oven? This one (pictured below) by Lodge is one that I have and my favorite! It is a dual dutch oven or cast-iron skillet. It is a 3-quart dutch oven, so it's great for cooking a meal for 2-3 people. It's also very reasonably priced for great quality cast iron! You can buy it on Amazon for $35.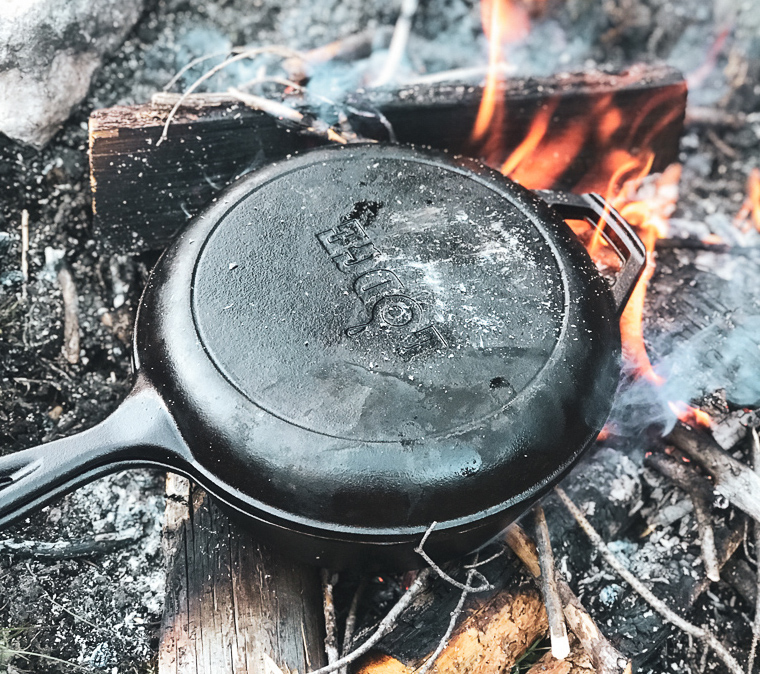 If you need something bigger and deeper (great for making bread or cooking for a large group), this 6-quart dutch oven by Lodge is great. It has legs so it's easy to get coals under the oven. The extra handle also makes it a lot easier to pick it out of your campfire.
Dinner Dutch Oven Recipes for Camping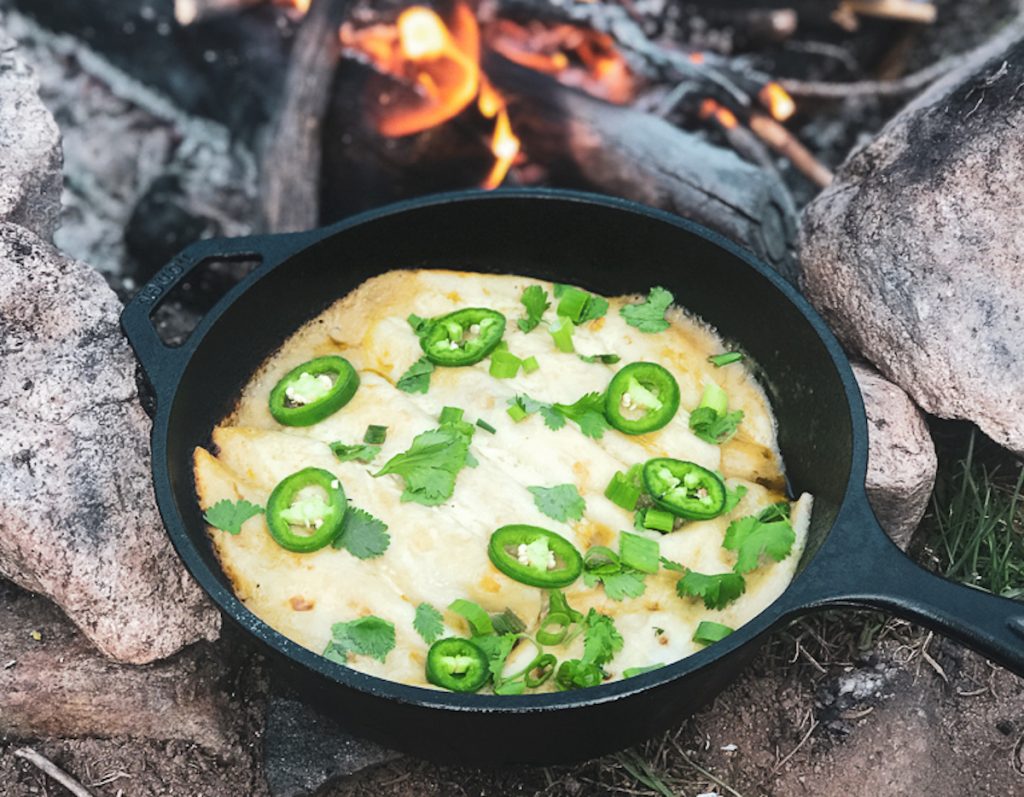 These incredible dutch oven enchiladas are vegetarian, but can easily be made with chicken as well. They're packed with veggies, cheese & spice for a filling camping meal that will warm you right up! Find the full recipe here.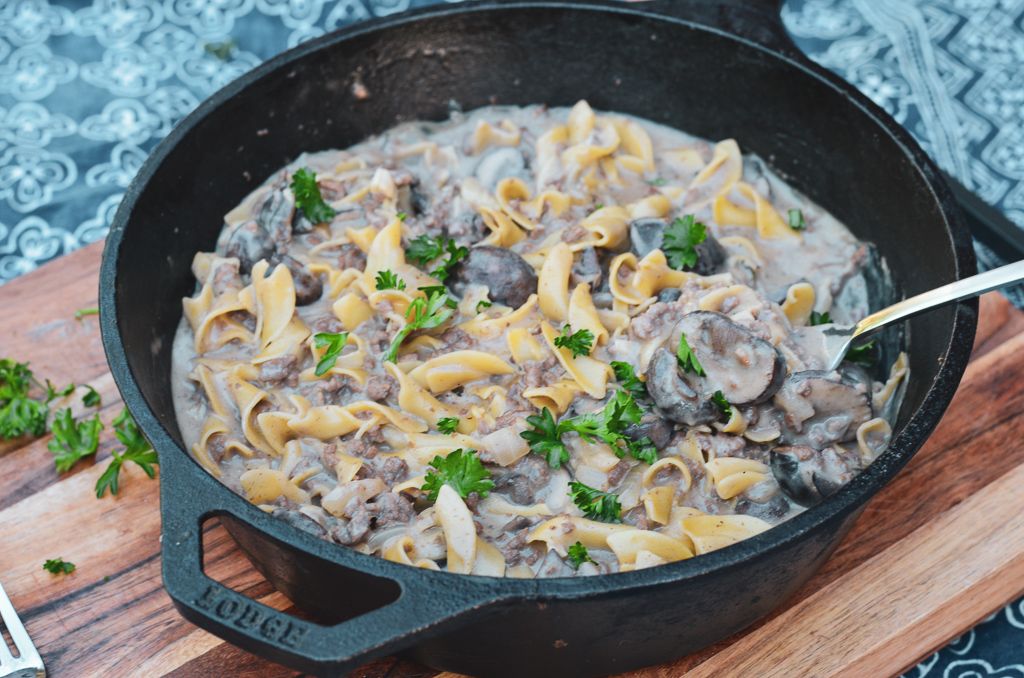 Beef stroganoff is one of my go-to's while camping or hiking. This is an easy & creamy meal that is made with a single pot. Get the recipe here.
Mmm.. camping chili is the best! Sit back and relax around the fire while this chili simmers in the dutch oven. Get the full recipe from The Stay at Home Chef here.
This sweet cornbread pairs perfectly with the above chili recipe! Get the full recipe from Dutch Oven Daddy.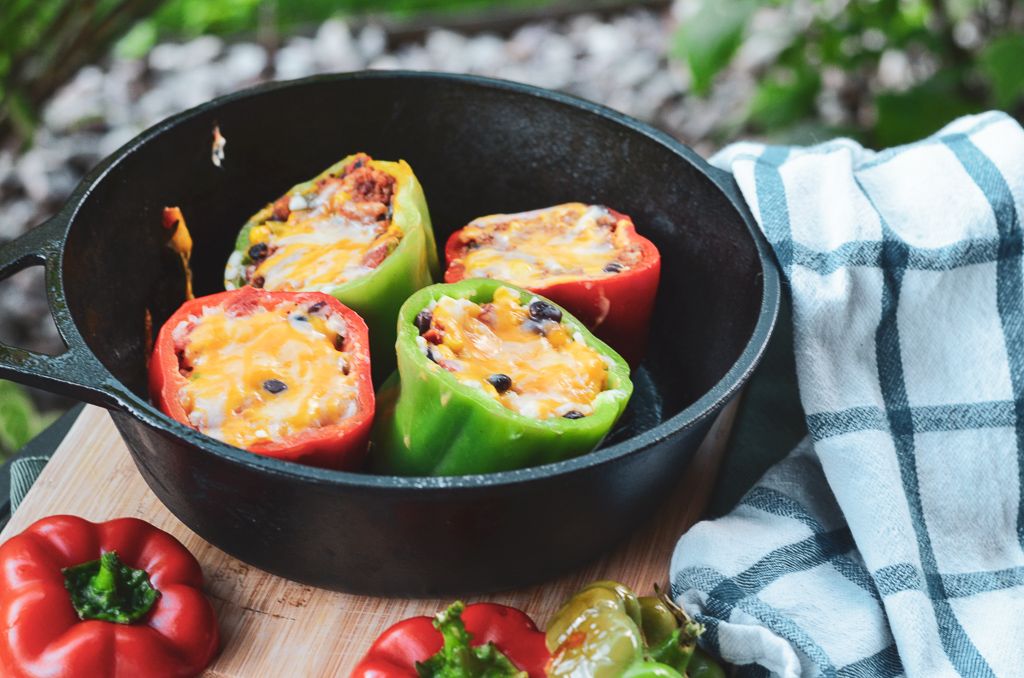 Another recipe that is great if you have vegetarians on your camping trip. You can simply remove the chorizo for an easy vegetarian dutch oven recipe. Get the recipe here.
Lunch, dinner, or breakfast… these cheesy loaded potatoes hit the spot at any time of day. Get the full recipe from One Sweet Appetite here.
Want to sip some wine and enjoy a "glamping" meal around the fire? This lasagna is what you need. Get the full recipe from Champagne Tastes here.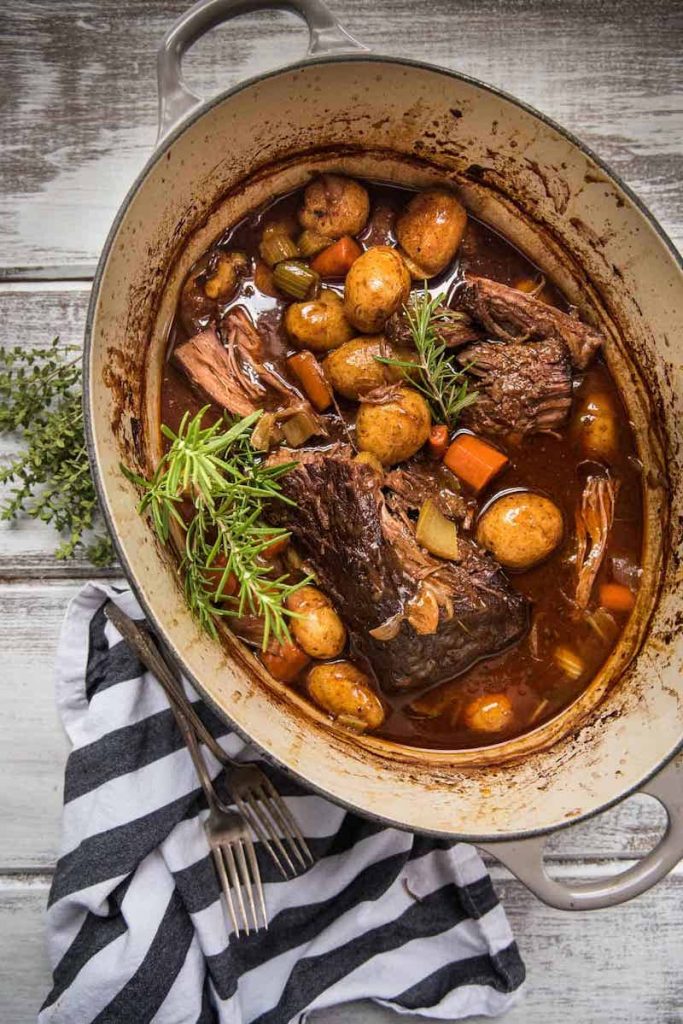 I can't have a list of my favorite dutch oven recipes without including a pot roast! Dutch ovens are perfect for slow cooking a roast while camping. Get the full recipe from Hunger Thirst Play here.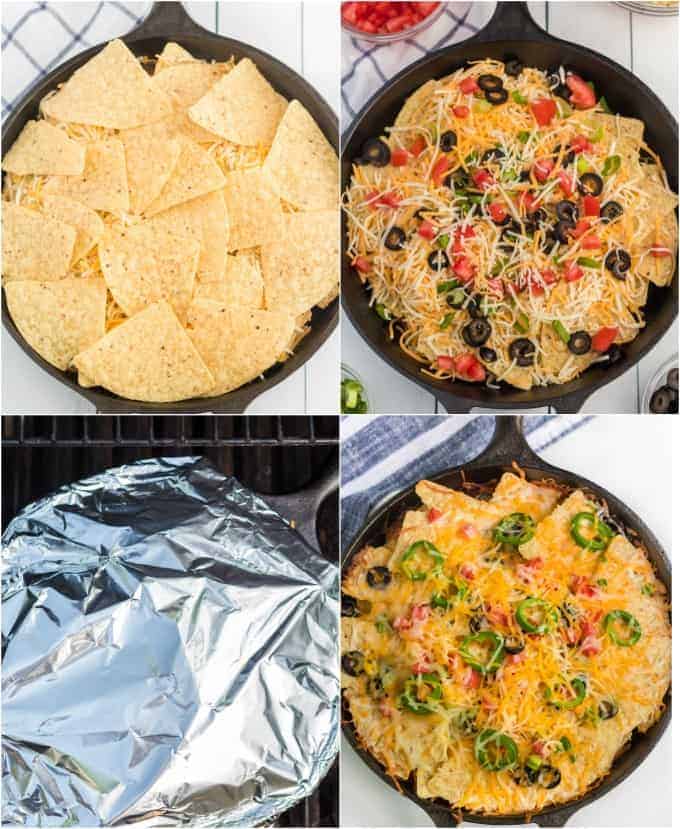 This is the easiest dutch oven recipe for camping. It's a great one for families as well. Load up nachos with your favorite toppings – cheese, beans, tomatoes, and more. Then place your dutch oven lid on, set coals on top, and let it heat for 15 minutes.
Or, if you don't have a dutch oven, this recipe can also be made in a skillet! Just cover your nachos with foil and heat over your campfire.
Slow-cooked to perfection… this is the recipe to make to really impress your friends. Get the full recipe here.
11. Dutch Oven Camping Pizza
This is such an easy and fun camping meal. Simply buy your favorite dough from the grocery store, top with sauce, cheese, and your favorite toppings. Bake it in your dutch with placed on the bottom and top of your oven for about 30 minutes.
This requires minimal ingredients and meal prep, so if you're looking for something fast & easy, give it a try.
This is another must try dutch oven camping recipe! It is simple and delicious. You can use any cheese you like, but white cheddar is a favorite. The best thing about this dish is that it doesn't require much water and can be made in bulk for a lot of people.
Breakfast Dutch Oven Recipes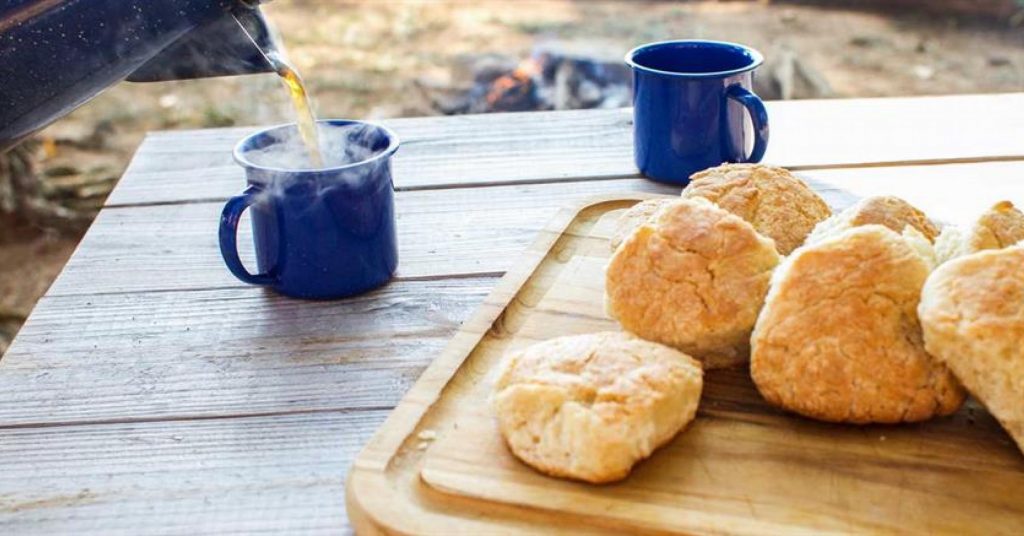 Warm, fluffy biscuits made in a dutch oven are simply…perfection. A great camping breakfast to start off your day. Fry up some bacon or sausage in a skillet to complete this breakfast!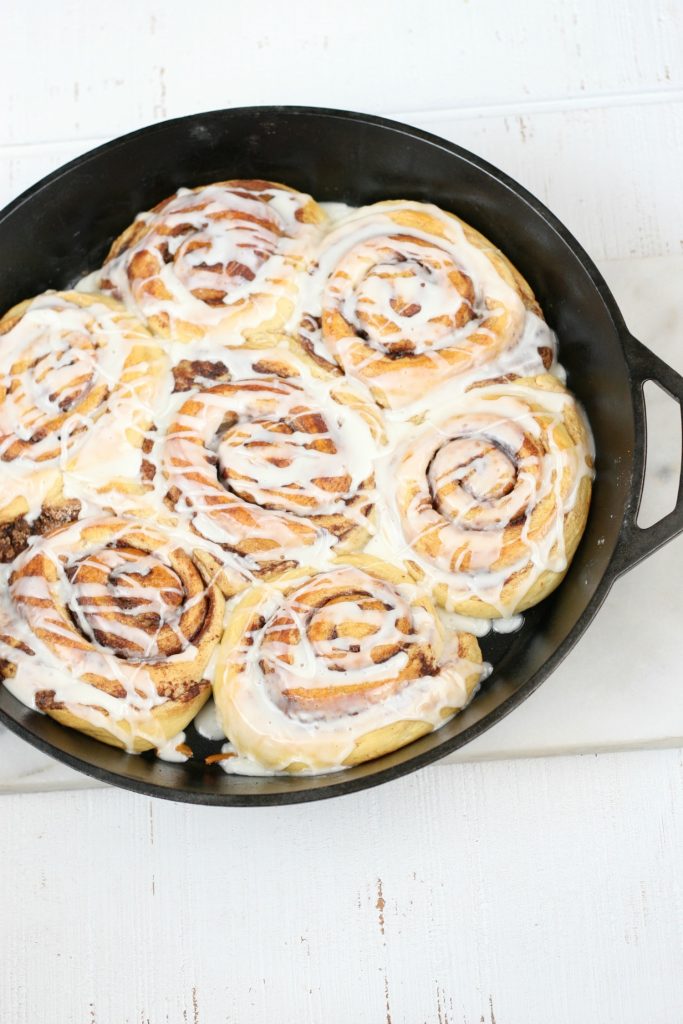 For those of you who love starting your day with something sweet, these dutch oven cinnamon rolls are for you. Get the recipe here.
This will fuel you for the start of your day! This hearty and delicious breakfast is one of my favorites while car camping. Get the recipe here.
This is a great dutch oven breakfast for a large group. Combine sausage, egg, cheese, and hashbrowns all in one for a simple camping meal for a crowd.
Get out the maple syrup for this yummy dutch oven French toast! It's simple to make since all you need is bread and eggs. Throw in some blueberries too if you feel like it.
Dessert Dutch Oven Recipes
Lava cakes are my favorite! And this one is perfect while camping. Get the full recipe here by Happily Homegrown.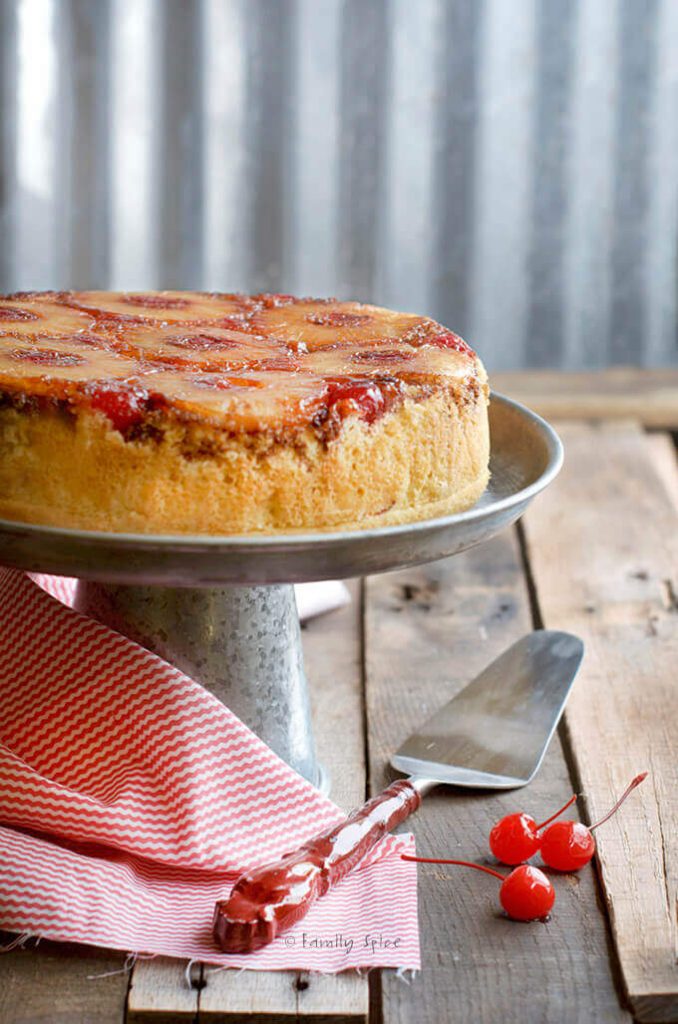 This pineapple upside down cake is a dutch oven camping recipe that is certain to impress!
20. Peach Crisp with Almonds
And last but not least, this peach crisp is a sweet delight for everyone to share!
Do you have any other dutch oven camping ideas? Feel free to share below!