Dehydrated tomatoes are a great addition to pasta and soup dishes while backpacking… or just eat them as a snack. Especially these ones. You're going to enjoy just snacking on them if you're a tomato lover like me!
I admit – it's taken me a number of attempts in my new dehydrator to master dehydrating tomatoes. If you're dehydrating food for the first time, I recommend these fruit leathers. They dehydrate evenly and quickly compared to the tomatoes.
You have to check the tomatoes regularly for the last couple of hours while dehydrating. Depending on how juicy the tomatoes are, they dehydrate at very different rates.
You want the final tomato to be dry to touch, but not to firm. They should feel leathery, not hard.
What tomatoes should you dehydrate?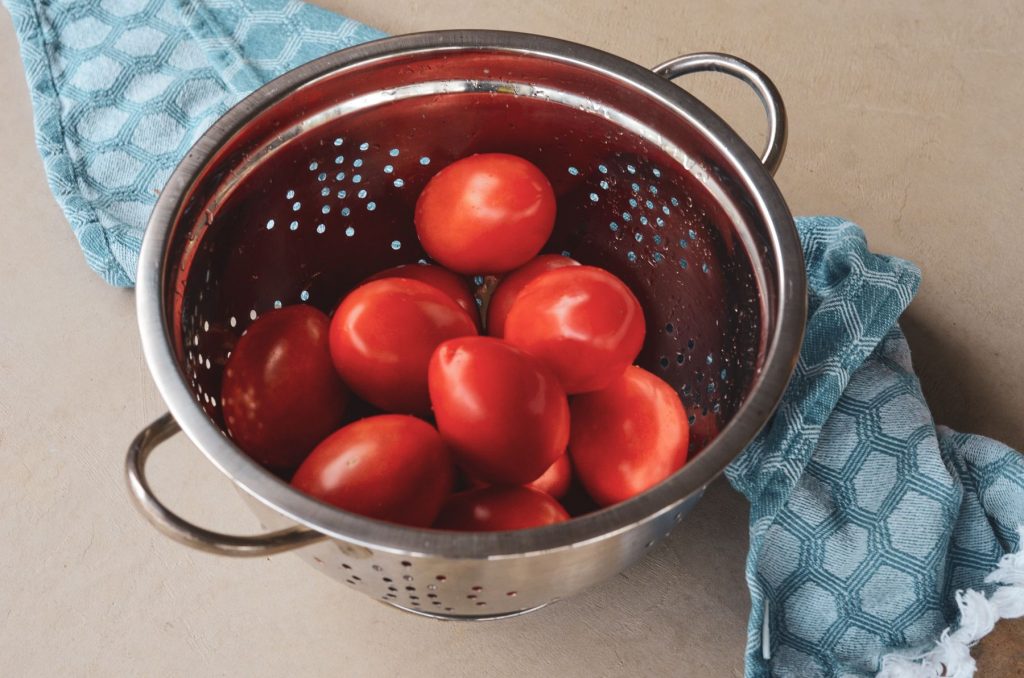 Both cherry tomatoe varieties and plum tomatoes dehydrate wonderfully. However, you can dehydrate any tomato variety you want.
You will have to adjust the total dehydrating time depending on the water content of the type of tomato you choose.
This recipe was for Roma tomatoes. They're my favorite for adding to pasta dishes (like this backpacking gnocchi recipe!)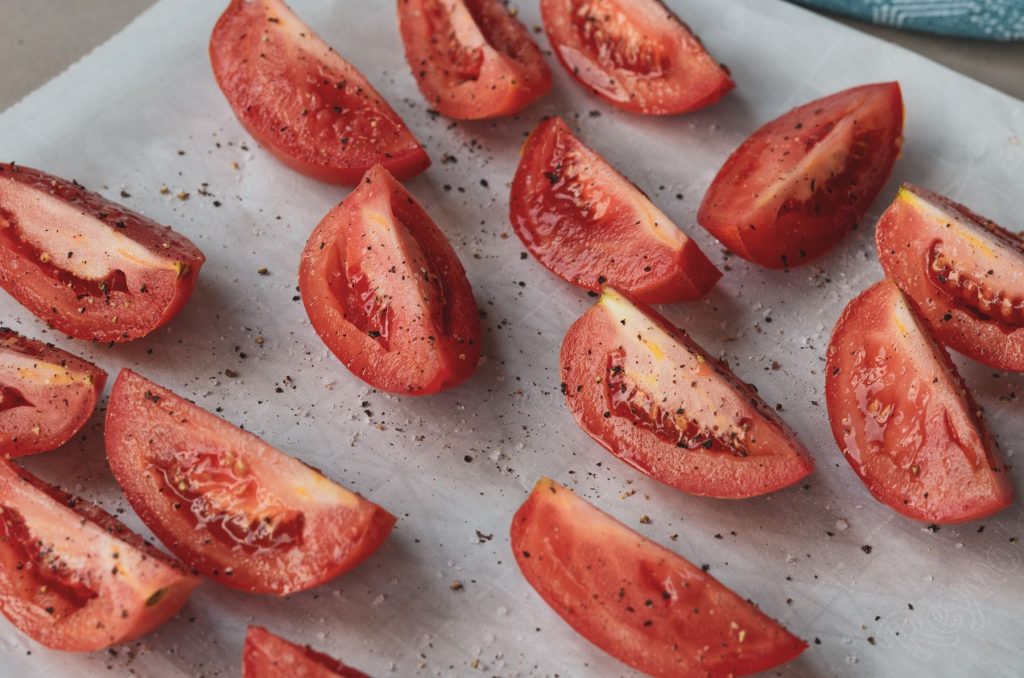 Dehydrated Tomatoes Recipe
Dehydrated Tomatoes
Ingredients
2

lbs

fresh tomatoes

1

tbsp

salt

optional

1

tbsp

pepper

optional

lemon juice

optional
Instructions
Slice the tomatoes. For Roma tomatoes, I cut the tomatoes into quarters.

Season according to taste. Salt, pepper, and lemon juice from half a lemon make wonderful dehydrated tomatoes! You can also season with basil or oregano according to your preferences.

Line your dehydrating trays with parchment paper. Place the tomatoes skin-side down on the trays.

Set your dehydrator to 130 to 140 degrees Fahrenheit. Dehydrate for 8-10 hours. Check the tomatoes regularly for the last 2 hours. They should be dry, but not hard.

Seal in an air-tight container & enjoy!
Important Tips when Dehydrating Tomatoes
As I mentioned above, it took me a number of attempts to get tomatoes right! Here are some helpful tips I learned from my multiple experiments!
You must cut slits or slice the tomatoes to release the liquid during the dehydrating process. Whole tomatoes will not dehydrate (even cherry tomatoes) if they haven't been sliced.
Make sure the skin-side is down and pulp is facing up. This helps keep the great flavor of the tomato throughout the dehydrating process. ta
Tomatoes don't always dehydrate consistently. You need to check them frequently during the last hours of dehydrating. I remove some tomatoes as they've dehydrated completely.
Lastly, while you can dehydrate without seasoning at all, I found results were consistently better if I at least added salt. And they taste better too!
Looking for more recipes for a dehydrator? Check out thesefruit leathers. They dehydrate evenly and quickly compared to the tomatoes… and they're an absolutely delicious (and healthy) snack for hiking!