I live in Colorado now, but I was born and raised in Georgia! Grits were a regular breakfast food for me.
I love grits served almost every way! (Except grits with sugar… I still find that a weird way to serve them, but apparently its a "thing.")
The best way to serve grits? In a casserole! Rather you're going to make these skillet grits in the oven or whip them up on your next camping trip, they'll be delicious both ways.
They are so easy to make, and great for a car camping trip! They only require a few ingredients, and there's a few you don't have to use if you are trying to keep your camping supplies light.
You can cook them straight over the fire in the skillet, but if you have a skillet with a lid, they'll cook faster and more evenly. Plus, you'll avoid getting any ash from the fire in your meal.
This Grits Skillet recipe is among my favorite camping breakfasts of all time, so it seemed appropriate as my very first recipe on the blog. I hope you enjoy!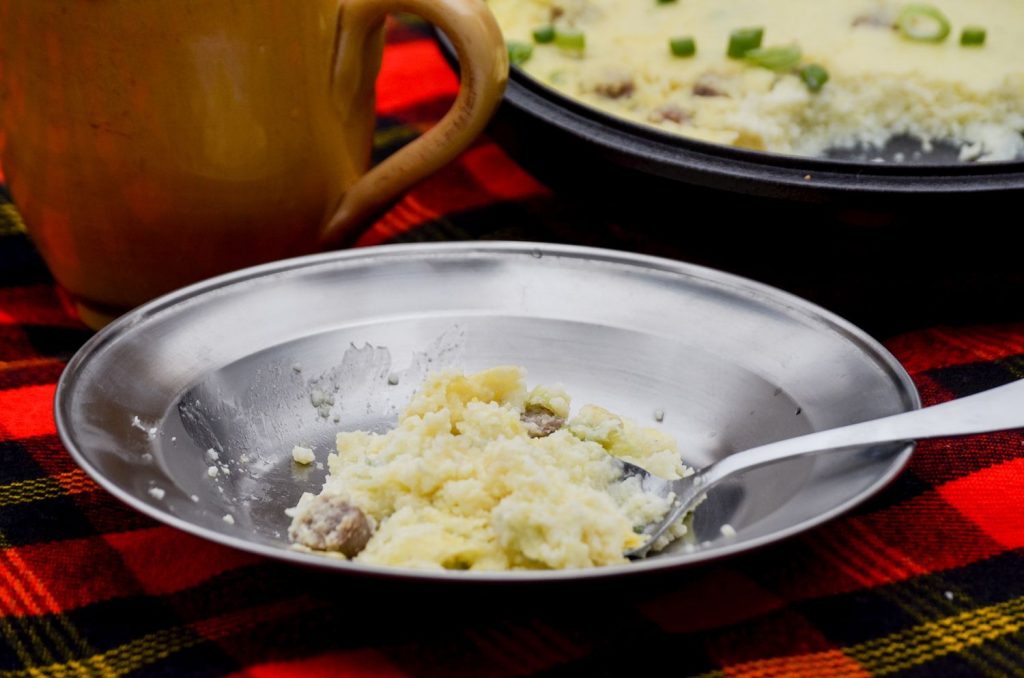 Grits Skillet with Sausage
This delicious grits skillet is a perfect campfire breakfast for you next camping weekend. It cooks up quickly and can all be made in a single skillet, so you don't need 10 pots & pans to whip up this masterpiece!
Ingredients
1

cup

Quick grits

4

cups

water

for extra creamy grits use half water, half milk

3

eggs

scrambled

1/2

cup

shredded white sharp cheddar

1/2

cup

sliced green onion

8

sausage links

salt and pepper to taste
Instructions
Boil 4 cups of water directly in the skillet and pour in grits. Let simmer for about 5 minutes until grits thicken. Salt and pep

Scramble 3 eggs while grits simmer

Stir egg & cheese mixture into the grits. Slice sausage and add to skillet.

Cook skillet over campfire coals until grits firm and sausage is fully cooked – about 18 minutes over a hot fire. (Or bake in oven at 350 degrees for 12 minutes.)
Tips for Cooking the Grits Skillet on a Campfire
If you are planning on cooking this over the campfire, make sure its over hot coals. You can place you skillet directly on the coals.
It will cook more evenly if you have a cover or lid over your cast iron skillet. The skillet we use is a combination skillet and dutch oven that has a cover we can place over it.
If you're at a campsite that has grills over the campfire, you can also use this! You may need to cook a bit longer since it will be further away from the heat. Make sure to check that your sausage is done and the grits are firm. The eggs will cook directly in the grits.
How to cook in the oven
If you're planning on cooking this recipe at home, its great and simple!
Bring your grits to a boil over the stovetop. They don't have to cook all the way on the stovetop, but should start to thicken.
Once the grits begin to thicken, add the egg, cheese, and sausage to the skillet and stir.
Put the entire skillet in the oven and bake for about 15 minutes at 350 degrees.
Follow thebackcountrykitchen on Pinterest for even more camping and hiking recipe inspiration!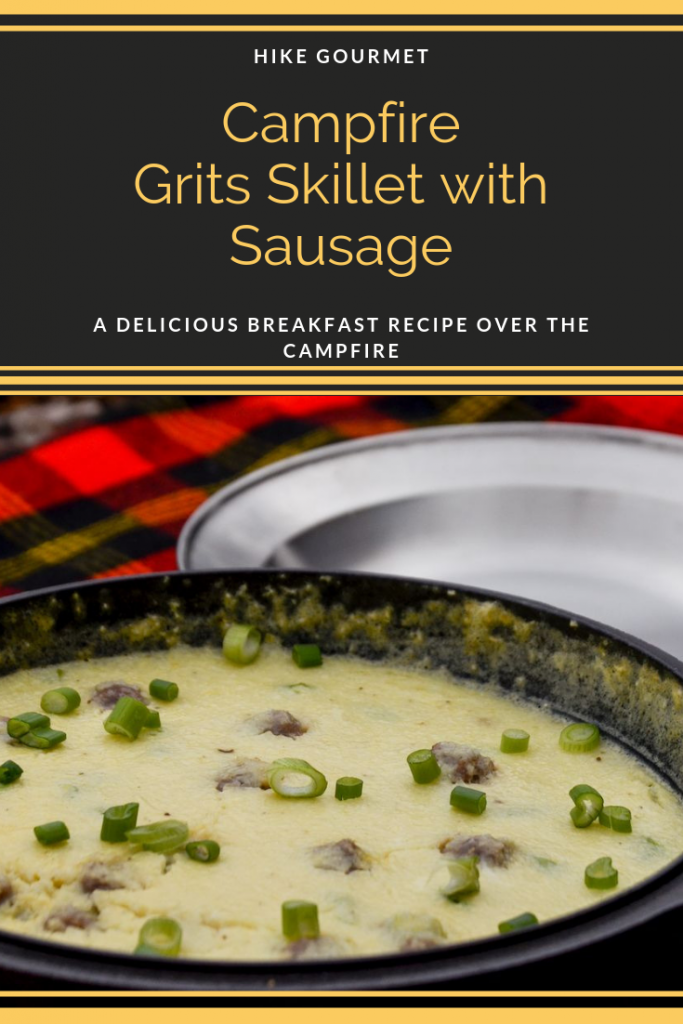 I love a hot breakfast whenever I'm camping. If I'm backpacking, there's good chance grits will be one of my go-to's. But for car camping, I love this campfire grits skillet for a warm hearty breakfast.