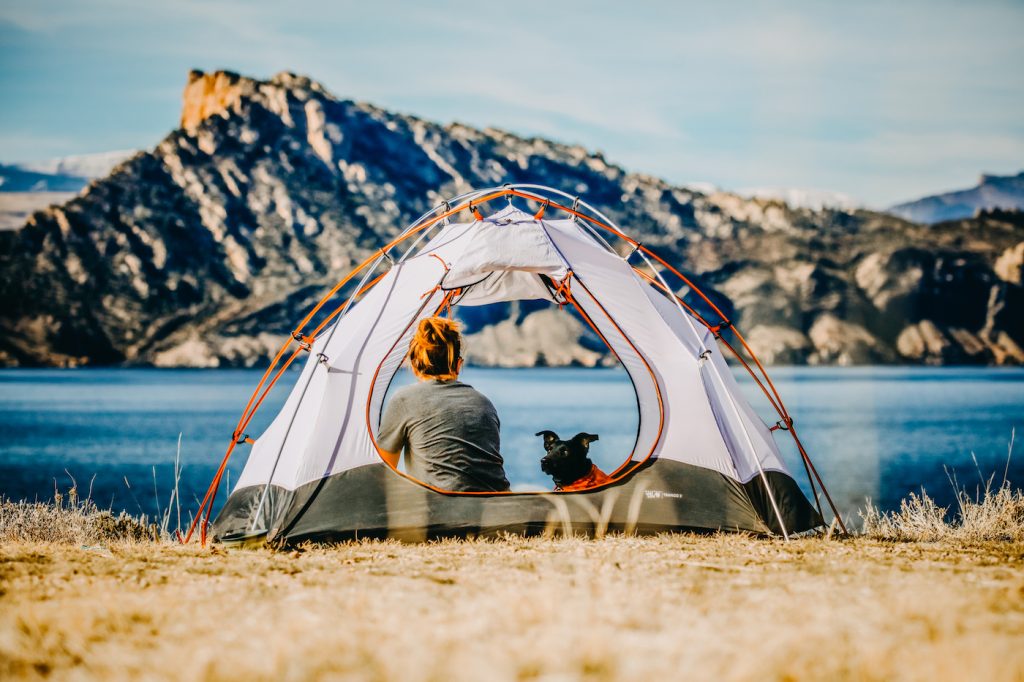 I've been car camping the past 3 weekends here around Colorado. Every time there was something I forgot! We have a well-organized camping bin that we can throw in the car, but there's always something small (like grabbing a deck of playing cards) that I forget.
While a camping checklist may be helpful for remembering specific items, there are other key preparations before embarking on a camping trip! Don't forget to check the weather and check for any permits needed. You may also want to print out directions in case you lose service out in the wilderness!
I put together a go-to packing list for car camping. You can see it below or get the free printable camping list below so you always have a checklist with you.
Download the Printable PDF Here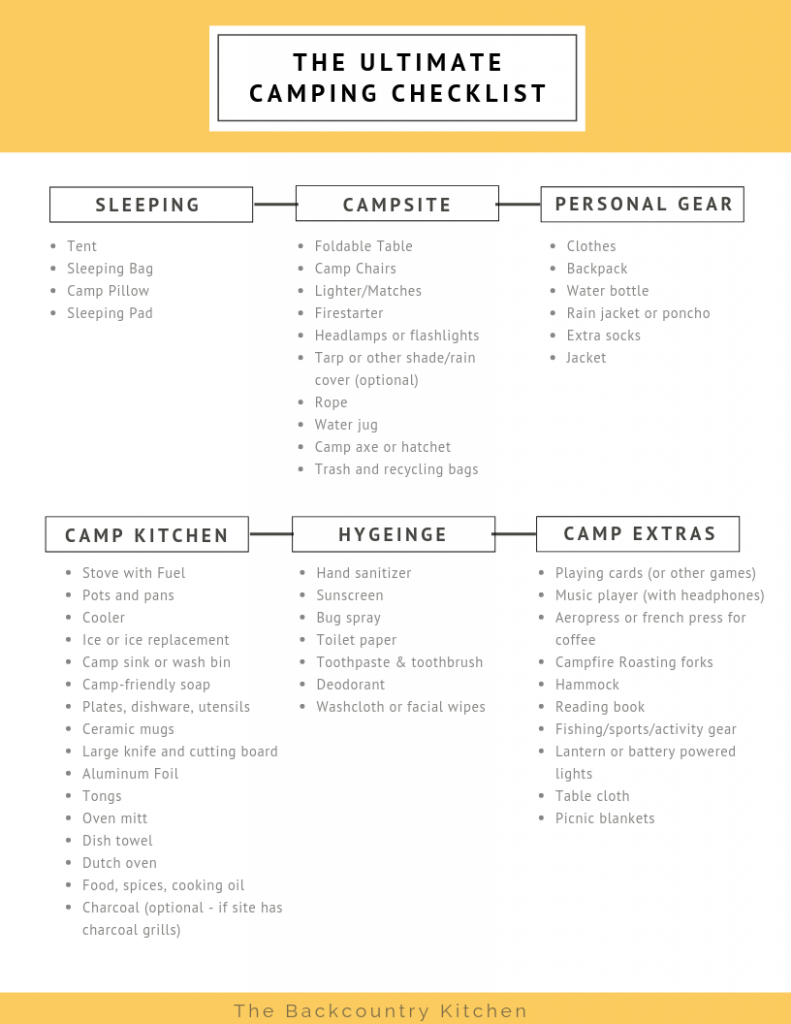 Car Camping Packing List
Sleeping Essentials

Tent
Sleeping Bag
Camp Pillow
Sleeping Pad
Campsite Essentials
Foldable Table
Camp Chairs
Lighter/Matches
Firestarter
Headlamps or flashlights
Tarp or other shade/rain cover (optional)
Rope
Water jug
Camp ax or hatchet
Trash and recycling bags
Kitchen & Cooking Gear
Stove with Fuel
Pots and pans
Cooler
Ice or ice replacement
Camp sink or wash bin
Camp-friendly soap
Plates, dishware, utensils
Ceramic mugs
Large knife and cutting board
Aluminum Foil
Tongs
Oven mitt
Dishtowel
Dutch oven
Food, spices, cooking oil
Charcoal (optional – if site has charcoal grills)
Personal Gear
Clothes
Backpack
Water bottle
Rain jacket or poncho
Extra socks
Jacket
Health & Hygiene Gear
Hand sanitizer
Sunscreen
Bug spray
Toilet paper
Toothpaste & toothbrush
Deodorant
Washcloth or facial wipes
First Aid/Band-Aids
Camping Extras (optional)
Playing cards (or other games)
Music player (with headphones)
Aeropress or french press for coffee
Campfire Roasting forks
Hammock
Reading book
Fishing/sports/activity gear
Lantern or battery powered lights
Table cloth
Picnic blankets
As you are packing, there are things to consider, especially if you are packing for a group and want to save space. Below I've compiled a list of some key car camping packing hacks.
Car Camping Packing Hacks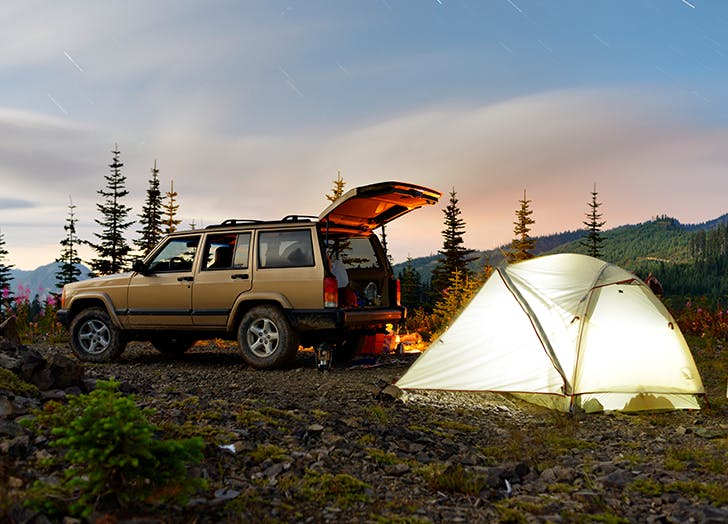 1. Use storage bins to stay organized
This is probably the most useful tip and I recommend using clear bins. You can use different bins for each part of your camping list. One bin can be filled with camp kitchen essentials while another will be filled with your dry foods. As you pack your car, consider what you want to be easiest to get to once you get to the campsite.
2. Pack your cooler wisely
When you're packing your cooler, there are some key things to consider. I suggest preparing any fresh food in advance–washing and cutting up, then storing in bags. Try to purchase and prepare the food the day before leaving for your camping trip. Some of your foods/drinks can be frozen and placed at the bottom of your cooler, acting as ice packs.
In addition, using ice blocks instead of small ice cubes is less messy. You can take empty containers and fill them with water and freeze them. They also provide extra cold water if you need it!
3. Bring lots of extra bags
Ziploc bags, Grocery bags, trash bags, tote bags, etc. It may feel like a lot but it will help you keep things organized such as dirty clothes from clean clothes. You may also get some shoes dirty that you want to throw in a grocery bag. Any leftover food can be stored in Ziploc bags. Want to keep your toilet paper clean? Keep it in a bag!
4. Make use of roof storage
Although it will require a purchase, an auto rooftop cargo carrier is great for extra storage if you struggle with fitting all of your needed things (and passengers) in your vehicle. Strap it securely to the top and put some of the bigger camping equipment in it!
5. Cover car windows with screens
You can take mosquito netting or similar to cover your windows if you are sleeping in your car. You want to have air flow but don't want to have those pesky bugs bothering you during the night!
6. Have a full tank of gas
This may seem like a no brainer, but you never know! I suggest refueling at a gas station close to where you are camping before you start driving on the Forest Service roads. No one wants to be stranded in the middle of nowhere!
Do you have any other tips for car camping? What are your favorites to bring when you go camping? Do you recommend anything else I should add to the list? Don't forget to download the free printable camping checklist!