Ready to get back outdoors and enjoy the best possible meals on the planet? If you're itching to light that campfire and create the type of meals that can only be savored out in nature, consider adding a few new pieces of cooking equipment to your camp kitchen collection.
While campfire cooking equipment varies widely these days, selecting the right pieces for your camping needs just got easier. Check out the list below of the 18 best items to consider adding to your camp kitchen soon.
Coffee in the great outdoors tastes even better than on a cold morning at home. There's just something about the aroma and steam rising up off a freshly poured cup to make the day even better. For best results, select a Percolator made of durable material to withstand the heat of the campfire and provide a perfect cup each time.
Consider adding the GSI Outdoors Enamelware 8-Cup Percolator to your campfire cooking kit. This double-coated enamel steel percolator not only brews up some of the best coffee, but it is also easy to clean. Another option is to purchase a percolator and mugs combination set like the Stansport Enamel Percolator Mugs.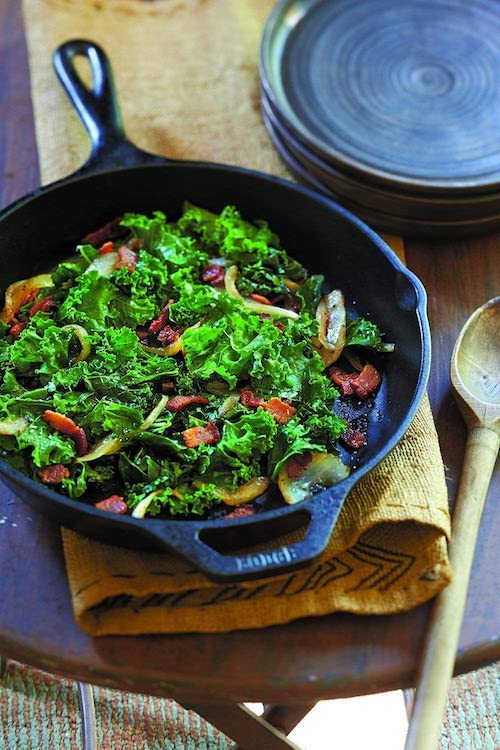 Hands down, nothing beats a cast iron skillet when cooking by campfire. This skillet not only withstands the hottest temperatures but also lasts practically forever. Place it directly on the coals of your fire, to the side, or on your grill for incredible campfire meals. From morning pancakes to evening fresh fish, a cast iron skillet will become your go-to from now on.
Several size skillets are available these days, with the most popular being from 6″ to 12″. One of the premier brands is Lodge, and they offer a Chef Collection 10-inch Cast Iron Skillet, which is a great addition to your cookouts and not overly priced. As a side note, these skillets clean up without soap, so they're convenient as well.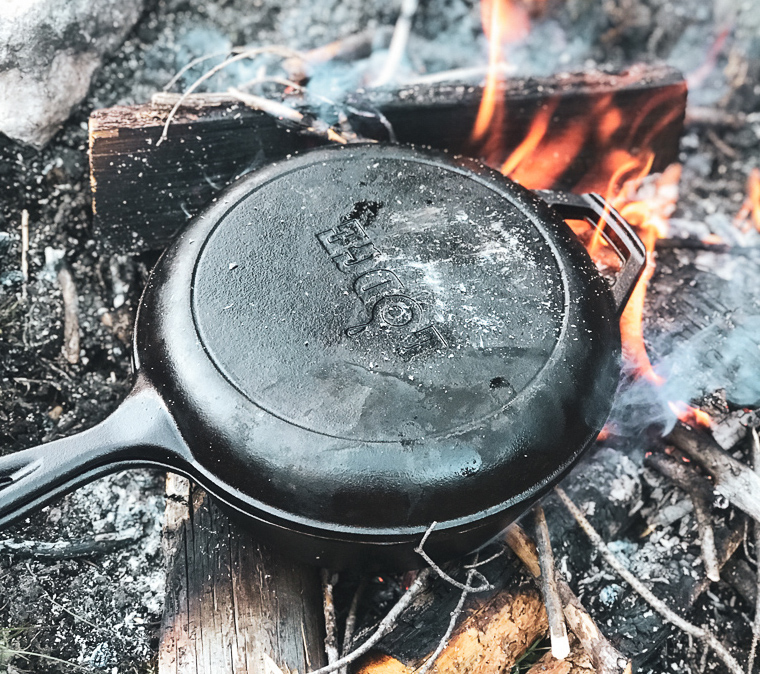 If there is one piece of campfire cooking equipment that you need above all others, it's the dutch oven.
While it matches the cast iron skillet in campfire abilities, its size and depth make it a more versatile option for your cooking needs. Stir up campfire beef stew, fry a few fish fillets, or even bake bread.
Fortunately, these are affordable as well, so if you can only add one piece of equipment, opt for one of these, such as the Lodge 5-Quart version.
Or, I personally love my Lodge Combo Cooker (pictured above) that can be used as either a dutch oven or individual cast iron skillets.
Bonus: Checkout my recipe for Campfire Dutch Oven Enchiladas!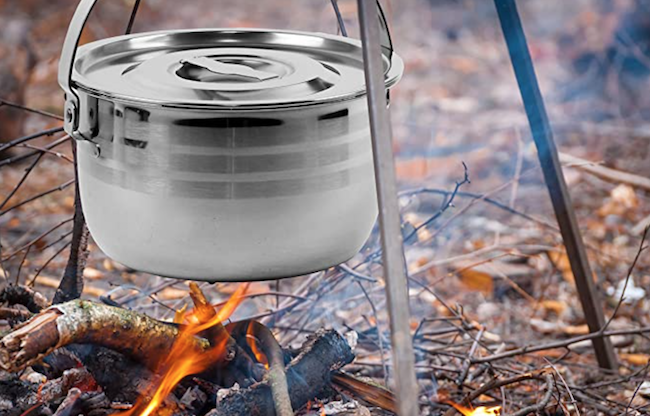 If you're not a fan of the heavier cast iron skillet or dutch oven, splurge on a lighter set of camp cookware to take on your camping adventures. A compact stainless-steel set will serve you well. Take just one or two of the pots or pans, or all of them nestled together for easy portability. The price for the set is slightly higher but provides you with options and variety.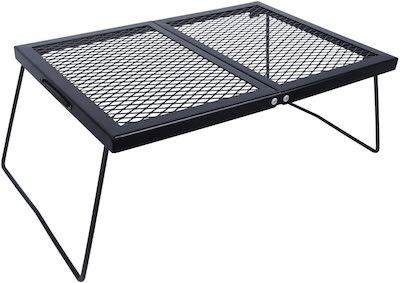 Elevate your cooking pans and food above the flame with a campfire cooking grate. Set your percolator and skillet on top to create a perfect campfire breakfast, or set hotdogs and burgers directly on top for roasting. Look for one with collapsible legs for ease and convenience. These are relatively inexpensive, so it never hurts to have one on hand, even if your campsite already has a grate.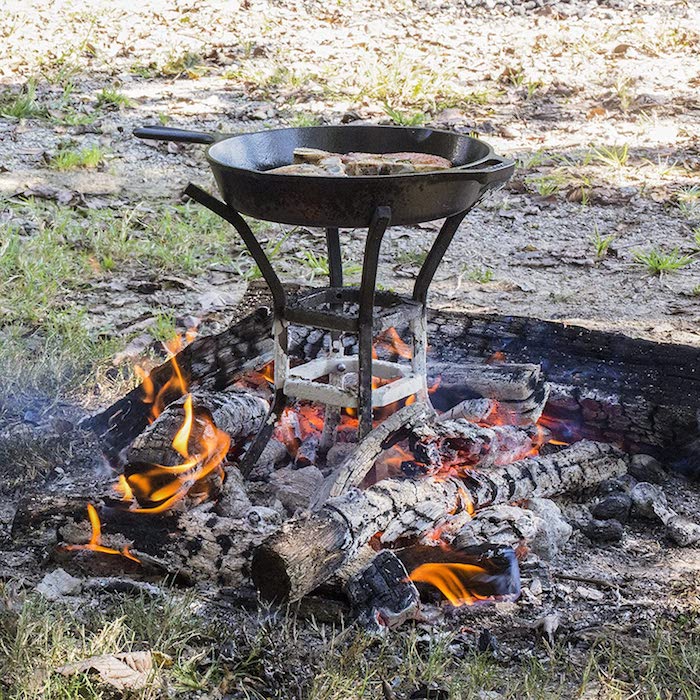 While placing your campfire cookware directly in the fire or on a grill slightly above is perfectly fine, you can go one step further and use a cook stand. This stand not only keeps your hands further away from the fire while cooking, but it also creates efficient air flow to help with more even cooking. You can find these designed to fit different size pots or pans, such as the Lodge Campfire and Cook Stand. While it costs as much as the skillet itself, once you use you'll be hooked.
Another option for keeping your pots and kettles off the ground and above the flame is a campfire tripod. For a hearty beef stew, hang a dutch oven from the tripod and let it simmer until perfectly cooked. A splurge on this item will definitely up your outdoor cooking abilities. Pay a little more for a quality tripod, such as the Sunnydaze Tripod made of durable steel construction.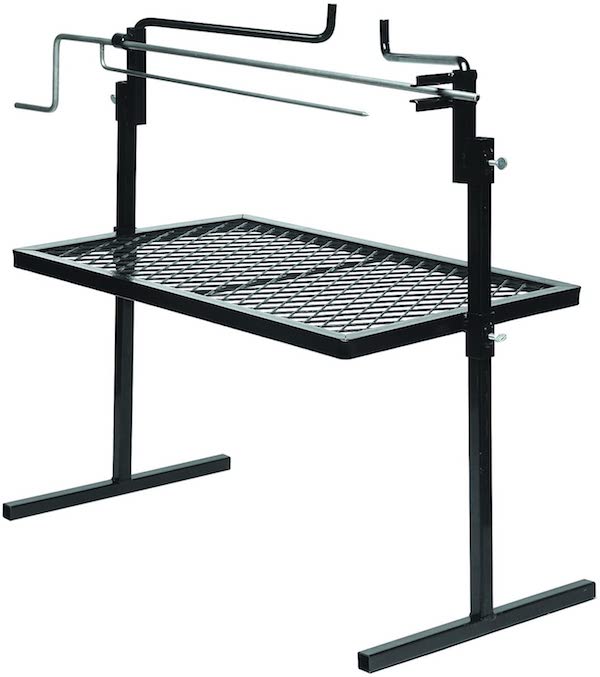 There's nothing quite like using a rotisserie arm over a campfire to cook chicken or other meat. This process may take longer but will be well worth it when you pull that meat off the bone and savor it. A Rotisserie Grill and Spit is height adjustable and spins and locks in several positions to ensure a fully cooked bird or roast. Enjoy slow-roasted flavor every time. Splurge for a set including a spit and grill, and you'll always have options.
One of the most important items you can take on any camping trip or to any campfire is a durable pair of tongs. You'll want to find one with an extra-long reach to avoid burning yourself while tending to your hotdogs on the grill or anything wrapped in foil and placed in the hot coals. One you might want to try is the stainless steel Weber 1610, although it is slightly higher in price than other tongs on the market.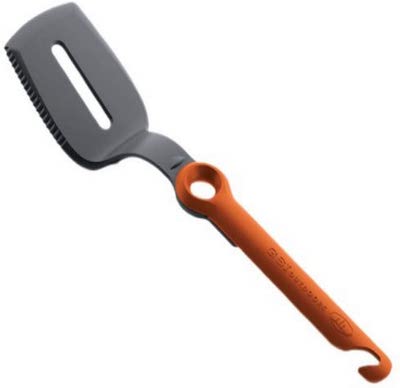 Think about how often you use a spatula in your home kitchen. You can also benefit from having a sturdy one of these in your campfire cooking kit also. These heat resistant tools will have you flipping pancakes, burgers, and any number of other meals safely over a flame. Consider splurging on a titanium one for durability, such as The Splitter, which also triples as tongs and a spork.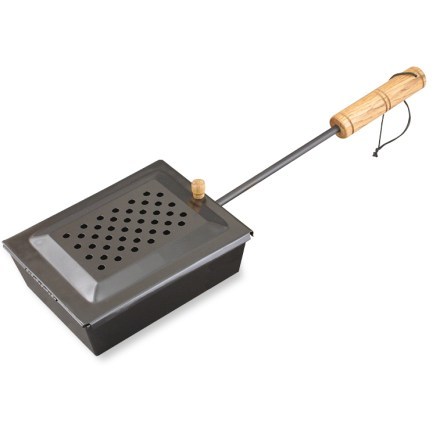 Popcorn is fun wherever you are, and cooking it on a campfire is an added bonus. So why not add a popcorn popper to your next outdoor adventure? Simply add kernels and place it over the flames. The Camp Chef Popcorn Popper will make enough for the entire group to enjoy.
Whether you enjoy roasting hot dogs or marshmallows over an open flame, you'll enjoy using campfire roasting forks and sticks. Let each person cook their own by purchasing a durable set designed specifically for this purpose. Look for ones made of stainless steel with heat-resistant handles, such as the Rolla-Roaster.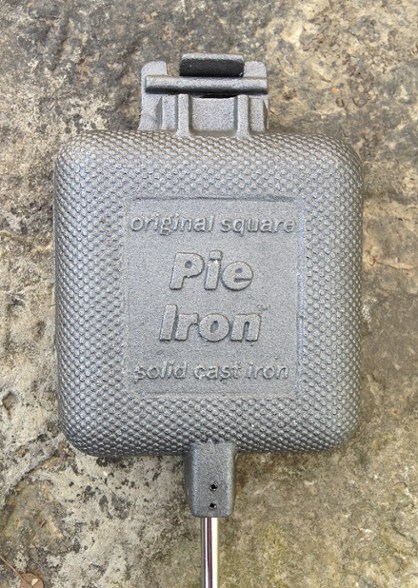 Another helpful tool for creating perfect sandwiches and various other treats is a pie iron. With its iron basket at one end, you can safely place your ingredients without worry of them falling out into the fire. So, go ahead and make that gooey ham and cheese sandwich by using one such as the Rome Square Pie Iron.
For a real breakfast treat while camping, grab a waffle iron on a stick and prepare the best-tasting waffles to enjoy in the outdoors. Just pour your batter in and enjoy the process of cooking it over the fire. Make perfectly round ones in the Orvis Chuck Wagon Waffle Iron. Since this a bit of a luxury item for campfire cooking, the iron may be more of a splurge, but when you first use it, you'll know you made the right decision.
If fresh meat or fish and perfectly cooked veggies are how you like to eat in the outdoors, then add a camp broiler basket to your camp kitchen gear. You can even toast bread in these baskets. Go with The Choice Fish Basket or the Coghlan's Deluxe Grill Boiler Basket for delicious and fun to prepare meals.
Whether you have one skillet or several pieces of campfire cooking gear, don't forget a good pair of cooking gloves. Protect yourself from serious burns with well-fitting ones that allow you to easily pick up skillet handles and remove pots with ease. The heat-resistant BBQ Gloves are a great choice. They not only look sharp but are less expensive than many others on the market.
The outdoors is the perfect place to prepare the best meals. Having the right campfire cooking equipment will make it even easier. Add any or all of these 16 top cooking tools to your camp kitchen gear and experience the best a campfire meal can offer.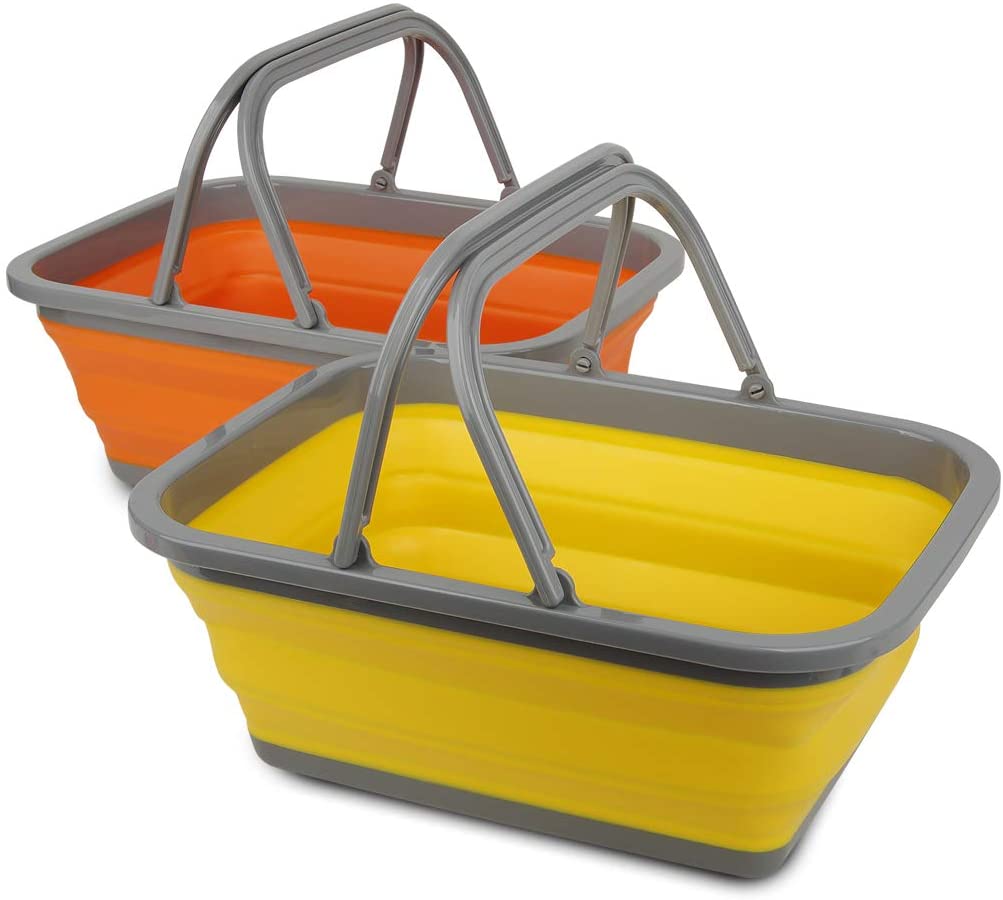 These wash basins are a must-have to add to your collection of camp kitchen gear. Made of BPA free durable silicone, they are lightweight and easy to fold for packing. You can also use them to store your camp kitchen gear. The handles make for easy transport to and from the campsite–carry firewood or other small items.
I recommend using all silicone collapsible equipment when it comes to camping kitchen gear such as bowls, cups, colanders, etc.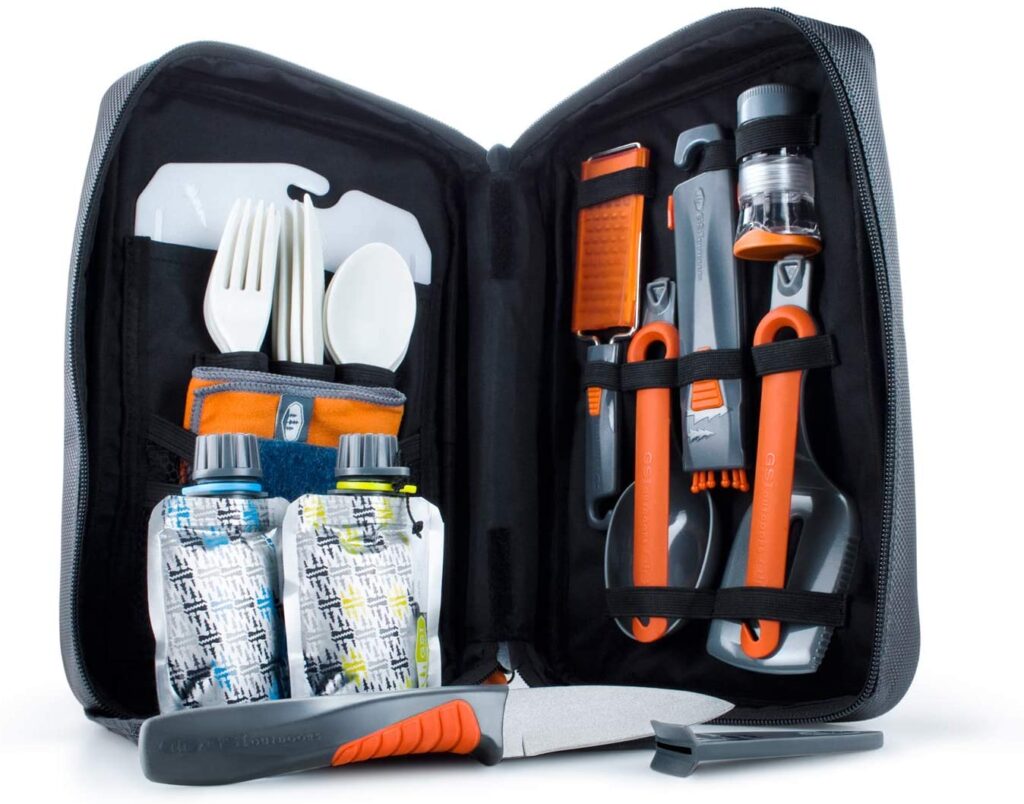 Add these tools to your campfire cooking kit! 24 pieces are included: 4 forks, 4 spoons, 4 knives, a collapsible whisk, pivot spoon, pivot spatula, utility knife, spice shaker, 2 condiment containers, cutting board, scrubber, camp towel and a ballistic outer case.
It also comes in a travel bag, which makes it easy when packing, using, and moving it while camping. In addition, it is very lightweight and includes waterproof salt and pepper shakers.