Looking for a outdoor camping experience that is in the wilderness and also provides "glam" amenities? Glamping in Colorado is a great option for couples, friends, or family who want to camp in comfort.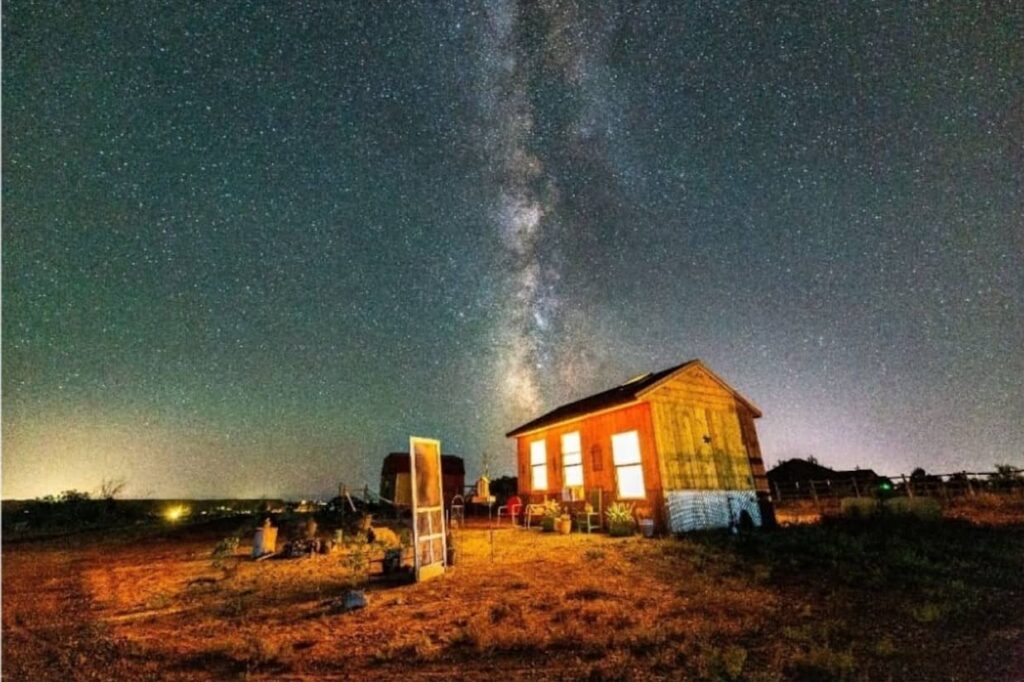 The Turquoise Door is a tiny house cottage with amenities like a sleeping loft, a full kitchen, and a well-stocked fire pit. The cottage is located at the end of a country road away from city lights, which makes it an ideal location for stargazing.
With one double bed and one queen bed, The Turquoise Door offers an exceptional glamping experience for up to four people.
Price Range: $89 per night, two nights minimum stay
Location: Orchard City, Colorado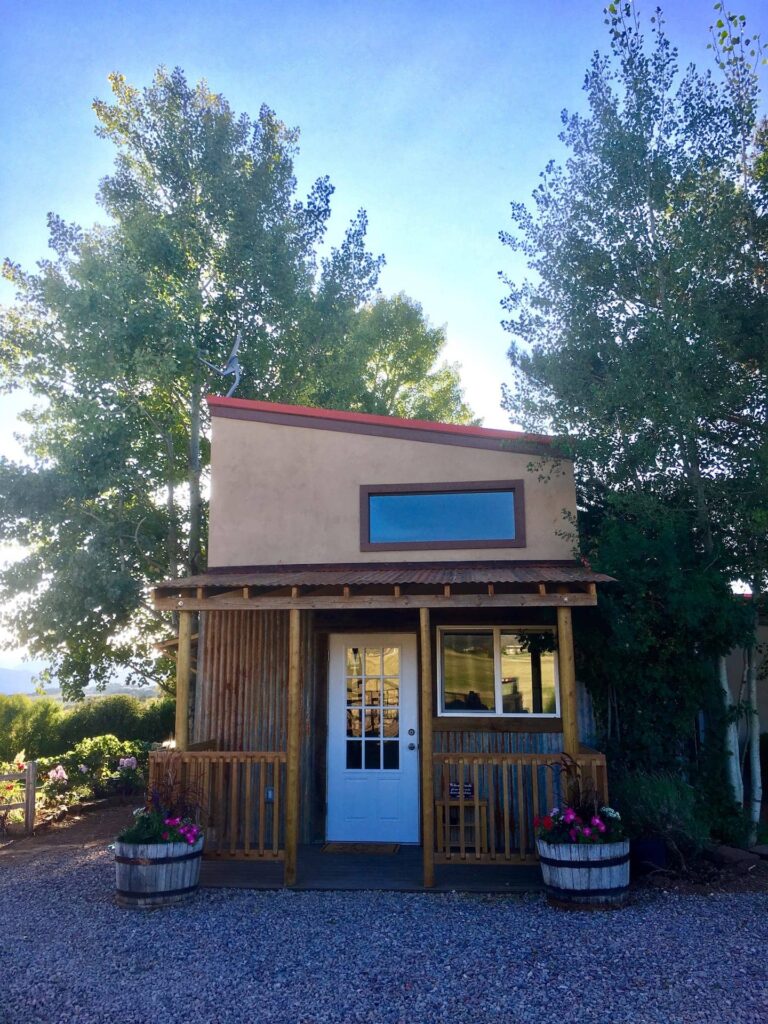 The working Little Bit Ranch provides guests with a rustic glamping experience in a tiny cabin. It is surrounded by breathtaking, mountainous scenery. This quaint vacation spot is conveniently located halfway between Aspen and Glenwood.
Guests have easy access to four premier skiing mountains, world-class shopping, and a variety of fine dining options. Because it is located on an active ranch, this Colorado glamping spot is not suitable for pets or young children.
Price Range: $125 per night
Location: Carbondale, Colorado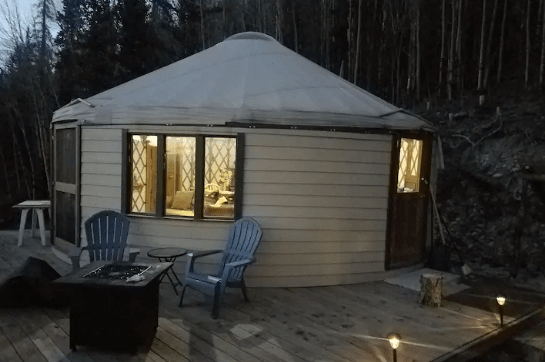 Perched high in the San Juan Mountains, the Nelson Mountain Yurt offers a glamping experience to guests who want to comfortably experience living off of the grid. Solar lighting, a composting toilet, a propane grill, and a wood stove are just a few of the yurt's off-grid amenities.
Due to its remote location in the mountains, a 4×4 vehicle with a low gear is required to safely reach the yurt.
Price Range: $160 per night, two nights minimum stay
Location: Clear Creek County, Colorado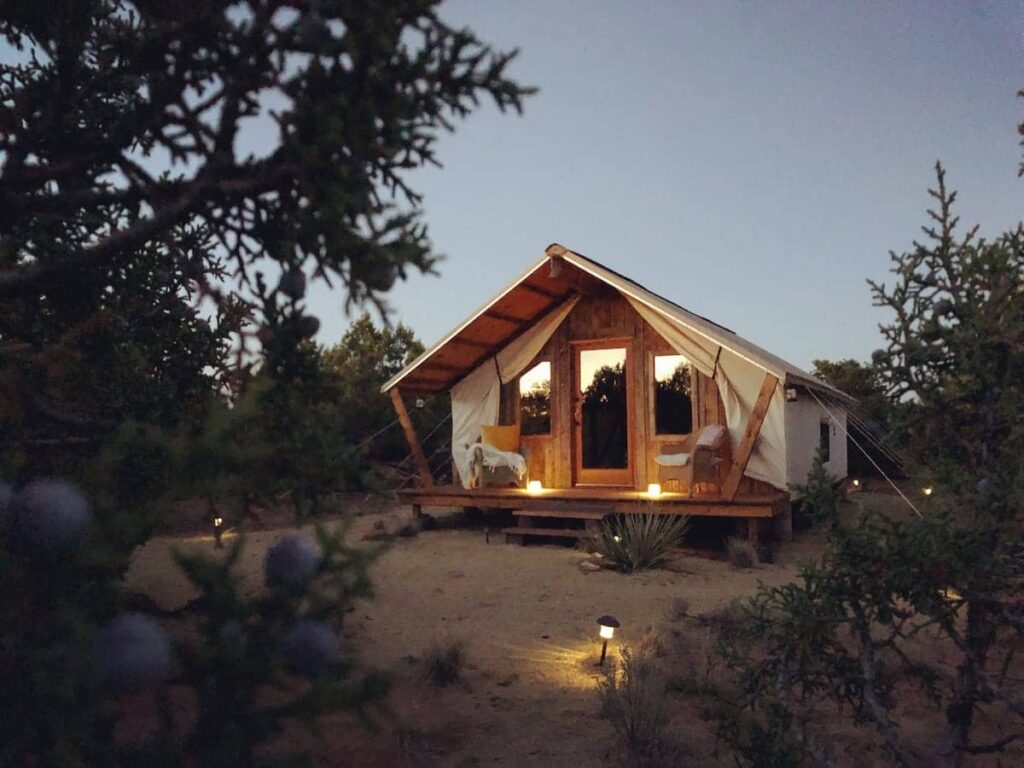 Juniper's Tent is the perfect place to enjoy desert glamping in Colorado. This off-grid vacation spot boasts an well-equipped outdoor kitchen, complete with basic cooking supplies, a three-burner stove and cooler.
Guests also have the ability to use the tent's connected solar power system to charge their phones, computers, and other devices. Shower facilities are available within walking distance at a nearby permaculture ranch.
Price Range: $150 per night, two nights minimum stay
Location: Cortez, Colorado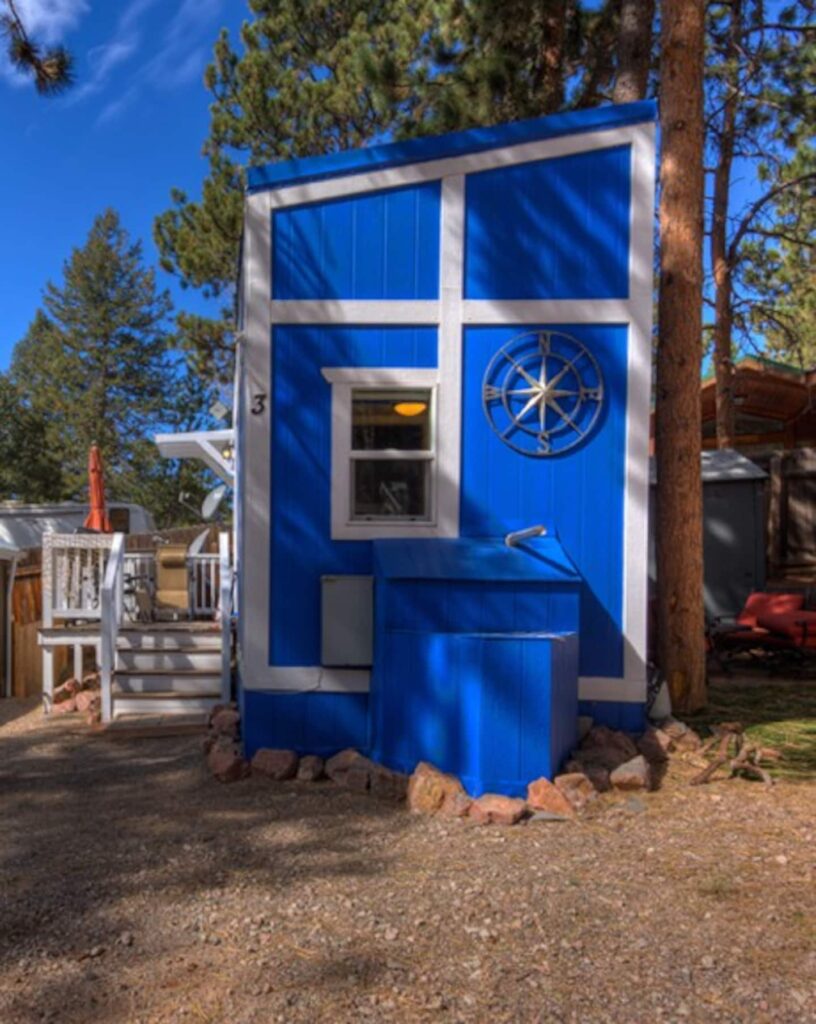 One of the few Colorado glamping locations that is both child and pet friendly, Captivating Sheila has sleeping accommodations for up to five guests.
This charming, bright blue tiny home is located less than 20 minutes from Colorado Springs in the scenic Woodland Park. Free parking, Wi-Fi, a washer and dryer, a full kitchen, and memory foam mattresses are just a few of the amenities available at Captivating Sheila.
Price Range: $165 per night, four nights minimum stay
Location: Woodland Park, Colorado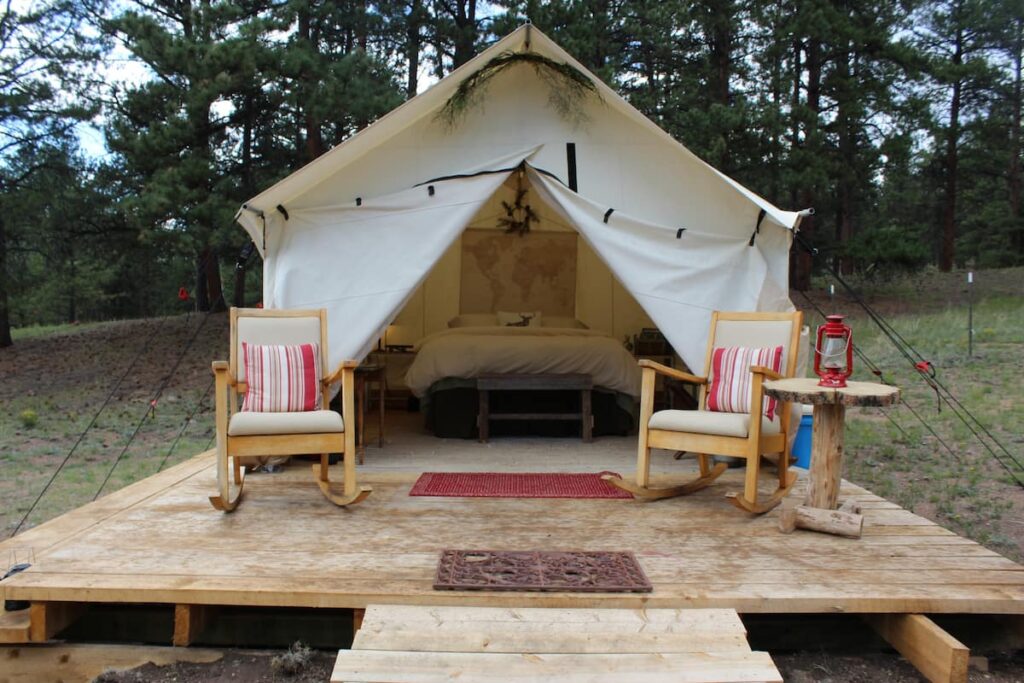 Nestled in Pike National Forest, the Outpost at Idlewild is the perfect destination for rock collectors, hikers, and nature lovers alike. A nearby blacksmith shop that dates back to the 1860s serves as a communal kitchen and is equipped with a refrigerator, a microwave, a Keurig coffee machine, condiments, a toaster, and a grill.
In the tent itself, guests will enjoy a comfortable queen-sized bed, quaint lanterns, and the chance to charge their phones with solar power.
Price Range: $100 per night, two nights minimum stay
Location: Lake George, Colorado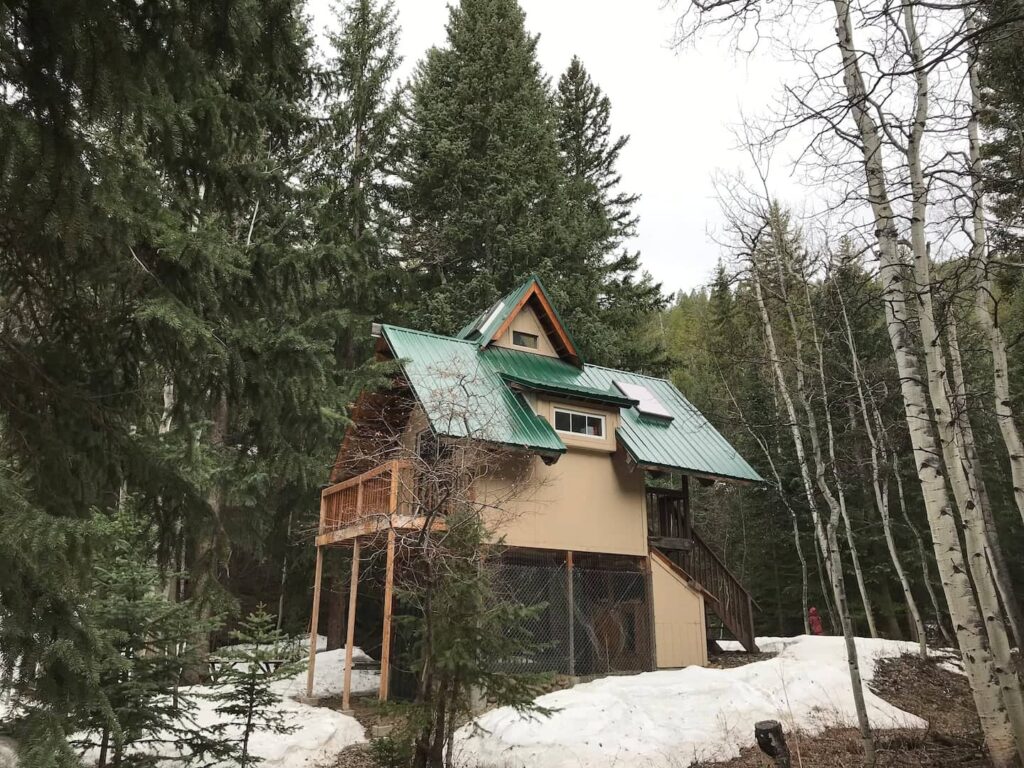 This private guest house rests near the edge of Arapaho National Forest. Its remote location near a variety of trails makes Aspen Hollow Creekside Cabin a great place to plan a glamping trip that centers around biking, snowmobiling, or hiking.
An outdoor propane fire pit makes it easy for guests to stay warm while relaxing under the night sky. Because it is in a national forest, pets are not allowed at this vacation rental.
Price Range: $100 per night, two nights minimum stay
Location: Black Hawk, Colorado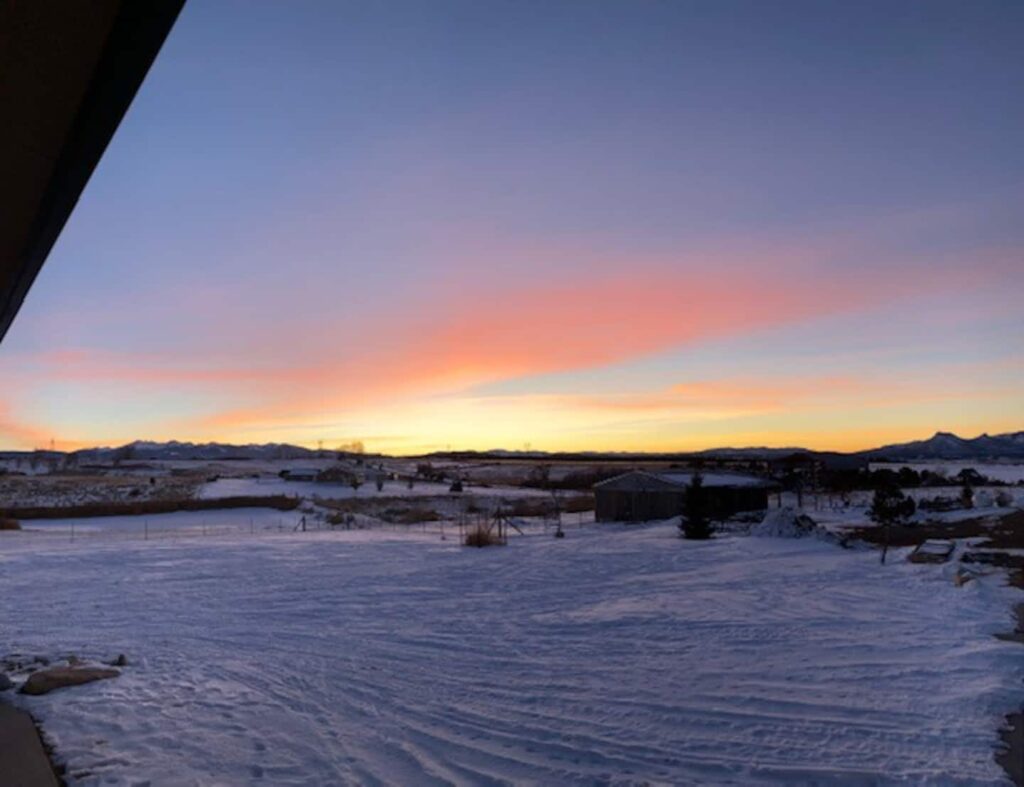 One of the most romantic options for glamping in Colorado, the Harvey Spring Bungalow is privately located on an 84-acre ranch. Nearby attractions include McPhee Reservoir, Crow Canyon Archaeological Museum, Mesa Verde, The Anasazi Heritage Center, and multiple trail heads.
When they're not exploring their beautiful surroundings, guests can enjoy romantic stargazing, play a game of horseshoes, or watch a streaming movie with the included Wi-Fi.
Price Range: $99 per night, two nights minimum stay
Location: Mancos, Colorado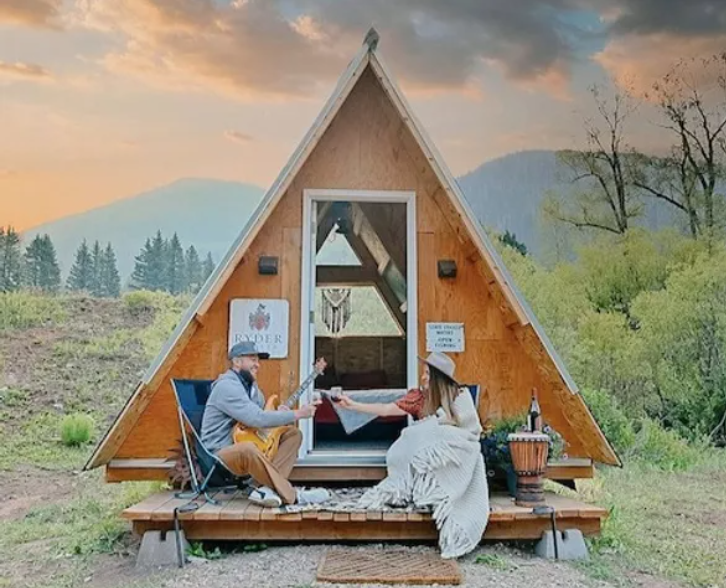 Glamping rentals don't get much more unique than Lazy Rooster Ranch. This petite A-frame sits on 50 acres near Rico, a historic mining town.
Guests can enjoy fishing and hiking on the property or head into Telluride to take advantage of its world-class restaurants and renowned recreational activities. The cozy cabin's amenities include free parking, a firepit, and available Wi-Fi.
Price Range: Price varies
Location: Rico, Colorado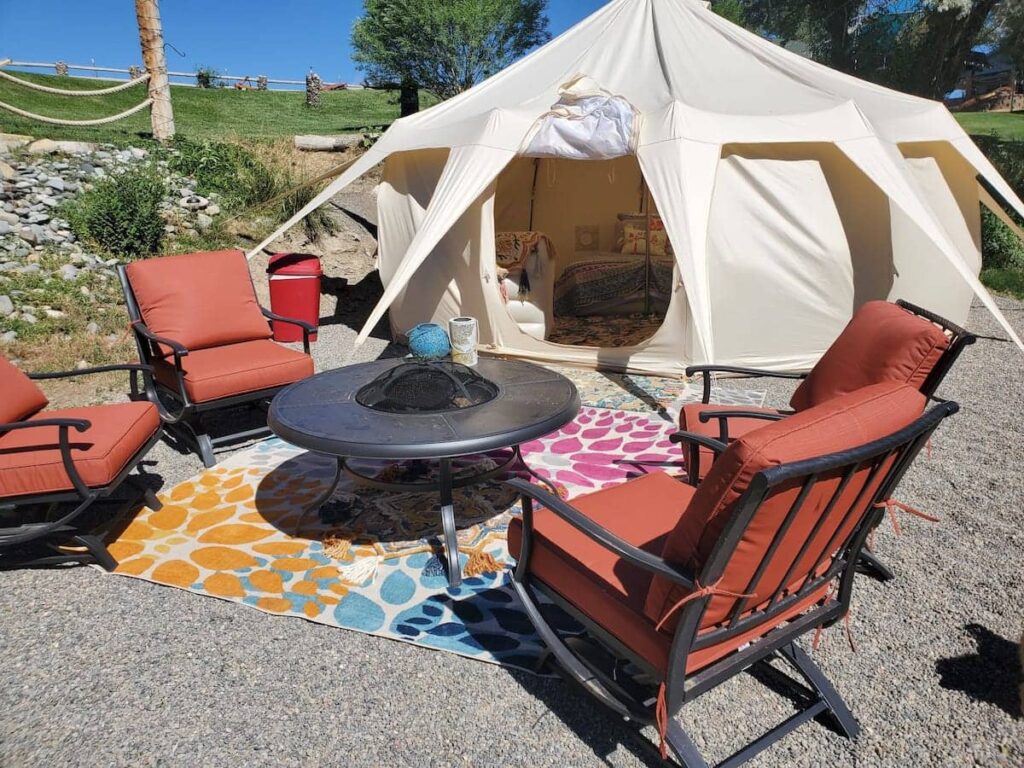 This cozy robin's nest yurt near Grand Junction, Colorado is a destination travelers will want to return to again and again. The property owners serve coffee in the mornings and provide guests with amenities like kitchen access, free parking, and a fire pit.
Children are welcome to stay at Blossom House, but because the yurt is located in a hilly area near a stream, they will need to be closely supervised.
Price Range: $125 per night
Location: Grand Junction, Colorado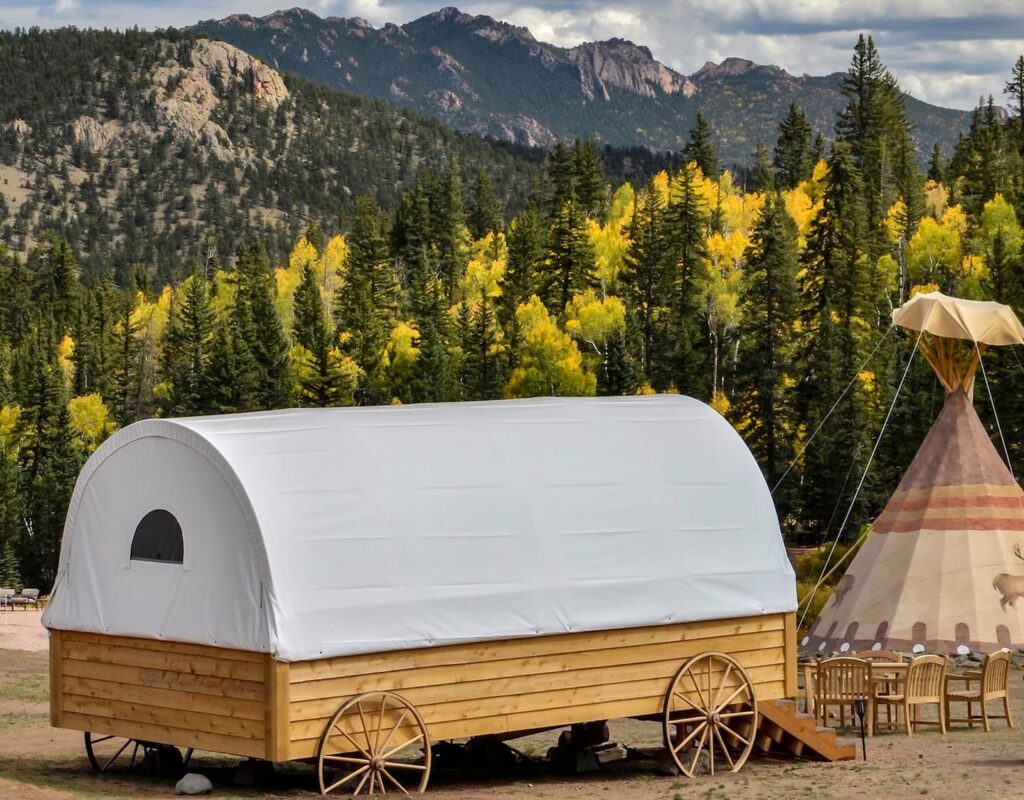 Lake George, Colorado is home to one of the country's most memorable glamping experiences. Guests who book a Conestoga Cabin will feel like they have traveled back in time as they relax in their cabin that could easily be mistaken for a covered wagon.
They may be rustic, but these cabins feature luxurious touches like Australian sheepskin furs, high-quality mattresses, and teak dining furniture. As added bonuses, parking, transportation to the cabins, and nightly trash pick-up are all complimentary.
Price Range: $199 per night, two nights minimum stay
Location: Lake George, Colorado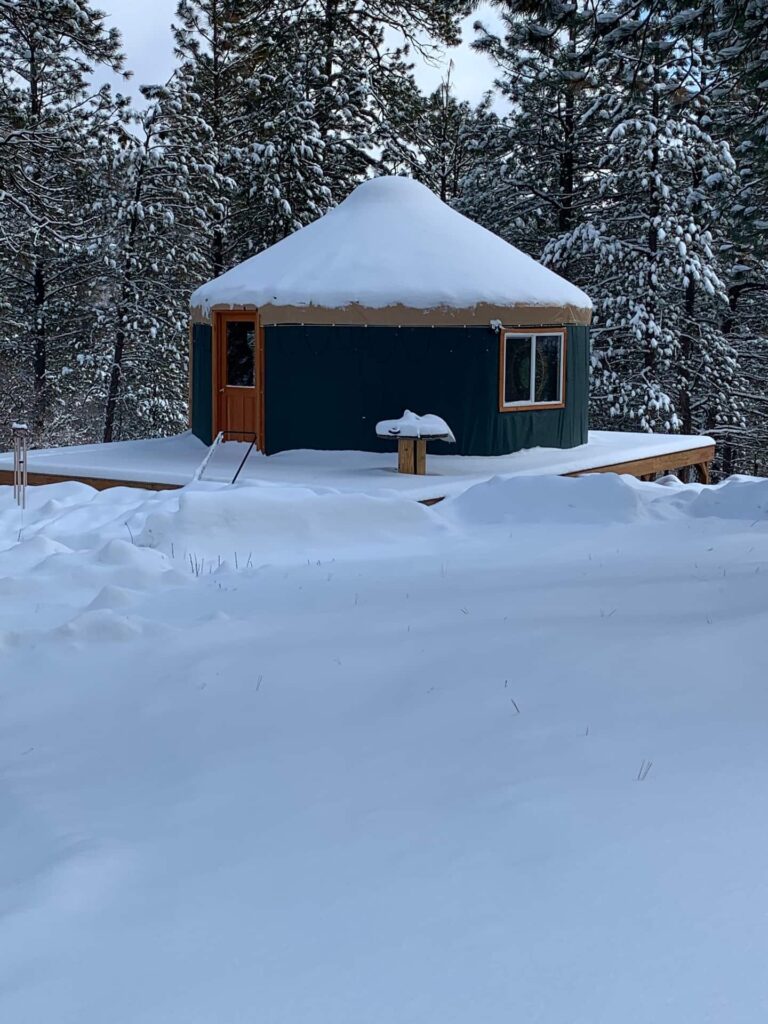 Conveniently located within driving distance of several ski areas, Chimney Rock National Monument, and natural hot springs, Yellow Jacket Yurt is a stellar vacation spot for outdoor enthusiasts.
Guests can hike in the surrounding San Juan National Forest, enjoy nearby skiing, or visit in the winter to try snowshoeing. Some delightful amenities include barn and pasture access for guests' horses, children's books and toys, and babysitter recommendations.
Price Range: $66 per night
Location: Bayfield, Colorado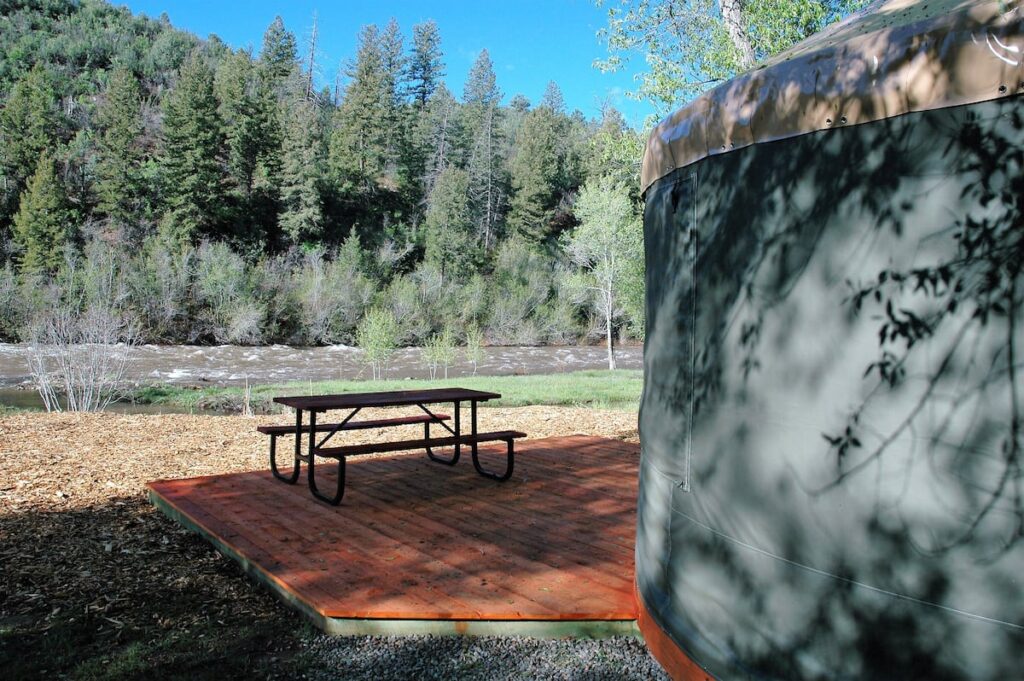 A double bed and a bunk bed offer sleeping arrangements for up to four at this rustic yurt. Guests can enjoy the scenic Dolores River while roasting marshmallows over the Dolores Riverfront Yurt's fire pit.
Electricity and internet access are available in the yurt, and a newly constructed bathhouse nearby provides guests with running water and the opportunity for a hot shower.
Price Range: $103 per night, two nights minimum stay
Location: Dolores, Colorado
There are many glamping experiences in Colorado to choose from and any one will be sure to be glamorous! Find a comfortable place to stay and enjoy the natural wilderness of Colorado.