Homemade granola is SO good. And I can't believe how EASY this lemon blueberry granola recipe is! I don't know how I went so long buying store-bought granola.
Recently, I've been in love with lemon yogurt! It got me thinking… how about lemon granola to top my morning yogurt with? The two flavors are too perfect together.
Granola is one of my go-to snacks when backpacking! It's a quick & easy breakfast, and when you load it up with super-foods like chia seeds, it's a great way to get the nutrition you need on the trail.
And the best part about homemade granola? You can control just how much sugar you add as well! I hate reading ingredient labels at the store to see what I thought of as a "healthy" breakfast, loaded with 30 grams of added sugar.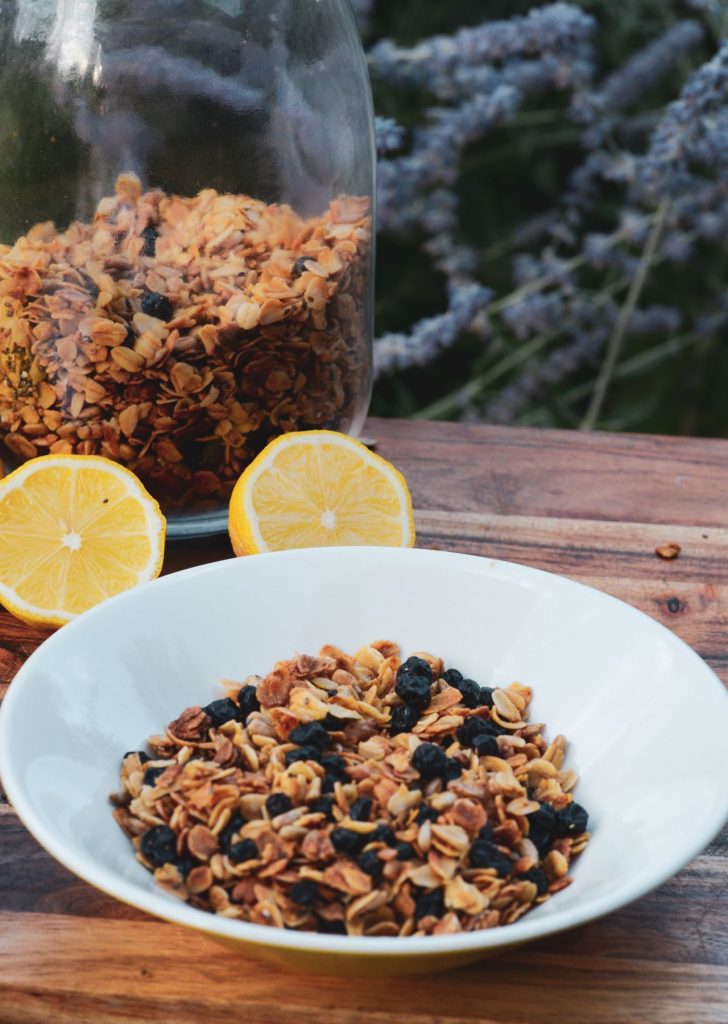 How to Make Homemade Granola
To make homemade granola, you just need the right ratio of dry ingredients (oats, nuts, and dried fruit) and the wet ingredients (oil and sweeteners like syrup or honey). The wet ingredients should fully coat your dry ingredients.
You can use any combination of you like! Then toast the mixture at 300 degrees for about 20 minutes.
But if you're just starting out, I highly recommend this tasty recipe for some amazing lemon blueberry granola.
Lemon Blueberry Granola
This sweet and tangy granola is perfect with yogurt or a snack in the backcountry! The combination of lemon and blueberry is perfect.
Ingredients
3

cups

oats

old fashioned oats

1/2

cup

sunflower seeds

1/4

cup

chia seeds

1

cup

dried blueberries

1/3

cup

honey

1/3

cup

coconut oil

1

tbsp

lemon zest

juice from half of a lemon
Instructions
Mix oats, sunflower seeds, and chia seeds.

Melt coconut oil, if solid. Mix coconut oil, honey, lemon zest, and lemon juice.

Toss the oat mixture with the coconut and honey mixture until the oats are fully coated.

Bake at 300 degrees for 20-25 minutes. Toss the mixture every 8 minutes for even toasting.

Once done baking, add the dried blueberries. Store in an airtight container.
Tips to Make the Blueberry Lemon Granola
Where to buy dried blueberries?
You can find dried blueberries in most bulk sections of the Grocery store. I buy them at our local Sprout's Market.
What kind of oil can you use?
Not a fan of coconut oil? It's my favorite for granola! But it does add it's own distinct flavor to the granola. You can also substitute coconut oil with vegetable or canola oil.
Looking for additional ideas for backpacking? Check out my full list of no-cook backpacking meal ideas!
And tell me — what's your favorite snack on the trail? I love to hear from you! Let me know if you make this Blueberry Lemon Granola recipe too.