One of my favorite parts of living in Fort Collins — all of the beautiful hikes less than an hour away!
If you're visiting in Fort Collins, you may know of Fort Collins as the heart of Colorado's micro-brewing scene. And there's plenty of breweries to be enjoyed! But before you hit those breweries, there's a number of beautiful day hikes around Fort Collins.
Here are 14 great trails you can do within an hour of Fort Collins, CO broken down by the following areas:
Hikes in Fort Collins, CO
There's a number of trails within the city of Fort Collins in our many designated Natural Areas. These loops and trails are typically along gravel paths and typically range from 1.5 miles to 3 miles. You'll have to keep driving out west toward Horsetooth or Pourdre Canyon for a longer hike.
I love these trails for a short hike in Fort Collins after work.
This Natural Area is right off South Timberline in Fort Collins. The birdlife here is amazing! There are 3 different ponds with multiple trails and a few broad walks over wetland areas. If you do the largest loop, it is about 2.2 miles. You can cut this in half by taking a path that goes between two of the ponds.
It's a great running trail in Fort Collins too! It's flat and suitable for all skill levels.
Distance: 2.2 mile loop
Pineridge Natural Area has 7 miles of paths you can hike. If you park in the Pineridge area, there's an easy 4-mile loop that you can do around Dixon Reservoir. This Natural Area is the southern tip of the Foothills Trail. There's a lot of prairie dogs around on this trail!
You can find a map here.
Distance: 4-mile loop
Reservoir Ridge Natural area is just north of Pineridge Natural Area in the foothills west of Fort Collins. The foothills have 3 natural areas that all connect to form the Foothills Trail (more on that below).
Here's a map of Reservoir Ridge area.
A great 6-mile loop hike is to start from the parking lot on Overland Trail, go to North Ridge loop, and end back at Overland Trail parking area.
Foothills trail is just east of Horsetooth Reservoir and connects Reservoir Ridge, Pineridge, and Maxwell Natural Area. It's a great hike if you're looking for a longer scenic hike near town. It's a popular trail for bikers too. The 6.8 mile distance is just one way. You will either want a second car at Pineridge Natural Area or be ready to hike 13 miles out and back.
Here is a map of Foothills Trail.
Distance: 6.8 miles (one-way)
Fossil Creek Natural Area is on the eastern side of Fort Collins. It's one of the smaller natural areas with only about 1.5 miles of trails. But it's a great spot for bird watching or running a couple of laps on the loop trails. There are seasonal closures for one of the paths to protect bald eagle roosting.
Here's a map of the area.
Poudre Canyon Hikes
Drive north of Fort Collins on Highway 287 to Colorado Highway 14/Poudre Canyon Road. Turn left on CO 14, and you're driving through the Poudre Canyon.
There's a number of hikes in off of Poudre Canyon Road that you can get to in less than an hour from Old Town Fort Collins.
The Canyon's full name is Cache la Poudre River Canyon. It's pronounced like "pooh-der". It got the name from French-Canadian trappers hiding their gunpowder in the canyon during a blizzard in the early 1800s.
Hewlett Gulch Trail is a popular out & back path 10 miles up Highway 14. It starts by following Gordon Creek past foundations from homesteads established between 1911 and 1925.
After two miles, you'll hit a fork in the trail. The main trail is to the left and continues up to narrow canyon with stream crossings.
Google Maps link to the trailhead.
Distance: 8.2 miles (out & back)
I like the Mt. McConnel trail because it's a loop trail, but you still have a summit. Many summit trails tend to be out & back. The back half of Mt. McConnel is considered to be a rustic trail. There are some areas where you have to crawl down rocks, but otherwise, it's still very well maintained.
It also didn't seem like a very crowded trail, despite it being next to Mountain Park campgrounds.
Google Maps link to trailhead here.
Distance: 5.2 Mile Loop
This is a moderate 7-mile out & back trail that starts out next to a creek for the first two miles.
It's right at an hour outside of Fort Collins.
Google Maps link to trailhead.
Distance: 7 miles (out & back)
This one is a bit further up Poudre Canyon. It's about 1 hour and 15 minutes outside of downtown Fort Collins. The first mile is steep! If you're camping at Red Feather Lakes, this is a great hike that's about 20 miles away.
Google Maps Link to Trailhead.
Distance: 9.6 miles (out & back)
Greyrock is the most hiked trail up the Poudre (at least according to the sign at the entrance of the trailhead!) It's only a short 30-minute outside of Fort Collins and had stunning views, so it makes sense that it's so popular! It's definitely worth it.
We've hiked it on the weekends, and while we did see other groups, it didn't feel too crowded – nothing like hiking some of the 14ers around Colorado where you're practically in a line of people to the top!
This trail is categorized a difficult. You're climbing over 2,000 feet over the first 3 miles. It's fairly easy to lose the trail once you get to the top and begin climbing the rock. But if you're scrambling up rocks, you've likely lost the trail. While you are climbing over rocks at the top, you shouldn't feel nervous at the top.
We take the Greyrock trail to the top, and then on the way down, we take Greyrock Meadows. The two trails intersect and you end at the same trailhead for a great loop trail!
Distance: 7.4 miles (loop)
Lory State Park Hikes
Just past the foothills near Horsetooth Reservoir is Lory State Park. The single-day entrance fee for a car is $8.
Within the park, there are over 20 miles of hikeable paths. You can also go horseback riding and bicycles here too. It's also a dog-friendly state park! I haven't done all of the hikes in Lory State Park yet, but here are some of the top ones to check out! You can find a full list of Lory State's Park trails here.
Arthur's Rock is a moderate 3.4 mile in Lory State Park. It's a great beginner hike around Fort Collins.
At the top of the rock, you're rewarded with views of the reservoir! It is one of the most popular hikes in Lory State Park.
Distance: 3.4 miles (out & back )
If you're in a time crunch, this short hike can be done in 45 minutes. It would also be a good hike with kids.
The best part of this trail during the summertime is the wildflowers!
Distance: 1.8 mile (loop)
This one isn't an "official" trail name. The paths within Lory State Park connect, but the individual official paths are quite short for those looking for a longer hike. Check out their map and build your own loop.
I recommend parking at Eltuck Group Picnic Area. Then hike up East & West Valley trails to Timber Trail. Then briefly walk on Well Gulch Nature Trail to Overlook Trail. You'll finish back up East & West Valley trail to get back to your car. This is a perfect day hike coming in at about 6.2 miles.
Horsetooth Mountain Open Space
Last, but certainly not least is Horsetooth Mountain Open Space. The Horsetooth Mountain Open Space borders Lory State Park and has a number of trails of its own, plus a couple that connects to the state park.
I saved it for last because it is the most popular area from my experience, so it seems everyone already knows about it! But places do get popular for a reason, and there's plenty of great hikes here!
You've very likely already seen Horsetooth Mountain while driving around town. It's the mountain with a rock formation on top that looks like a horses' tooth. (Yeah… not so creatively named!)
Horsetooth Mountain Open Space requires entrance permits as well. It's $9/vehicle for the day.
Here are some of the best hikes around Horsetooth.
From the Horsetooth Mountain trailhead here, it's 1.2 miles to the Horsetooth Falls. You can either hike there and back or get on to Spring Creek trail to make it a 2.9 mile loop.
You can find a trail map here. And here are the Google Maps directions to the trailhead.
Distance: 2.9 mile loop
Lastly, the most iconic hike of Fort Collins: Horsetooth Rock.
From the same trailhead as the hike above, you can also hike 2.1 miles to Horsetooth rock. You'll have beautiful views of Fort Collins and the reservoir from the top!
Distance: 4.2 miles (out & back)
What are your favorite hikes in Fort Collins? I'd love to hear them! Connect with me on Instagram or in the comments below.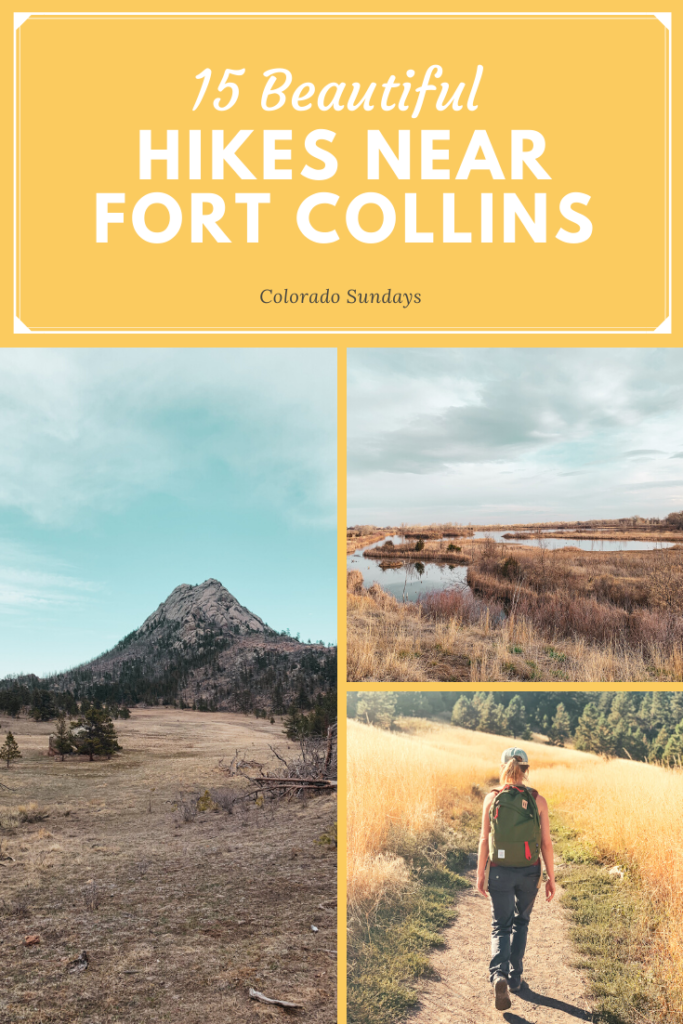 One of my favorite parts of living in Fort Collins -- all of the beautiful hikes less than an hour away!