I'm not a big fan of s'mores. But I love banana boats! It got me thinking… if I can cook in a banana, what other fruit can I cook in?
I tested making a chocolate cake in an orange peel, and it was absolutely delicious!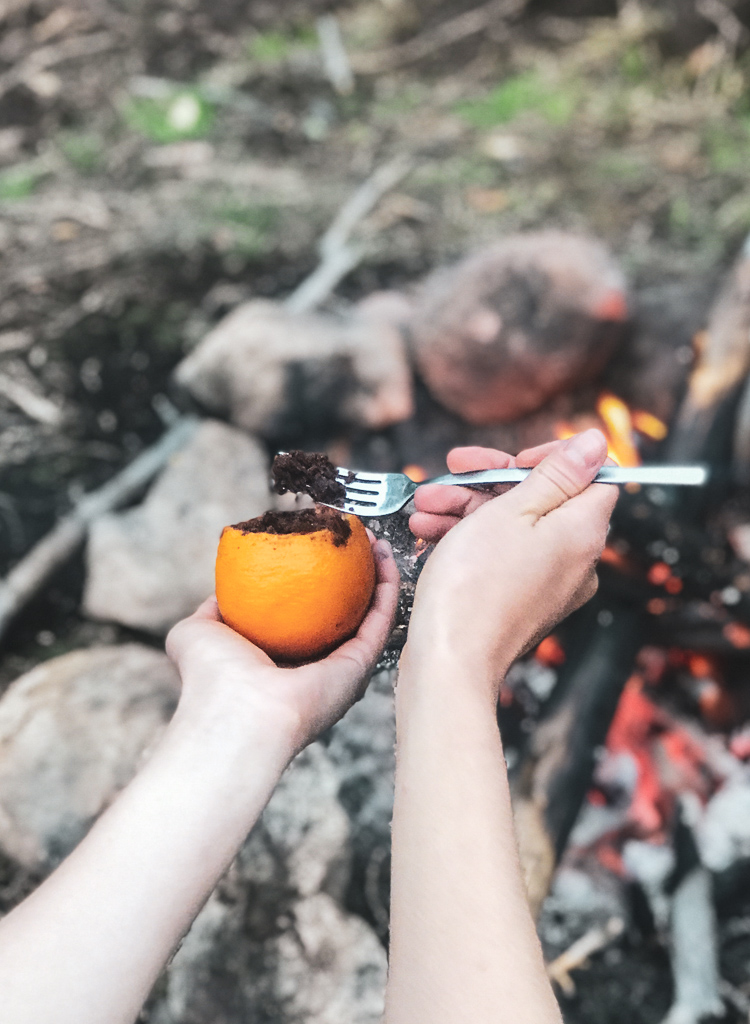 Say goodbye to s'mores as your go-to dessert while camping!
This chocolate orange cake is going to knock your hiking boots off. It's like the mug cakes of camping – perfectly portioned and easy too cook.
To keep it simple while at the campsite, I used a store bought cake mix. I didn't want to haul flour and all the other ingredients for baking a cake on our recent camping trip.
I thought the hardest part would be hollowing out the orange, but even that was easier than I expected! You can use your preferred cake batter too. I think blueberry muffins in an orange peel would be absolutely delicious too!
Here's how to make cake over a campfire in an orange:
Ingredients
You can make a cake over a campfire with just a few ingredients and an orange!
1 box of your favorite cake mix or batter
Oil, eggs, and water (check your cake mix's instructions)
6 large oranges
How to Make Chocolate Orange Cake in the Campfire
The first step is to hollow out your orange. Slice off just a bit of the top of the orange. Be sure to save the top! You'll use it as a "lid" when it's in the campfire. I started by cutting out the center with a knife, and then scooped out everything else that remained using a spoon. (And of course, I ate the inside of the orange too!)

Next, make the cake batter. You can use any of your favorite cake recipes. I used a Devil's Food cake store-bought mix and it was delicious.

Fill your orange peel about three-quarters. The cake will rise in the orange and start to pour out over the edges if you overfill it.

Place the top back on the orange, and tightly wrap it with aluminum foil. I wrapped it like a candy wrapper so that I could easily grab the edges of the foil with tongs to rotate the cake in the fire.

Cooking time will vary based on how hot your fire is. Ours cooked way faster than I was expecting! I checked it after 10 minutes, and it was done.

While cooking, you don't have to rotate it. The foil and orange peel lock the heat it so it cooks evenly.

Carefully unwrap your foil after 10-12 minutes to check your cake. It's done when you can stick it with a knife or toothpick and it comes away clean.

The final result is delicious! I've always loved orange-flavored chocolate, and the cake absorbed a perfect amount of the orange flavor while cooking. It was the perfect mixture of orange and chocolate, and a great way to end the day by the campfire.

Say goodbye to s'mores! This campfire cake is SO good. And all you need is an orange peel, cake batter, and some foil. Then cook this over coals.