Winter can be a beautiful time to hike, but it's important to dress appropriately for the cold weather conditions. As a Colorado resident, I am skiing more than hiking during the winter months. However, during October and November, I am still making it out to trails and have my favorite hiking clothes for cool weather hikes.
If you're a woman planning a winter hike and unsure what to wear, this article is for you. Or, if you're an experienced hiker looking for new winter hiking clothes to add to your wardrobe, I have you covered. Read on to learn my favorite winter and cool-weather hiking clothes for women.
The Basics: The Importance of Winters Layers
When it comes to winter hiking clothes for women, there are three essential layers: base layer, insulating layer, and outer layer. We'll take a look at each.
Base Layers for Winter Hiking
Your base layer is the layer close to your skin. Good fit and good fabric are the two key factors for a good base layer.
When choosing a base layer for winter hiking, look for materials that wick moisture away from your skin. Wet clothes next to your skin is one of the quickest ways to a very cold and uncomfortable hike.
Merino wool is a popular choice for base layers because it's warm, breathable, and wicks moisture away from the skin. Synthetic fabrics, such as polyester or nylon, are also a good choice because they're moisture-wicking and dry quickly.
It's important to choose a base layer that fits well and is comfortable to wear for long periods of time. Look for a base layer that is snug but not too tight, and has a bit of stretch to allow for movement.

They can be sets for your top and bottom. I usually wear moisture-wicking athletic leggings as my bottom base layer (when a bottom base layer is needed). Depending on the conditions and the insulation in your hiking pants, you may not need a bottom base layer. If you have minimal insulation, consider thermal bottoms as a base layer like these.
Insulating Layer (Mid-Layer)
The insulating layer is what will keep you warm during your winter hike.
When choosing an insulating layer, look for materials that are warm, lightweight, and compressible. Down is a popular choice for insulation because it's lightweight and compressible, making it easy to pack in your backpack when not in use. Synthetic insulation is also a good choice because it's lightweight, quick-drying, and retains heat even when wet.
When it comes to choosing an insulating layer, consider the type of activity you'll be doing. For high-intensity activities such as snowshoeing or cross-country skiing, a thinner insulating layer may be more appropriate to prevent overheating. For less intense activities, such as hiking on a well-maintained trail, a thicker insulating layer may be more appropriate for warmth.
Outer Layer
The outer layer is what will protect you against the elements during your winter hike.
The outer layer is the final layer of protection against the elements. When choosing an outer layer for winter hiking, look for materials that are waterproof, windproof, and breathable. Gore-Tex is a my top choice for outer layers because it's waterproof and breathable, allowing sweat to escape while keeping you dry.
Many mid-layers will have a built-in waterproof shell, combining the mid-layer and outer layer into one. My preference is to have these separate, especially for hiking, since I prefer to have they option to shed the outer layer (or insulating layer) if I get too warm on a hike.
X Top Recommended Winter Hiking Clothes for Women
Now that we have the basics of what to look for in winter hiking clothes and how to dress appropriately, let's take a look of a few of my favorite cool-weather hiking clothes for women.
These are my favorite winter hiking pants – hands down. They are incredibly warm thanks to the micro-fiber fleece interior. The exterior is water and wind resistant to keep you both warm and dry.
What I loved most was that they were warm without being bulky. This made them incredibly comfortable to hike in, as well as having a flattering slip fit.
While not specific for winter, these are my go-to hiking pants (and all-around adventure pants) for spring, summer and fall. They are not warm enough on their own in the chillier winter months. But if you live in a warmer climate or are just looking for a pair of pants that would work on warmer winter days, these could be it for you.
They are not water-proof, so if you are hiking in snowy or wet conditions, I recommend the Kuhl pants. But if you are looking for more general hiking pants that will be great in multiple seasons, this is a great option.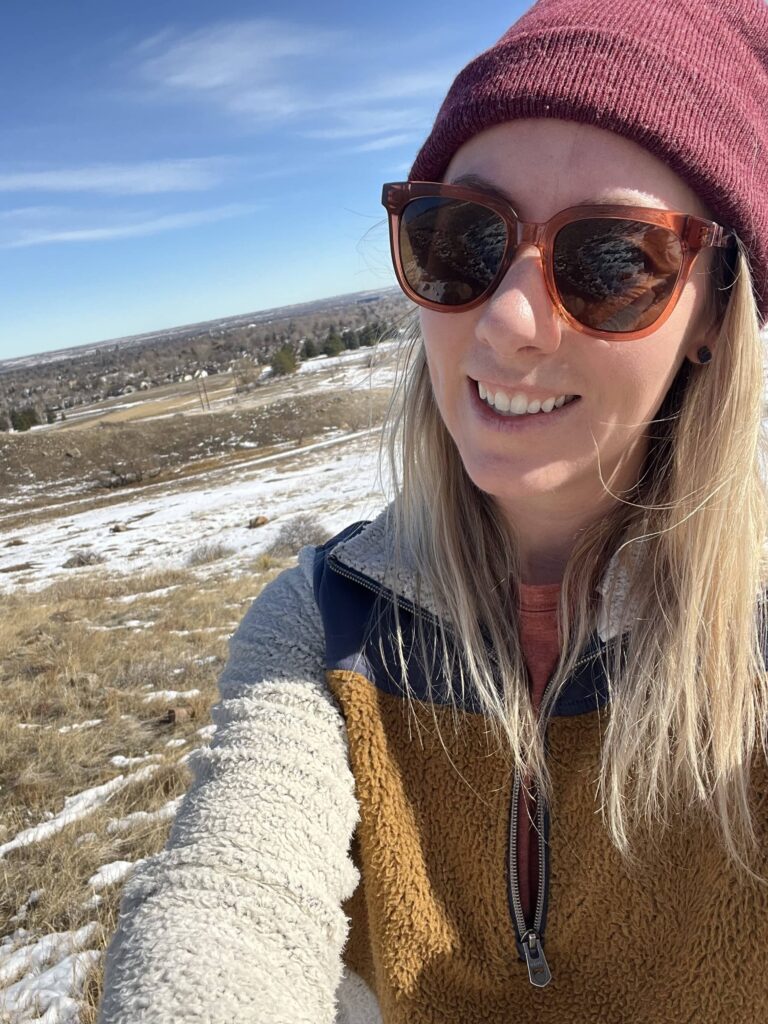 For a cozy mid-layer, I recommend KÜHL's Prism Half-Zip. This is my favorite fleece! It is both comfortable, warm and a flattering fit. It fits true to size. I loved the color options and want them all!
The fleece is warm, but still has a great warmth-to-weight ratio. It is not overly heavy or bulky if it needs to go into your backpack if your hike heats up.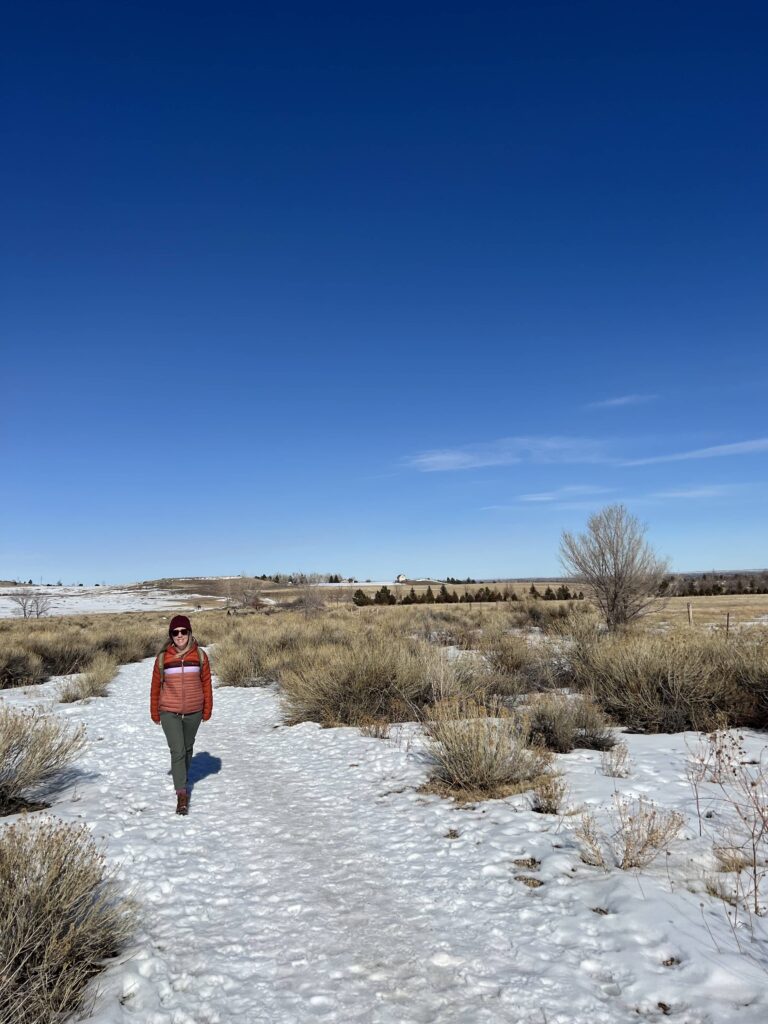 For a warmer mid-layer and down feather option, Cotopaxi's Fuego Hooded Down Jacket is my favorite down jacket I've ever owned. Not only do I love the great color options (which is a big bonus), but it is incredibly comfortable, warm, and of course compressible.
With high-quality down insulation that keeps you warm and a comfortable fit, this jacket is both functional and stylish. It does not have a "boxy" fit like many other down or alternative-down options.
It's compressibility makes it easy to pack in a backpack and take on any adventure. It is a reliable and great choice for cold weather activities such as skiing or winter hiking. However, it does not have a built-in waterproof shell, so in wet and snowy conditions, you may need an additional waterproof outer layer.
Additional winter hiking clothes for women recommendations
While the above are the four favorites that I wore most regularly this past year, I have tried and recommend the following:
Prana Halle Straight Pant: a great option for those looking for year-round hiking pants that have a lot of stretch. These were among the most comfortable hiking pants I've owned because of the amount of stretch with Prana's nylon blend stretch fabric.
REI's Flash Insulated Hybrid Hoodie: This is a great option for those looking for mid and top layer in one. This has a wind-resistant and water-repellant nylon shell, and the synthetic insulation provides warmth without adding bulk.
Don't Forget the Accessories: Hats, Gloves & Socks for Winter Hiking
In addition to the three essential layers, there are a number of accessories that can make your winter hike more comfortable. When choosing accessories for winter hiking, consider the specific conditions you'll be hiking in. A warm hat or beanie is essential for keeping your head and ears warm.
Let's not forget socks! Your socks are one of those often overlooked pieces of hiking clothes that can make or break your hike. Choose a sock made from a moisture-wicking material such as wool or synthetic blends. This will keep your feet dry by moving moisture away from your skin. Wool is an excellent option for winter hiking socks as it is insulating and warm even when wet.
Wrapping up
These are my favorite hiking clothes for the winter. I would love to hear your own recommendations! Are there any other mid-layers or outer layers I should try next? Let me know in the comments!